Four of Miami's most luxurious residential developments, Florida luxurious real estate projects, FL property tips
Four of Miami's Most Luxurious Residential Developments
Oct 31, 2022
Miami offers a lifestyle that most people can only dream of. With a fun nightlife, an abundance of arts and culture, and delicious cuisines to devour, there's always something to look forward to.
You can fill your days with the best of Miami and you won't even have to leave your residence to do so. These four real estate projects bring the best of Miami to your doorstep: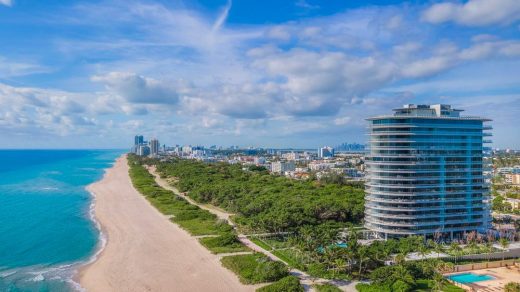 Eighty Seven Park, Miami Beach – By Terra and Bizzi & Partners Development
Eighty Seven Park
Eighty Seven Park 8701 Collins Ave is an address worth remembering. This particular real estate project has further elevated what a luxury lifestyle entails.
Located on the edge of Oceanside Park at North Beach, Eighty Seven Park is a tranquil oasis offering mesmerizing views of the Atlantic Ocean, designed by star architect Renzo Piano, Eighty Seven Park is an icon for intelligent architecture and luxurious living.
The building has an open floor plan, ten-foot high ceilings, and large balconies. Combined, these features give the Eighty Seven Park residences ample natural sunlight and a lot of room for cozy yet extravagant interiors.
Eighty Seven Park offers more than what you'd expect from a traditional luxury real estate project with amenities like its library and botanical exhibition.
Eighty Seven Park Miami Beach is situated along the perimeter of Oceanside Park on North Beach and the Atlantic Ocean. Residents can appreciate the stunning views from the tower. The Eighty Seven Park spa, private garden, pool, and concierge services are all impressive. However, what really sets this project apart is the enoteca and smart center.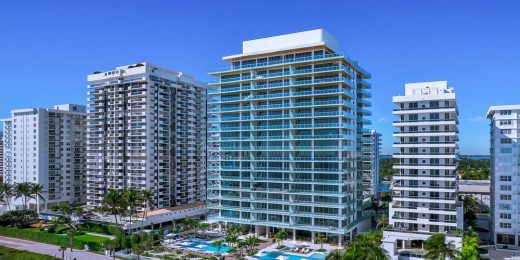 57 Ocean Miami Beach – By Multiplan Real Estate Asset
57 Ocean Miami Beach
57 Ocean Miami is situated at 5775 Collins Avenue along Millionaire's Row. The elite Miami Beach neighborhood and its convenient location offer easy access to South Beach, Wynwood, Downtown, The Design District, and the Miami International Airport.
57 Ocean Miami condos are created with a Brazilian flair that's reflected throughout the structure.57 Ocean has stunning views and beautiful sunset terraces where you can enjoy its other world-class amenities.
Access your 57 Ocean Condo via an exclusive private elevator. Each condo has floor-to-ceiling windows, and open floor plans The Italian Streamlined Poliform kitchens are beautiful spaces for cooking and enjoying meals.
Its ten-foot wood-lined terraces are a lovely haven for soaking in its mesmerizing views.
For an enhanced, luxurious lifestyle, 57 Ocean also has two ocean-front infinity pools, a pavilion spa, and a state-of-the-art fitness center.
The children's activity room, sunset terrace, club room, and private library are ideal for relaxation and rejuvenation.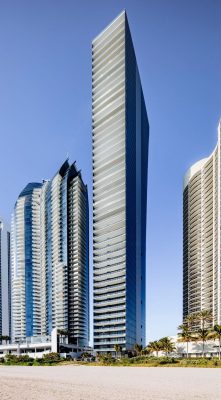 Muse Residences, Sunny Isles Beach – By Property Markets Group and S2 Development, LLC
Muse Residences Sunny Isles
The Muse Building Miami offers panoramic ocean and Intracoastal views from its fully furnished apartments. Each Muse unit has beautiful interiors that feature an 8-foot Italian entrance, Italian cabinetry, and personalized art from Helidon Xhixha.
The Muse Building is located between coastal waterways and the Atlantic Ocean. The bayside setting offers incredible views from its stunning luxury condos.
Nestled in the heart of Sunny Isles, Muse features condos that provide generous living space and are furnished with advanced Smart Tech 2.0.
Muse Apartments Miami has 68 luxury apartments, each with 12-foot tall ceilings, terraces, private elevators, and Italian marble or wood floors together with other incredible luxuries.
The Muse Tower has two residences on each floor with private elevators for maximum privacy. Muse Miami also offers access to an exclusive beach club with pool cabanas and an infinity pool. With a spa, gym, and breakfast room, Muse embodies health, well-being, and the best of luxury living.
Muse Sunny Isles offers a high-tech, comfortable lifestyle that allows residents to relax and rejuvenate as they enjoy the finer things in life. So, if you wish to enjoy a future-esque lifestyle that seamlessly blends technology and nature, Muse Sunny Isles is where you need to be.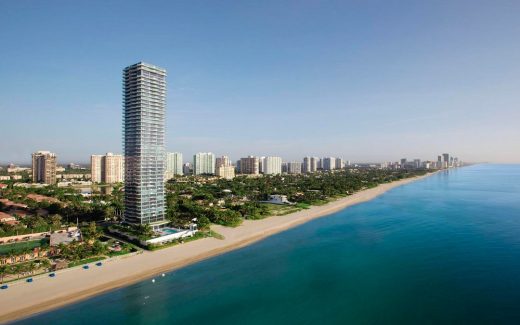 Regalia, Sunny Isles Beach – By Regalia Beach Developers LLC
Regalia Condo Miami Fl
Regalia Condos Miami is a 46-story luxury apartment building with 39 residences.  Recognized as the Best Residential High-Rise Development in the country, the Regalia Residences Miami house 37 single-floor residences, a two-level beach house, and a three-level penthouse. The Regalia Condo offers ample floor plans inside the residences and lavish terraces that come with mesmerizing views.
The Regalia Condos Miami features granite countertops and custom Poggenpohl cabinetry in the kitchen, along with a diva cooktop and a French burner.
The Regalia Building Miami also offers residents 360-degree views through its floor-to-ceiling windows as well as generous spaces with ten-foot-high ceilings.
Residents of the Regalia Condos Sunny Isles can enjoy a flourishing social life thanks to the lush landscaping and infinity swimming pool. Furthermore, private elevators and a high-security entrance system offer all the privacy and security that one needs.
Beautiful interiors, a convenient location, and incredible views make the Regalia a premium residence that few residential buildings in the area can match.
Comments / photos for the Four of Miami's Most Luxurious Residential Developments page welcome