Commercial concrete waterproofing techniques for tunnels, Building Design Tips, Online Advice
4 Commercial Concrete Waterproofing Techniques for Tunnels
30 Oct 2022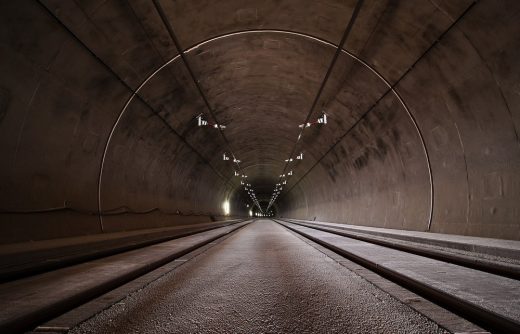 Tunnels have been an important part of civilization for over 4,000 years. The best-built tunnels can last for centuries. In Greece, the Tunnel of Eupalinos has been standing since the 6th century B.C. Today, tunnels remain a vital part of the country's infrastructure. Modern tunnels cut through some of the toughest terrains to connect the flow of people and goods. Concrete waterproofing is a crucial part of the construction process that will drastically improve the safety, usefulness, and lifespan of any tunnel.
Here are 4 different ways concrete tunnels are waterproofed:
Hot Liquid-Applied Waterproofing
Many tunnels are waterproofed with a mixture of rubberized asphalt and polymers. The right mixture creates an effective membrane once it reaches the right temperature. The rubberized asphalt must reach between 350 and 400 degrees Fahrenheit before it can be applied. Too little heat and the mixture won't mix or spread properly. Too much heat and the components can break down creating a high risk for failure.
Hot liquid-applied rubberized asphalt is one of the easiest and most cost-effective waterproofing techniques available. It also has several advantages that make it one of the most preferred techniques. Firstly, spreading a liquid membrane ensures that there are no seams in the tunnel's membrane. Second, it's much easier to apply in large structures with complex patterns. Third, it can be applied vertically and the flow will naturally cover imperfections.
There are also a few disadvantages of hot liquid-applied concrete waterproofing when compared with the alternatives. It requires the continuous use of jacketed kettles at high temperatures. This creates a slightly higher risk of bodily injury when installing a hot liquid membrane. However, none of the disadvantages change the effectiveness or reliability of the method.
Sheet Membrane Waterproofing
Sheet membrane waterproofing is a popular alternative to hot liquid-applied solutions and is quickly becoming the new norm. With the help of a proper drainage system, the high-density polyurethane (HDPE) sheets are able to reliably prevent water damage to the tunnel. Some sheet membranes also contain chemical-resistant backing to help protect against additional hazards.
The sheets applied in tunnels have a strong adhesive layer on the back that is able to bond permanently with concrete structures. They can maintain their adhesive strength even in poor weather conditions. The sheets can be applied horizontally or vertically to cover any large structure. They can also be overlaid in strategic sections to protect against seams and imperfections.
Sheet membranes require a clean and smooth concrete surface for best results. It can include 2 layers of membranes on top of an initial layer of liquid primer. Many professionals choose to use liquid rubber-based adhesives as a primer layer to guarantee a complete and lasting bond with the membrane.
Spray-On Waterproofing
Perhaps the easiest way to waterproof a concrete tunnel is to simply spray on the membrane. Spray-on waterproofing is a simple and affordable technique typically used to waterproof tunnels at a higher depth. It has many of the advantages of liquid-applied waterproofing, such as the ability to avoid seems and to cover complex obstructions.
Spray-on membranes can be applied to the interior of the tunnel after completion or they can be applied between the different layers of cast-in-place tunnels. The key to a proper installation is hiring waterproofing experts who have experience with high-quality sprayable membranes. A sub-par waterproofing application is very likely to cause structural damage over time.
Concrete Crystalline Waterproofing
Crystalline waterproofing methods are relatively new to the industry but they are already gaining a lot of attention. Concrete is a porous material, which is what allows for the unwanted flow of water through the structure. The small capillaries spread throughout every concrete structure represent a serious threat to the integrity of the tunnel.
Crystalline waterproofing uses water to carry chemical agents into the porous surface of the concrete. Inside, the chemicals crystallize and block passage through the capillaries. This prevents any sort of water flow through concrete walls. There's no need for any plastic sheets or melted rubberized asphalt.
Every Tunnel is Unique
Professional waterproofs help protect the millions of tunnels that keep civilization connected. There's no single concrete waterproofing technique that will work best for every tunnel. Each tunnel is unique and requires a personalized approach. The best water proofers know what to look for, what resources are available, and what technique would be the most effective.
Comments on this Commercial Concrete Waterproofing Techniques for Tunnels article are welcome.
Building Articles
Residential Architecture
Comments / photos for the Concrete Waterproofing Techniques for Tunnels page welcome