Difference Between Wicker and Rattan guide, External furniture style tips, Home terrace design advice
Is There a Difference Between Wicker and Rattan?
4 Mar 2021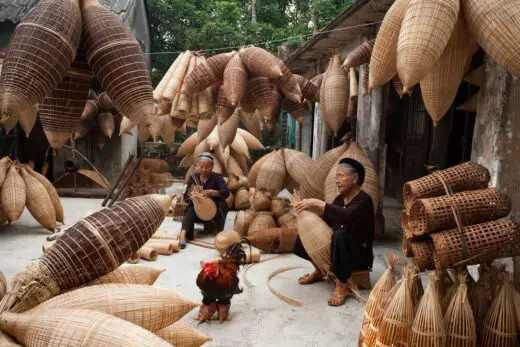 Reading decorating magazines leaves you confused with the massive amount of material options outdoor furniture provides. Unfortunately, more often than not, people use terms interchangeably.
Difference Between Wicker and Rattan
The confusion normally comes with inexperienced salesmen in garden departments of large stores. According to specialists, wicker and rattan differenciate by the style of weave. It is much easier when the furniture is crafted from natural fibers. Rattan is related to the palm tree but is a vine that grows in jungle regions. Each vine is one to three inches wide and can reach up to 100 feet. While it is durable during growth, it becomes susceptible to weather and sun after processing. Wicker, on the other hand, is a technique of weaving materials (willow, rattan, or rush) together. Meaning, you can find a wicker made out of rattan.
Fun Facts
Wicker and rattan have been used interchangeably for years because synthetic rattan is so popular. Natural fibers are not designed for outdoor designs, but treated material is weather-resistant.
Wicker lasts thousands of years depending on the material used to weave, especially cane and bamboo.
Many people explain the differences in terms of food and cooking style. For example, you would not think a fresh egg and a hard-boiled egg are the same things. However, you do know that hard-boiled is a way the egg is cooked. The same is true for rattan and wicker.
Differences Between Natural and Synthetic
Now that we have determined the differences between wicker and rattan furniture, we are ready to discuss natural versus synthetic. First, both materials are unique, classy, and beneficial in home decorating. Natural is ideal for indoors or screened-in patios.
Sun will bleach the color, and rain causes mildew to grow. You can paint natural fibers with weather-resistant paint to improve durability. However, synthetic is the way to go in outdoor spaces. It is lightweight and easy to clean. The fibers are crafted to mimic the appearance of natural rattan. To clean, you can rinse it off with a hose or take soapy water to remove stains. Take caution because some manufacturers use metal to create the same look as synthetic rattan.
Why Choose Rattan
As mentioned, wicker can be constructed of material other than rattan. Cane is the other popular choice. However, there are valid reasons manufacturers select rattan. Before covering the advantages of rattan, it is important to note that a cane is more durable. Rattan, however, works like a reed and is better for large pieces. Cane is seen in accents for other items. Therefore, Papasan chairs and lounge seats work better with a thick weave.
When you are looking at needing versatile furniture, synthetic rattan pieces fulfill those requirements. The problem that comes with wicker is the unknown material used. For more information on which option is best, you will want to consult with a designer that specializes in outdoor spaces. They understand the differences better than the staff at home improvement stores.
Comments on this guide to Difference Between Wicker and Rattan article are welcome.
Gardens Articles
Gardens Posts
Landscaping and garden design ideas for your outdoors
Top 3 factors for planning new landscape design
Expert gardening tips for your home exterior
Buildings
Residential Architecture Design
Comments / photos for the Difference Between Wicker and Rattan advice page welcome