Home Swimming Pool Design, Custom Fiberglass Pool, Outdoor Landscape, Real Estate Tips, Style
Designing the Perfect Custom Fiberglass Pool for Your Home
17 January 2020
Custom Fiberglass Pool Design
Aside from concrete and vinyl, fiberglass pool is another highly in demand swimming pool type you might consider to have. And like the other types, this can also be customized to achieve your desired features and dimensions. Perhaps you have a lot of details in mind already on how your dream pool should look like. If your main concern now is how to get this project started, the insights in this post might be of help.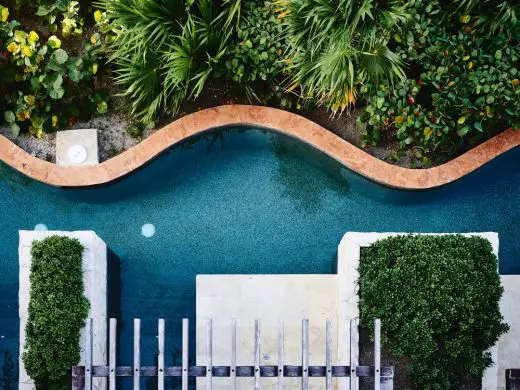 image courtesy of Christian Lambert
What are the best things about having a pool?
For a start, what is really your reason for constructing a pool? And how can you make the most of the project by customizing it?
Fitness, fun, and fancy are the three common reasons homeowners decide to have a pool. With this addition to your home, you will have an Instagram-perfect spot right at the comforts of your home.
If you're a fitness buff, having a pool at home means you'll have an accessible venue for all your swimming exercises. Enjoying aquatic therapy during the weekend is another possible exciting activity you can do.
When the project is planned thoroughly with a real estate appraiser, adding a pool to your home could also increase your property's value.
Before you start this project, spend ample time thinking about your intended purpose of having a pool. Are you planning to turn this area into a picnic venue for family and friends? Are you looking forward to build a comprehensive fitness facility at home? Or are you working on increasing your property's value?
Designing the Perfect Custom Fiberglass Pool
What are the top considerations when customizing the design of the pool?
Do you like your pool to give you and your loved ones a triple treat of fun, fancy, and fitness? If you do, consider customizing your fiberglass pool. Look into the following factors before anything else:
Initial cost – Pool construction cost depends on different factors – degree of customization, size, and shape. The installation cost of small fiberglass pools starts at $18,700, while the bigger, more complex ones can cost as much as $93,600 or more.
Maintenance – How much are you expected to shell out for the routine cleaning?
Landscaping and features – Would you like to add some LED lights, statues, fountains, and stone features? Are you planning to plant some trees nearby?
Dimensions and space efficiency – How big is your yard? Should you go for an in-ground or above-ground pool?
Water efficiency – How frequently are you going to use it and how many times per month should you replace the water? Do you have any plans for the greywater from your pool?
Zoning laws, guidelines, and restrictions – Are you within 100 feet from a body of water? If yes, you might need to find another spot. The water table might be too high for pool construction if the site is near a sea, river, or lake.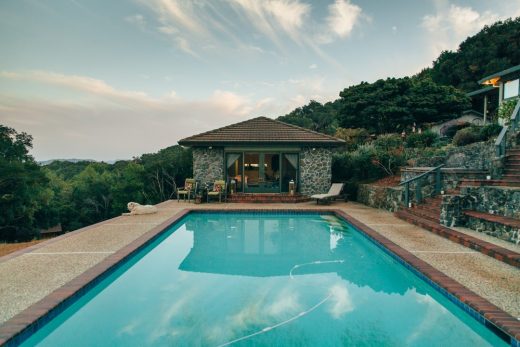 image courtesy of Jesse Gardner
How can you ensure your dream pool becomes a reality?
Turning your dream swimming pool into a reality is a huge project that requires a fortune and a ton of effort and time. And the keys to ensure a smooth and successful fiberglass pool construction process lie in your plan and the contractor you hire.
Even before you start looking for contractors to hire, be sure to have a plan on how your dream pool would look like. Look into your lifestyle, preferences, and frequency of usage. Consider the perspectives of your family members, especially if you have kids. Specify a budget for the project. List the features you like your pool to have. Think about a suitable landscaping design that will best feature your pool and garden. Set the date you expect the pool to be completed.
Once you have a plan, find a contractor with an intensive experience in this kind of project. Read online reviews. And consider asking for referrals from friends who've recently built a pool. Then, collaborate with the contractor about your plan. Work closely with the builder to ensure everything goes as planned.
With a customized fiberglass pool at home, BBQ parties, night swims, and weekend activities with friends and family will be a lot more enjoyable. But first, be creative and have the patience to sit down, plan, and collaborate with the contractors thoroughly.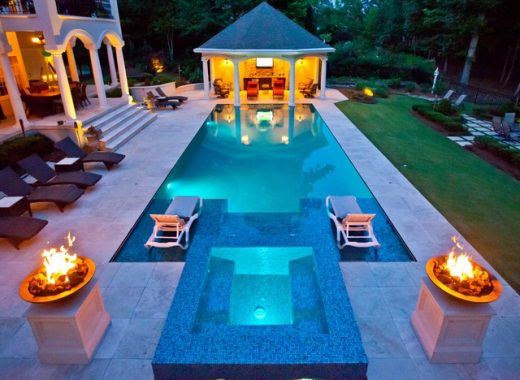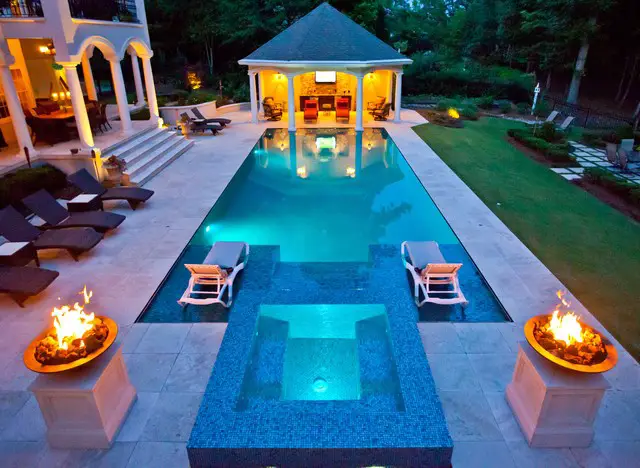 image courtesy of article provider
Comments on this Designing the Perfect Custom Fiberglass Pool for Your Home advice article are welcome
Swimming Pools
Swimming Pool Design Articles
Swimming Pool Designs
Swimming Pool Building Designs
Swimming Pool in Belgium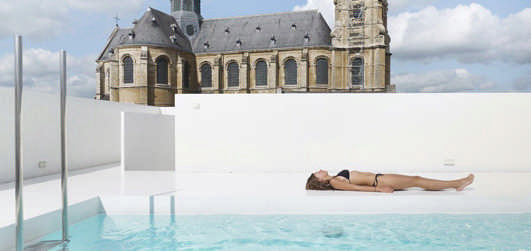 photo : Frederik Vercruysse
Thermal Baths in Bad Ems Building , Germany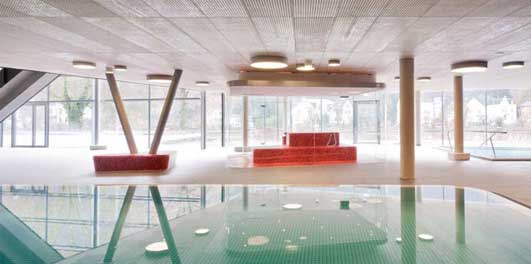 photo © David Matthiessen
Comments / photos for the Designing the Perfect Custom Fiberglass Pool for Your Home page welcome