Crucial dos and don'ts when building your dream house guide, Home design tips, Online property advice
The Crucial Dos and Don'ts When It Comes To Building Your Dream House
20 Dec 2021
Building your own house can be a route to owning a property for those who may be struggling to get on the ladder and can also allow you to build a home exactly to your requirements and aesthetic vision. Use the dos and don'ts below to navigate the process of constructing your dream house.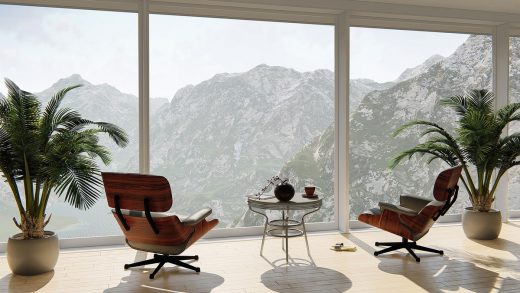 Choosing The Right Land
Finding and buying the right land is crucial. You will need to ensure that the land is suitable to build on: a chartered surveyor can help to ascertain this and will be able to advise you on things like flood risk, soil quality, and the presence of any nearby power lines that could affect your plans.
You will also need to ensure that the land you're considering has the necessary planning permission that will allow you to build your house. If it doesn't have this in place, then you may want to consider making a pre-planning application with the local authority to find out the likelihood of a subsequent application proper being successful.
Tax is usually payable on land purchases, too, so look into this as part of your research into possible plots.
Home Warranty Plans
As part of your project, it's a good idea to consider home warranty plans. These types of plans can provide cover (in terms of normal wear and tear) to things like appliances and white goods present in your home, as well as ductwork, heating and air-conditioning systems, and the plumbing throughout the property. Plans such as that offered by https://www.top10.com/home-warranty/reviews/liberty-home-guard can be a great way to protect all of the work you've put into building your dream house; this particular home warranty plan also covers the electrics within the property and has add-on optional cover available for pools, sump, and well pumps, and lighting fixtures plus provision for carpet cleaning, pest control, and re-keying. Also, prefer a building warranty when building your dream home that is an insurance policy that protects you against structural defects in a new build.
Design The Floor Plan First
When you're finalizing the design of your home, settle on the floor plan first, https://www.lucidchart.com/pages/floor-plans, and the other things that can't be easily changed once construction begins. For example, the color of the carpets can be altered fairly late in the day, but the position of your bedrooms in the plan, or the location of the central kitchen island, will cause difficulty in terms of alterations made once work begins. Get the key elements decided upon, and take the time to be absolutely certain of your choices.
Choose The Best Builder Possible
It may be tempting to cut corners here, but resist: hiring the best builder possible, even if this means paying a little more, may well save you a substantial amount of time and money long-term, as well as offering you peace of mind throughout the project. Ideally, you should be looking for someone who has at least three years of building experience.
Do plenty of research, and select a builder who has plenty of positive references and who can show you a portfolio of work completed, ideally on similar projects to the one you are planning. It's also important to find a builder who has the experience and skills to act as a supervisor for the entire construction and that you will trust to deal with contractors and suppliers who arrive on-site through the weeks and who can handle things on your behalf should you not be present.
It's a good idea to meet with your builder as many times as possible before construction starts so that you can get to know each other and your styles of working.
Energy Efficiency And Sustainability
When planning your home, be sure to give plenty of thought to making it run as efficiently and sustainably as possible, to save you money long-term, and be as kind as possible to the planet. You may want to consider rooftop solar panels to generate your heating and plan to insulate doors, windows, and tankless water heaters, if present.
Arrange for an energy auditor to visit to discuss your plans, to check what else you could do to improve your new home's energy efficiency.
Learn As Much As You Can
Empower yourself in the process by gaining as much knowledge as you can about all aspects of the build. Watch videos and read up about every element of the construction as possible to gain a basic understanding of the terminology and practicalities of, for example, installing a plumbing system of laying floorboards or joists. The more you know about the process, the better able you will be to negotiate and discuss the work with contractors and have a hand in solving problems that may arise.
Have A Contingency Plan
No matter how flawless your design and how skilled your building team is, it is highly likely that, at some point, you're going to hit some sort of snag. Problematic foundations, a fitted kitchen that isn't quite…fitting, or a key contractor who suddenly needs to take a week off work.
You can't plan for every single contingency, but you would be well served by having funds set aside specifically for any problems that come up and by maintaining a flexible (and optimistic!) attitude.
Comments on this The Crucial Dos and Don'ts When It Comes To Building Your Dream House guide article are welcome.
Home Improvement Articles
Home Improvement Designs
Planning to remodel your entire home
How to make your property look stunning for buyers
6 Home Improvements That Can Improve Your Health
Building Posts
Residential Architecture
Comments / photos for the Crucial dos and don'ts when building your dream house advice page welcome