Commercial Laundry Equipment & Best Layout Practices Guide, Web Tips, Help
Commercial Laundry Equipment & Best Layout Practices
4 Dec 2020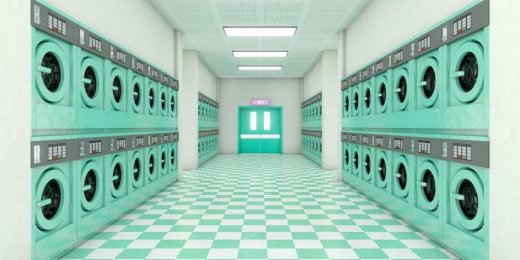 photo : allanswart / iStock / Getty Images Plus / Getty Images)
Whether you're in the hospitality business, sports and leisure industry or a healthcare setting, commercial laundry equipment will play a significant role in your day-to-day business. Where laundry used to be outsourced, a desire to exercise environmental responsibility and post pandemic changes to the way we live means more and more businesses are seeking to bring their laundry in-house. This guide will help you transform your laundry room ideas into the best possible workspace and answer some key questions about commercial laundry room design.
Commercial Laundry Equipment And Layout Guide
What is the best location for your commercial laundry equipment?
This is one of the most important decisions you'll make when it comes to your laundry room layout. Here are some key factors to consider:
• Ground floor is the best option – this ensures ease of access, ease of installation and straightforward access to utilities
• Avoid being near main entrances
• Avoid being near outdoor seating areas
• Ensure laundry area is a safe distance from food preparation areas – follow local authority guidelines
Are basements a good choice for a laundry room?
Basements aren't an ideal choice for a laundry room for the following reasons:
• Traditional tumble dryers need ventilation to work effectively and safely – something that can be sparse in the average basement
• You may encounter drainage issues which necessitate installing a pumped system to help drain water away, which in turn can cause their own problems around access
In short, it's not impossible to install a laundry in a basement, but you'll need to take extra care when it comes to sourcing your commercial laundry equipment.
What sort of flooring is best for a commercial laundry?
A commercial laundry room is a high-traffic area. Add in considerations for vibration and moisture and it's clear that flooring is a key part of commercial laundry room equipment.
Commercial laundry room flooring should be:
• Skid and slip-resistant
• Waterproof – especially if your laundry has to be on an upper floor
• Resistant to bleach, detergent, and other cleaning agents
• Able to tolerate high levels of foot and cart traffic
• Anti-microbial where possible
Equipment must be securely bolted to the floor. This will minimise any damage that could be caused by vibration.
Space – should commercial laundry equipment be stacked?
Working out the space you need for your commercial laundry is done by considering the amount of laundry you need to do each day, which helps you determine the number of machines you need. You'll also need to consider any finishing equipment – for example, space required for flat work like tablecloths, as well as ensuring you allow space for maintenance, delivery, and access.
Should commercial laundry equipment be stacked?
Stacking your laundry equipment has huge benefits in terms of space and efficiency, so you can wash and dry at the same time, without taking up precious floor space. You'll find various companies supply commercial laundry equipment that is specially designed to be stacked safely.
Electricity, water, drainage, and ducting
Regardless of how advanced your equipment is, errors in utility supply will make your laundry something of a lame duck. Here's what you need to consider:
Electrics
Commercial laundry machines generally require a 3 phase +N power source – obviously, this will vary along with the machine spec. The ideal scenario is a separate distribution board for the laundry, with easy access to isolators.
Water
Hot and cold water supply is required and if you're in a hard water area, an additional softened cold supply will minimise damage to the machines. Good working water pressure is essential.
Drainage
Commercial laundry drains should be at least 100mm in diameter. The main drain or stub stack should be connected to foul channels and wastewater be safely trapped.
Ducting
Ducting is essential for most commercial tumble dryers, so your premises need at least one external wall, ideally expelling to a dedicated service area, and never to the front of the building. If this is not possible, the solution is a heat pump dryer which uses condensing heat pumps to allow the expelled air to be recycled, removing the need for ducting.
Workflow and efficiency
Just like in a kitchen, your commercial laundry needs to be built around the workflow. As well as maximising kilos per operator hour, you'll minimise the day-to-day frustrations for your team and ensure they can work safely.
The goal of workflow efficiency is to prevent bottlenecks in production, and it's no surprise that the layout of your commercial laundry room equipment is crucial. Here's what to keep in mind.
• How much linen is being processed each day
• How much do operators have to move during the processing
• How far is the distance between washing and sorting stations
• How will the linen be moved between stations
• How easy is it to access doors? Can they all be fully opened or lifted to the appropriate level
• How well placed is your finishing equipment – consider the best height for folding tables etc.
Health and hygiene
Always a key consideration, health and hygiene have never been more important when designing your commercial laundry.
Sinks
A dedicated staff handwash station is essential, as is a separate utility area for mops, buckets etc. to avoid cross-contamination with soiled linens or clothing.
Sorting and storage
Adequate sorting and storage areas of any commercial laundry are essential, and the following factors need to be built into your laundry design:
• Top quality lighting: This will make it easy to identify stains – bright white light is best
• Space: Space for storing clean linen is especially important in something like a care home setting, to ensure the comfort and safety of residents. It's essential that clean linen is stored separately from soiled, to avoid cross-contamination
Designing a commercial laundry takes time and care and using an established commercial laundry equipment supplier such as MAG Laundry means you can be sure of getting top quality machines with optimum eco-credentials, as well as the benefit of years of experience when it comes to designing and placing your commercial laundry equipment.
Comments on this guide to Commercial Laundry Equipment & Best Layout Practices article are welcome.
Building Articles
Contemporary Architecture
Home laundry organization ideas for better experience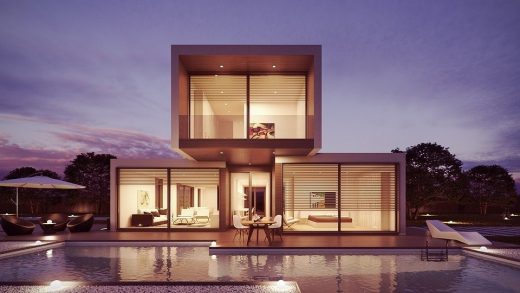 image courtesy of article provider
Comments / photos for the Commercial Laundry Equipment & Best Layout Practices Advice page welcome