Commercial architecture trends, Building office design, Property workplace architects advice
7 Commercial Architecture Trends
29 Dec 2021
Are you designing a new space for your workforce? The US Bureau of Labor has recently reported a 3% increase in demand for architects as businesses look for fresh designs.
The way we work is changing, with more hybrid work models demanding less but more functional office space. The environmental climate dictates that architects design commercial spaces with their ecological impact in mind.
Keep reading to learn about the top six architectural design trends that can optimize your spaces and reduce your carbon footprint.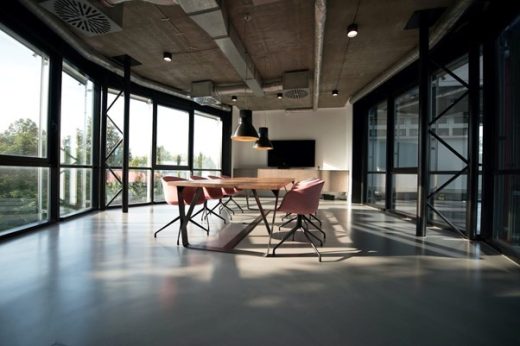 Photo by Nastuh Abootalebi Unsplash
7 Commercial Architecture Trends For Your Business
This guide covers everything you need to know about emerging architecture trends for your business that will help you optimize spaces to facilitate hybrid working, make your business more eco-conscious, and protect your employees in the wake of the COVID-19 pandemic.
Contactless Access
If you need security to protect the company assets and devices stored in your building, you need a door lock access system. Since the pandemic, pin pads and keys for unlocking commercial doors and managing access have gone out of style. This is due to the move towards contactless technology to protect people from germs via touchpoints in public spaces.
Contactless access control allows you to restrict unauthorized access to your building without subjecting your employees to germ exposure via pin pads. This is a commercial architecture trend that is becoming a necessity for businesses that care about the health and safety of their employees.
Daylighting
To reduce businesses' carbon footprints, architectural designs are becoming more considerate when it comes to artificial light. Daylighting refers to the use of natural light as much as possible instead of artificial room lighting.
Natural lighting is good for the environment, but it is also beneficial to the mental health of your employees, which will boost productivity and morale. Additionally, Si Vales Valeo Real Estate mentions that office buildings with ample natural light can be more valuable, and tenants are often willing to pay more for these spaces compared to offices that need mostly artificial light. So, when designing your space in line with current architectural trends, try to maximize the amount of glass in your building to flood your spaces with natural light and reduce the amount of electricity you must use in the workplace.
LED Light Reveals
LED light reveals are a growing trend to help accentuate the interior and exterior design of a building. Light reveals surrounding interior or external structures; for example, you might illuminate the ledge on a reception desk bordering your company name in a soft LED light to add sophistication to your interior design.
Eco Style
Eco styling originated several years ago, but with the recent favoring of raw and natural materials in architectural design, we see more eco-style in commercial architecture.
Eco style involves plants and greenery being an integral part of a building's exterior and interior design. Plant walls are a great example of eco-style, with plants making up a portion or the entirety of a building's internal or external wall.
Multifunctionality
Multifunctionality is becoming an increasingly popular architectural trend. With the rise of the hybrid work model, single-purpose rooms are becoming redundant. For example, if most of your employees have their own offices and work from home half of the week, these rooms will be empty the majority of the time.
You can streamline the amount of space you need in your office by using multifunctional spaces and implementing a desk, private workspace, and meeting room booking system to ensure your areas aren't redundant.
Renovation And Refurbishment
Office spaces and commercial listings can be challenging to come by. You can look at the commercial listings on offer that suit your needs, or, your business may consider repurposing and refurbishing another kind of building for your offices. An example of this would be an old mill or factory in your area with plenty of open space inside that offers you the same possibilities as an office building.
Suppose you decide to refurbish an old industrial building. In that case, you will have the opportunity to create a rustic design aesthetic in your office building using raw brick, metals, Edison lamps, and wooden furniture. The industrial style is another up-and-coming trend we see in office spaces to give them a more stylish and casual feel.
Noise Cancellation
Office spaces can be particularly noisy, which can distract your employees while they are working. With more offices opting for open-plan spaces, there aren't any walls or hallways to muffle the sounds in other parts of the area. Designers are working on acoustic panels designed to stop echoing and keep things quiet at work to enable businesses to have an open-plan office space and minimize noise levels.
7 Commercial Architecture Trends – Final Thoughts
Designing and planning a commercial building can be a great opportunity to use these commercial design trends to add style to your building. The design of your space can reflect your reverence for the current issue of climate change through the use of the eco-style, more natural light, or the repurposing of an old industrial or commercial building to save on materials and create a stylish and rustic commercial space.
Comments on this guide to 7 Commercial Architecture Trends article are welcome.
Building Articles
Residential Architecture
Tianshan Gate of the World, Shijiazhuang, Hebei Province, Northern China
Design: Aedas, Architects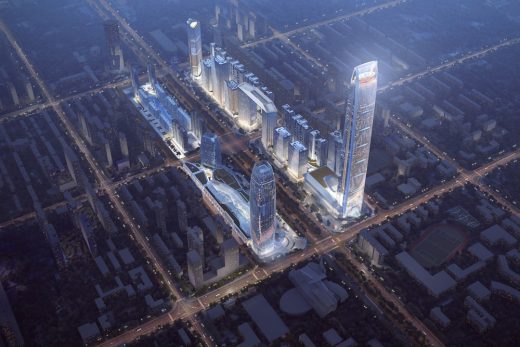 image from architecture office
Tianshan Gate of the World Shijiazhuang Skyscraper
Comments / photos for the 7 Commercial Architecture Trends Advice page welcome