Comfortable staying could be not only in the hotel, Dubai accommodation, UAE building advice
Comfortable Staying Could Be Not Only in the Hotel
13 Jul 2021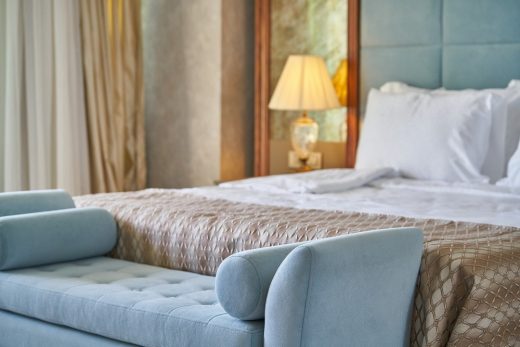 What to Choose in Dubai Instead of the Hotel
Sophisticated travelers who prefer comfort and luxury tend to choose to stay at rental homes and apartments over hotels. Smart renting helps save money, pick the perfect location, and plug into local culture. If you want your trip to Dubai to be wholesome and diverse, in this article you will find tips for selecting the best accommodation for your vacation.
There are about 30,000 accommodations for rent in Dubai, and each of them is a chance to experience your perfect vacation, business stay, or family trip. You can rent a flat with two baths and balconies for 30,000 AED, a penthouse with a sea view and seven baths for 400,000 AED, or a brand new villa on the top floor for 70,000 AED. The opportunities to rent apartments in Dubai are unlimited, and everything depends on your preferences and capabilities.
Renting accommodation instead of staying in a hotel in Dubai is a 100% advanced way to travel smarter. Whatever your choice falls on, you get an entire apartment instead of just a hotel or hostel room.
When you have personal property in use, it provides you with an opportunity to cook meals by yourself and not waste extra money on hotel breakfast. As a rule, apartments are equipped with washing machines and irons so you can do laundry yourself and do not have to pack much. Renting an apartment also gives you the opportunity to explore new areas you wouldn't be able to visit if you stayed in a regular hotel.
Comfortable Staying – Better Place to Choose in Dubai
Here are some of the most popular Dubai districts tourists find worthy of visiting.
According to the BBC Travel Guide, the Dubai Creek district is the most historic and picturesque area to visit and explore while visiting Dubai. Situated next to the airport and connected to the underground, it is the perfect location for travelers.
Visitors can enjoy the Arabian boating and experience a ride on the abra water-taxi. You can also visit restaurants floating right on the water.
The heart of the city, with its famous Dubai Fountains and the world's tallest building Burj Khalifa, is labeled as one of the best Dubai locations to stay in by The Forbes Magazine. The district combining history and art, the past and the future will take your breath away with the astounding Dubai Mall, Dubai Opera, and Emaar Boulevard.
What Determines the Price of the Renting
There are several important factors that determine the price for renting accommodation:
Remoteness from the city center
If you want to find cheaper accommodation, you should try to rent a country house or townhouse in the suburbs of the city. If you want to experience the breathing city atmosphere and local daily routine, you should choose a flat or condo in the city core.
Townhouses with three beds and four baths start at 40,000 AED, while flats in the Dubai downtown with one bed and bath start at 75,000 AED.
Availability of Furniture
A fully furnished flat costs more than an empty one. The availability of a balcony, extra rooms, and bathrooms, a washing machine, a pool, etc. also makes a big difference in price. Define the level of comfort you would like to have and find something that suits you.
Depending on the condition and size, you can find both fully furnished flats and unfurnished flats for a price of 30,000-40,000 AED.
Infrastructure
Renting an apartment situated close to the underground, airport, or popular attractions is convenient but can be way more expensive than other options.
Apartments situated in the Dubai Creek district are more expensive (starting with 50,000 AED) because of their excellent location.
To enjoy your trip to the fullest, determine the factors that are crucial to you in an apartment, set the parameters, and choose the one that fulfills all or most of your requirements.
Pros and Cons of Renting a House and an Apartment
To see the full picture, consider some advantages and disadvantages of renting instead of living in a hotel.
Pros:
Saving money on food, extra services, and tips.
Wide variety of locations and views
Possibility to choose convenient infrastructure
No privacy sacrificing
Time-management flexibility
More space to live
Pet-friendly apartments
No hidden charges
Integration into local life
Cons:
Harder to book
No special security for personal stuff
Not a suitable option for rookie travelers
Comfortable staying but not in the hotel Conclusion
Renting an apartment is a modern and comfortable option for Dubai visitors, travelers, and businessmen to integrate into the local way of life, explore new places, and have a funky vacation.
Renting houses and villas in the picturesque places of Dubai is a great way to relax and get distracted from everyday routine and admire the landscapes of Dubai Silicon Oasis and Victory heights.
Businessmen can save money and time by renting apartments in the city center, staying in touch with the busy office life.
Frequent travelers can choose an apartment in the ancient part of the city to feel part of the historical event and dive into the past.
Choose what's closer to you, and let the journey begin.
Comments on this Comfortable Staying but not in the Hotel article are welcome.
Hotels
Hotels and Accommodation
Why are hotel owners turning buildings into affordable housing?
5 hotels combining great architecture and top technology
Hotel and Hospitality Trends to Watch in 2022
Building
Architecture Articles
Comfort & Luxury Home Gadgets Advice
Comments / photos for the Comfortable Staying Could Be Not Only in the Hotel page welcome