Top reasons why carpet tiles are ideal for commercial spaces, Home tiling advice, Flooring options tips
7 Top Reasons Why Carpet Tiles are Ideal for Commercial Spaces
1 Dec 2022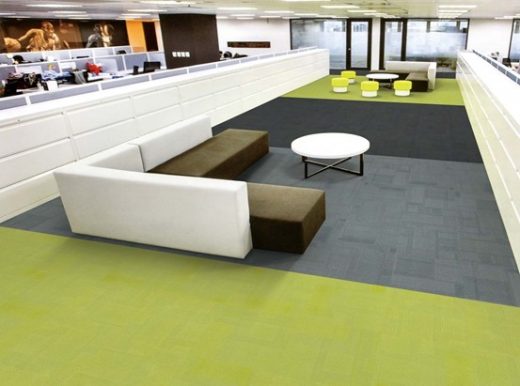 Image from Sublime Flooring
When it comes to choosing the best possible flooring solution for your commercial space, it's crucial to consider durability and ease of maintenance. That said, it's no wonder then that many Australian businesses are choosing carpet tiles as their number one flooring option.
Selecting the most durable commercial flooring Melbourne agencies have to offer is the key to keeping your business or even industrial space stylish and functional. If you're not sure if carpet tiles are the perfect option for you, then this post is a must-read!
Advantages of Adding Carpet Tiles to Your Floors
No matter how much foot traffic your commercial space experiences, the good news is that you can't go wrong with quality carpet tiles. Our flooring experts have compiled the top advantages of adding carpet tiles to your office space.
1.     Adds Style to Your Workspace
Carpets and carpet tiles in general add a touch of style to just about any workspace. Depending on the style you choose, carpet tiles can make your workspace look modern and sophisticated.
Since options are available in a wide variety of colours and designs, it's easy to use your carpet tiles to accentuate any office décor style. In addition to looking professional, carpet tiles also create a simple, streamlined finish.
2.     Installation is Quick & Easy
Another advantage that puts carpet tiles above several other flooring options is their ease of installation. Generally, carpet tiles are remarkably easy to install and in most instances don't require glue or adhesive. They also don't require any underlay, although this can be added in very noisy spaces.
Carpet tiles can also be installed around existing furniture without having to remove all the furniture or office equipment from the space. This means carpet tiles can be installed without disrupting the natural flow of your business.
3.     Low Maintenance
Opting for the commercial carpet tiles Melbourne businesses are relying on, also means you're choosing a solution that's low maintenance. Courtesy of modern materials and low piles, these carpets tend to accumulate much less dirt or debris.
Keeping the carpet clean only requires regular vacuuming. Opting for darker colours in high-traffic areas will also go a long way toward hiding stains or dirt until it can be cleaned.
4.     Simple to Repair and Replace
It goes without saying that high-traffic areas can often result in damaged or worn carpet sections. If this happens, the good news is that they're easy to repair or replace.
Unlike ceramic or porcelain tiles, carpet tiles aren't expensive to replace and can be done in a much shorter period. It's as simple as removing the broken or worn carpet tiles and replacing them with new sections. You can remove particularly dirty sections and replace them once you've thoroughly cleaned them. The lack of adhesive makes this process exceptionally easy.
5.     Amazingly Durable
If you're looking for flooring for your retail store or office area, you're no doubt going to want something that's durable. The good news is that carpet tiles are among the top high-performing flooring options on the market. Since carpet tiles are low-pile, tight and looped they are well known for having a long lifespan.
They also have a remarkable ability to withstand the debris and dirt associated with heavy traffic in busy commercial areas. Additionally, opting for good-quality carpet tiles will also reduce the damage that can be caused by office chairs continuously rolling over them.
6.     Carpet Tiles are Remarkably Cost-effective
In addition to needing durable flooring, you also want an option that's cost-effective. This is especially necessary when you have a large floor space to cover. A few of the features that make carpet tiles cost-effective include:
Easy to transport since they're not manufactured in big rolls
Require little storage space and can easily be kept in a storeroom
Doesn't require adhesive or specialised tools to install
Lower installation costs as the process is quick and easy
Can easily be repaired or replaced
Easy to remove and install elsewhere
Doesn't result in workflow disruption or downtime of business
7.     High Degree of Sustainability
In general, regular carpets and ceramic tiles often require a lot of trimming and cutting to size to fit the space. This results in a lot of leftover materials that usually end up being discarded.
Investing in carpet tile is an excellent way to avoid this wastage. Carpet piles can be ordered in the exact size and will require little trimming, which in turn will result in considerably less waste of product and money.
Carpet tiles are ideal for commercial spaces – Final Thought
Investing in carpet tiles is the ultimate way to create an attractive and functional commercial space. Aside from being quick and easy to install, carpet tiles are versatile, durable and low maintenance. Add a touch of style to your commercial space by investing in a sustainable and cost-effective flooring solution!
Comments on this 7 Top Reasons Why Carpet Tiles are Ideal for Commercial Spaces article are welcome.
Porcelain Tiles
Porcelain Tiling Posts
Porcelain slab applications and varieties
Useful tips for installing porcelain tiles
How to choose between ceramic and porcelain floor tiles
10 best home decorating ideas with Spanish tiles
Buildings
Residential Architecture
Comments / photos for the 7 Top Reasons Why Carpet Tiles are Ideal for Commercial Spaces page welcome