Architectural Building Design Tools Advice, Architecture Software
Can Games Unlock a New Generation of Architects Guide
Best Architecture Games and Tools – Online Tools for Design Article
23 July 2019
Can Games and Tools Unlock a New Generation of Architects?
Back in the golden age of architecture, there was computer-aided design (CAD) software that had to be relied on in order to speed up the design process or test the feasibility of a build. Luckily, technology – the same technology that brought CAD to use – has advanced further and now offers a variety of programs and software to test out constructions and designs.
In fact, for those early in their architecture careers, some of these technological advancements come in the form of construction and architecture-themed games. So, what construction games exist in order to help us work our architectural magic on and off the page?
Architecture Games Help the Next Generation
For those studying to be architects, finding games and tools online is extremely helpful and can make learning more accessible. Games such as The Sims and Minecraft also help to galvanise the next generation of architects as players learn that they enjoy mapping out and designing homes or creating entire worlds. While clicking is easier than real design, there are still a number of issues which need to be overcome, which will give players an appreciation for what it's really like to be an architect.
Microsoft's Minecraft is perhaps one of the most telling examples of how gamification can benefit other professions – and the success of Minecraft can be reflected in Microsoft's stock price. The stock price is a strong indicator that the developments a company is making are adding value not just to the company's market share, but to the growth of their sector altogether.
Architecture Games Boost the Company
Indeed, those who have looked further into developing games that act as educational tools for sectors such as architecture suggest that the company is looking for new avenues to expand into and, therefore, could be seen as forward-thinking, which is likely to have a positive impact on the share price as they aren't sticking with an outdated business plan – assuming there isn't too much overhaul in implementing this. For anyone interested in online CFD trading to speculate on the rise and fall of share prices, monitoring the release of an architecture game by a major developer can be telling of the company's intentions.
For example, the Nintendo Switch and the alternative experience it has provided are reflected in the boom Nintendo's share price has seen, with its portability and accessibility being key parts of that. Offering titles such as Project Highrise to appeal to budding architects, the Switch caters to a variety of demographics and shows that educational games are equally important to the company as their mainstream titles.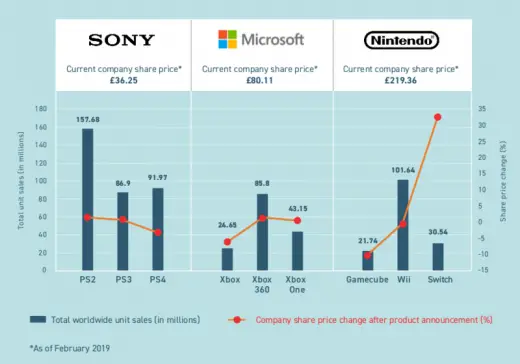 Source: IG
What are Some of the Best Architecture Games and Tools?
Microsoft's Minecraft may be the best answer to the budding architect's dream of design. Construction Simulator Pro offers an in-depth look at the entire construction process, while SimCity BuildIt focuses on building, but also running a small town. Megapolis is large-scale building sim, while Bridge Construction Simulator takes a mathematical approach to constructing a loadbearing bridge as an architect might have to design.
Smartphones are also getting involved by offering more practical tools for those wanting an architecture career. Drone Deploy uses 3D models to help map a site by taking the time-consuming job of surveying, while TrueLook offers a drone photography service to take real-time images of sites to help architects and contractors plan how the site should look.
Games not only help budding architects to hone their craft before moving onto intense study and in-depth programs, but they also give those interested in a career as an architect a way to test the waters to see if it's something they really want to do.
Architectural Design
Contemporary Architecture
Comments / photos for the Can Games Unlock a New Generation of Architects? page welcome