Must-Have Bedroom Accessories Guide, Home Bed Tips, Decor Advice
Must-Have Bedroom Accessories: Top 10 Picks
1 Feb 2021
What to have and what not to have in your bedroom, is the question. This choice could be tricky at times, especially when one intends to get comfortable, and create a classy look at the same time. Being selective is necessary to prevent cluttering, and giving a neat look to your room. It also takes care of the spaciousness of the room, maintaining the minimal moving space. Here is a list of top 10 picks which one must have to build a complete bedroom experience.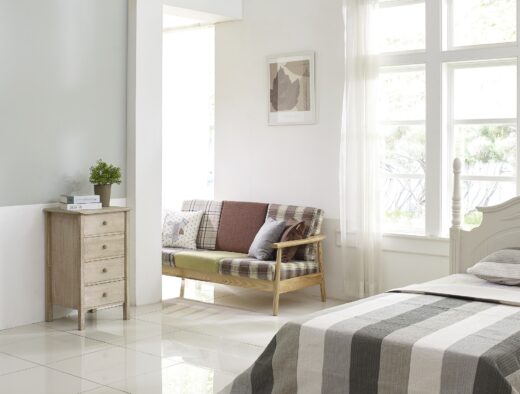 Must-Have Bedroom Accessories Advice
A Relaxing Mattress: The primary objective of a bedroom is to achieve a sound sleep which is not possible without a mattress that gives complete relaxation to the body and the mind. A good quality mattress will also aid in maintaining a good posture which has long-term health benefits. The selection of a mattress needs to be done only after some basic research on the quality.
A Comforting Mattress Topper: Your mattress may not be as hard or as soft as you want it to be, in either case, a mattress topper will always come to your rescue. There are also some other issues like your mattress isn't spongy as it used to be or you are just willing to add an extra few inches. There are a range of mattress toppers reviews available at this site, so, do check them out.
Good Quality Bed Sheet: A bed sheet with a dense thread count, and rich fabric, such as silk or satin, is a treat to your skin. On average, you spend six to eight hours per day on bed, in this duration, the bedsheet comes in direct contact with your body. Hence, it needs to be of standard quality, any compromise in this section may lead to rashes and other skin problems. It is also the quickest way to press the snooze button in changing the look of the bedroom. Bed sheets also provide ample scope for experimenting as they are available in numerous colours, patterns, and prints.
A Dimly Lighted Night Lamp: low lights are known to be sleep-inducing, when your eyes are exposed to such conditions they tend to relax if your vision isn't fixed on some specific spot. So during selecting a night lamp, one must make a choice accordingly. However, an individual's preference may differ to be of comparatively brighter lighter or no lights at all.
Side Table: A small table by your side is a must-have in a bedroom. It plays a vital role in keeping things when you are about to doze off into deep slumber. If you are in a habit of reading or listening to music before sleeping this table comes in handy in your laziness to come out of your bed.
Pillows and Cushions: Throwing in an extra pair of pillows on your heavenly abode, not only adds to the look of your bed, but also provides extra comfort in times of need. These fluffy beings don't let you sleep all alone by being all around you when they are in abundance. The fillings of these pillows and cushions should be soft as well as sturdy to give comfort and support to the body, especially the spine and head.
Appropriate Size Bed Runner: People use bed runners usually either for providing an extra layer beneath your feet or as side rugs to their beds. Whatever the case may be, they never fail to add some extra aesthetic value to a bedroom. Besides they have their practical usage in reducing the amount of dirt on your bed and going low on maintenance.
Translucent Curtains: The availability of light in a bedroom should be adjustable according to the requirement of the circumstances. Curtains can regulate the amount of light flowing into the room and play an additional role in providing visual privacy. A mesmerizing set of curtains comes under the essentials of a bedroom, but keeping in mind the color and texture goes well with the wall and other components of the room.
Chairs/Bean Bags: Once in a while, everyone goes through those sleepless nights, where work, exams, or your personal life takes away that refreshing sleep from you. You feel like not staying in your bed at night therefore a retiring chair or a bean bag is also a must-have item for your bedroom. You can enhance your furniture accumulation by having them in a set. It is also advisable to go for adjustable beds which can serve both the purpose of sleeping and resting.
A Foot Rug: Having a foot rug at your doorstep is like having a security guard at your main door- both prevent the entry of unwanted elements like dust, mites, and other allergens. Rugs come in all shapes, colors, and sizes; the one for your bedroom can be furry and soft, unlike the rug of a main entrance which ought to be rough and tough.
Bedroom Accessories Tips – Bottom line
A bedroom is a personal space that is to be personalized with individual preferences. This curated list may play a suggestive role in coming up with an ideal bedroom. The above items are available both online and offline with numerous options to explore, some stores also assist in making the right selection. If you feel that such picking isn't your cup of tea, then professional help is also easily available in this respect. However, DIYs are in the game in the present digital era, where every piece of information is at your fingertips.
Comments on this guide to Must-Have Bedroom Accessories article are welcome.
Beds and Interior Design
Bedrooms Posts
Essentials things for a perfect master bedroom
Touches of Glamour for your Bedroom
Perfect bed headboard designs for bedroom
Make Your Bedroom More Comfortable
Home Articles
Residential Architecture
Comments / photos for the Must-Have Bedroom Accessorie Guide page welcome