More than just solar panels: Building-Integrated Photovoltaics (BIPV), Building Design Tips, Online Advice
More than just solar panels: Building-Integrated Photovoltaics
7 Nov 2021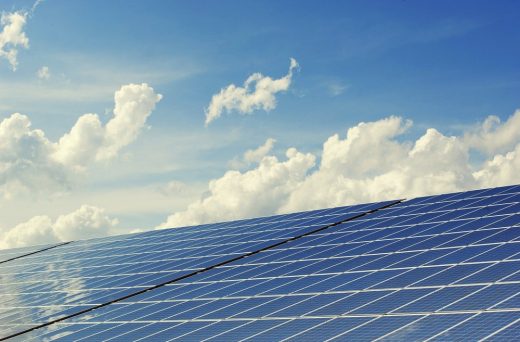 Dating back to the 1970s, photovoltaic (PV) applications began to appear on buildings that were notoriously situated in remote areas without any access to an electric power grid. As of the 1990s building-integrated photovoltaics (BIPV) construction products became commercially available and it was specifically designed to be integrated into building envelopes.
Today, photovoltaics is one of the most upcoming renewable energy technologies, and interest in it is growing worldwide among architects and building owners.
It is considered to be a truly exquisite instrument of producing electricity on-site and directly from the sun, without the involvement of energy supply or environmental harm. These devices naturally produce energy out of sunlight, silently without the need for upkeep, pollution, and without the reduction of materials.
Renewable energy straight from buildings' envelopes:
By producing electricity out of sunlight, Building-integrated photovoltaics (BIPV) are solar power engineering products and systems that are harmoniously merged into building envelopes and parts of building mechanisms such as façades, rooftops, or windows.
Whilst serving a double objective, a BIPV system is an intergranular component that will make up the building skin which synchronically turns solar energy into electricity.
You do get another photovoltaic system, apart from a building integrated photovoltaic system, there is also a building applied integrated photovoltaic system (BAPV)
 BIPV vs. BAPV: Here's how they differ from each other:
The key difference between BIPV and BAPV is the method being used when integrating photovoltaic systems into the building.
BIPV: The BIPV method involves the replacement of the standard construction component with materials including solar modules. This gives an opportunity for a dual function, especially to produce energy and to provide a construction element for the finished building. This is the preferred approach taken upon designing an "Active" architectural project.
BAPV:  The BAPV method consists out of fitting modules to the existing surfaces of the building. This is done through superimposition when the construction has been completed, for instance, when an energy renovation project takes place. This is normally the approach taken on for traditional photovoltaic solutions.
Multifunctional solar panels: The many functions and benefits of BIPV
The function of a BIPV installation is to provide electricity to buildings, but it is not only limited to that, other functions that it provides are weather protection, thermal and acoustic insulation, shadowing, visual coverage, and can also provide burglary protection.
BIPV's also comes with more benefits than only producing on-site clean electricity, it also plays a big role in the energy consumption of buildings through daylight utilization and the reduction of cooling loads.
BIPV can contribute to the achievement of net-zero energy buildings and by utilizing roofs and façades to generate energy, it is considered as the only building material that can have a return on investment (ROI).
Lastly, building owners benefit from reduced electricity bills and portray a positive and more sustainable reputation, and are recognized as "Green".
The different types and module forms of BIPV:
You can get four main types of BIPV modules that can be integrated into various forms:
Crystalline silicon solar panels which are integrated into ground-based and rooftop powerplants
Amorphous crystalline silicon, these are thin film solar PV modules that can be hollow, light, red, blue, or yellow and can be used as glass curtain walls and transparent skylights.
Copper Indium Gallium Selenide (CIGS) based thin film cells that you can get on flexible modules which are laminated to the building envelope, or the CIGS cells can be mounted directly onto the building envelope substrate.
Double glass solar panels with square cells inside.
BIPV modules are integrated into several forms such as:
Flat roofs: The most widely installed to date is known as an amorphous thin film solar cell that is integrated into a flexible polymer module attached to the roofing membrane by using an adhesive sheet between the solar module back sheet and the roofing membrane.
Pitched roofs: Solar roof tiles are ceramic with integrated solar modules. These modules are shaped like multiple roof tiles.
Solar shingles: These modules are created to look and act just like regular shingles whilst incorporating a flexible thin film cell. The benefit to solar shingles is that they will extend normal roofs by protecting insulation and membranes from ultraviolet rays and water damage.
Façades: Façades can be installed on to existing buildings along with giving old buildings a brand new and fresher look. These modules are mounted onto the façade of the building and over the existing structure. this can also increase the appeal of the building along with boosting its resale value.
Glazing: Photovoltaic windows are Semi-transparent, these modules can replace several architectural elements that are normally made with glass or comparable materials like windows and skylights. In addition to producing electric energy, these can also contribute to further energy savings thanks to its high level thermal insulation dynamics and solar radiation control.
BIPV provides various options for customization
As BIPV are used to replace conventional building materials in parts of the building envelope, it adds architectural interest to buildings and also gives them a futuristic appearance.
BIPV integration is also gaining interest and popularity among residential architects and builders, it can be customized as curtain walls, paneling, balconies, and sunshades, in addition, to be used as vision glass instead of double-pane windows and skylights to provide electricity as well as transparency.
Some BIPV manufacturers have developed solar tiles to appear aesthetically similar to normal roofing upon viewing them from the street. The Solar tiles are made out of tempered glass in order to make them stronger than standard roofing tiles, the materials are also designed not to degrade over time, like asphalt or concrete tiles.
BIPV can be customized in size, thickness, shape, and color in order to fit and compliment the building's architectural aesthetic.
PV specialists, along with innovative designers in Europe, The U.S, and Japan are exploring more creative ways to incorporate solar electricity into their work and sparking a new dialogue around solar Electric Architecture.
Comments on this Building-Integrated Photovoltaics (BIPV) article are welcome.
Building Articles
Residential Architecture
Comments / photos for the More than just solar panels: Building-Integrated Photovoltaics (BIPV) page welcome