Building Construction Surveys guide, Construction safety tips, Online property surveying advice
Building Construction Surveys
28 Sep 2021
Land surveys are a vital step in the construction process. Building construction surveys are designed to ensure that the land is suitable for building, and they can also identify any potential problems that may affect the build. If you go ahead without a proper survey in place, it can be difficult to guarantee the structural integrity of the building, especially where high-rise structures are concerned. You may also run into unexpected issues that delay construction.
Read on to find out more about the importance of building construction surveys and what they involve.
Why Are Building Construction Surveys So Important?
Building construction surveys are important because they protect the project, featuring all of the relevant information on the site and issues that may affect it. The information will also include any legal problems that may exist. This information is beneficial to the construction project, as it can be used to inform a decision on whether or not to proceed with the build.
If you want a building project to run smoothly and without issue, then investing in a detailed survey before construction begins is essential. It helps to protect the investment of time and money that has been made into the project, as well as protecting all parties involved from potential danger due to unforeseen site conditions. In this way – building surveys are an important step in safeguarding your business interests and customer safety. To learn more about cost-effective survey solutions that suit your specific needs, click here for cost-hack solutions!
What Does A Building Construction Survey Involve?
A building construction survey is a detailed report on your site, tailored to the specifications of your project. It will provide you with all of the relevant information that can meet your specific needs. The information from a building survey may include details of any legal issues, as well as precisely locating boundaries and noting any potential problems with the ground conditions that could affect the build.
During the survey, the surveyor will also note any potential issues for communication, power supplies and transport links. This part of the survey can be particularly important if you are building in an area where there is a high risk of disruption to services. You may want to speak with your chosen contractor about these points before beginning the construction process.
A construction survey can identify potential problems before they occur. You may even find that there are no issues with the site at all, which will make the build process much easier. If there are any issues, they can be noted before construction begins.
It's important to note that different factors play a role in the ground conditions of your site. A soil investigation may be required if you are concerned about stability or excavation below existing structures onsite. This kind of survey is typically not included as part of building construction surveys but it may be useful for some projects.
Construction surveys can tell you exactly what information needs to be taken into consideration during the planning process – including whether or not certain parts of your project will be deemed 'high risk'. You can then work with your contractor and other stakeholders to make sure all precautions have been met before the start of construction.
The building survey is a crucial part of the planning process and can aid you in future decision making about your finished build. With an overview of any potential issues, you will know precisely what to look out for during the build and how to deal with any problems that may arise.
Aside from the legal status of the site and ground conditions, building surveys typically include analysis of structural integrity, safety exits and facilities such as kitchens and toilets. They may also include details on planning permission.
Building construction surveys can also be carried out on existing structures before a refurbishment. This can help ensure that the build is safe and compliant with current building regulations.
The information you receive from your building survey will depend on the degree of detail that the surveyor decides is necessary for your project. The more complex or risky aspects of your build may require further analysis.
Who Needs A Building Construction Survey?
If you are planning on building a large scale commercial or residential property, then it is crucial that you invest in a detailed building construction survey. Without this information, your project could face continuation problems and high levels of risk during the build.
Building construction surveys are beneficial for many projects including:
Schools
Hospitals
Super high-rise
Low to medium-rise
Refurbishments
Building construction surveys are absolutely essential during any construction project. Without them, you will not be able to effectively plan the build and overcome any challenges along the way.
Comments on this guide to Building construction surveys article are welcome.
Building Articles
Residential Architecture
Why Do Construction Workers Wear Hard Hats
Planet Smart City, Aquiraz, near Fortaleza, Ceará, Brazil
Design: Studio Kyze Arquitetura e Design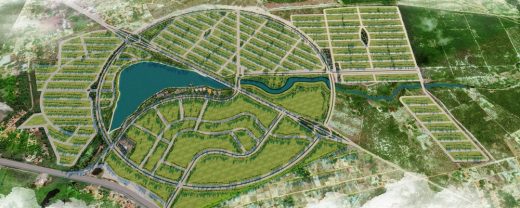 image courtesy of architects
Planet Smart City Aquiraz, Brasil
Comments / photos for the Building construction surveys guide page welcome