5 Beautiful metal roof pictures and ideas, Building Design Profession Tips, Online Advice
5 Beautiful Metal Roof Pictures & Ideas
16 Mar 2021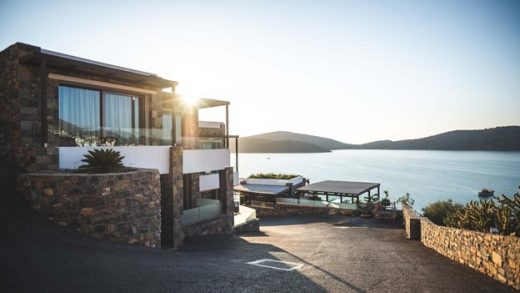 Some of the best roof designs are made from metal which can give a house a modern and unique look that will make it stand out among other homes in the neighborhood. If you are in the market for a metal roof design, a roofing contractor can guide you through the right steps regarding the installation process as well as advise you on pricing. Metal roofs are recognized by their durability and long life span, and as a homeowner looking to install a brand new metal roof, you are not only going to enhance the appearance of your home, but you will also reinforce the top portion of your house which is essential with material that is built to last.
Aluminum Roofing
As a type of metal, aluminum has been known to be strong enough to resist decay and corrosion, and can also make a great choice for roof design. Aluminum roofs can be the perfect fit for homes and businesses that want a durable and light-weight material. Aluminum is very malleable and can be custom-fitted to suit any roof style. One metal roof design idea is to incorporate various slopes and inclines to give your home an upright appearance and so rainfall and other debris can fall on the sides of the home.
Copper Roofing
Another type of metal roof material that has also been used in the roofing industry is copper. What makes copper one of the many popular metal roofing materials is the fact that it requires little to no maintenance and it does not weigh that much. It is also an eco-friendly material that is fully recyclable which is perfect for greenhouses. In addition, copper is recognized by its bronze color, this detail can be used as a design element that can complement the rest of a home, for example, a white-colored home with bronze-colored roofing can make a great combination.
Corrugated Metal Roofing
Corrugated metal has been used on warehouses and buildings in the agricultural industry, and offers a unique style in roof design. Perhaps replacing the old roof on your backyard tool house or shed is part of your home renovation plan, corrugated metal roofing can make those structures pop out with an industrial-style feel.
Metal Shingle Roofing
Metal shingles are very versatile and can be shaped to any home roof layout, and if you are looking to purchase metal shingle material, it will be a great investment. Metal shingles are known to last a long time, and are very durable, and can make a great complement to higher-end contemporary homes, but also homes that are in need of a major roof design makeover. Having an old or damaged roof can be a recipe for a variety of issues like leakage. This is where a metal shingle roof can make a great choice.
Standing Seam Metal Roofing
Energy-efficient homes are turning out to be very popular as the demand for efficiency continues to increase. Standing seam metal is comprised of panels that lock together with screws and bolts and can deflect UV rays which can make your house cooler in the summer months. This material can be perfect for greenhouses, pergolas, and other structures around the home.
Price Considerations for Metal Roofing
Now that you're excited about getting a new metal roof, you may be wondering about the costs involved. Metal roofs do tend to be more expensive than less expensive materials, like asphalt shingle roofs, but for the extra money, you receive a longer-lasting, more durable roof, that's arguably more attractive.
Keep in mind that differences in costs per square foot can impact your bottom line significantly depending on the size of your roof.
Aluminum Shingles – $4 to $5.50 per square foot.
Copper – $8 to $15 per square foot.
Corrugated Metal – varies depending on the type of metal used. Zinc can be anywhere from $5.50 to $10.50 per square foot. Other metals can be as low as $3 to $6.50 per square foot.
Metal Shingles – varies depending on the type of metals used. Copper, being among the most expensive, can cost $14 or more per square foot, but other metals are as low as $5.
Standing Seam Metal Roof – $8 – $14 per square foot.
Comments on this 5 Beautiful Metal Roof Pictures & Ideas article are welcome.
Roofing Articles
Roofing Posts
What equipment do you need to start roofing business
Home renovation and roof replacement estimate tips
First Time Replacing Your Roof
Home Articles
Residential Architecture
Comments / photos for the Beautiful Metal Roof Pictures & Ideas page welcome