Sash Windows Replacement Advice, Home Facade Design, Residential Property, Architecture
Are Sash Windows replaced from the inside or outside
8 Oct 2020
Installing new sash windows into any type of property is not always as straightforward as you might think. Aside from the cost, you have to take into consideration the time involved, whether it adds value to the property and if you are legally permitted to install the windows into the property.
Windows play such an important role in any building it is important to consider all of these factors before going ahead with installation. In this blog we answer all of these questions to help you find the right glazing solutions for your home.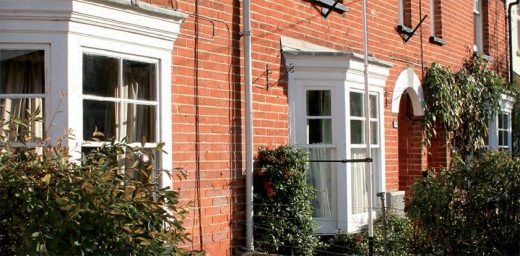 Are Sash Windows replaced internally?
How long it takes to install a sash window?
Aside from the cost, one of the questions we are asked most frequently from our customers relates to the time involved in installing a sash window. Which is understandable, as everyone has their own daily schedule to follow and once you know how long it takes to install then you can make arrangements to work around the time slot.
Without knowing the specifics of a particular job, such as the size, access points and how many windows are being replaced, it is difficult to pin down an exact time frame. However, in most cases we would estimate a minimum of one day for a single window that allows for easy access and no other unexpected complications. In some instances that can be reduced if additional windows are also being installed onsite.
Of course, this is only an estimation to give you a general idea. Once a job is confirmed with a customer and we are aware of the full specifications, then we can let you know ahead of time how long the installation could take. We do always advise customers to add on a little extra time in case there are any unexpected complications, but our installation team will always keep you updated throughout the job so you can make plans accordingly.
Do new sash windows help sell a house?
One of the best reasons to install new sash windows into a property is to increase its aesthetic and financial value on the property market.
If you are thinking of selling your home, then new windows will always make an impression on potential buyers. Not only will they help increase the kerb appeal of the property from the outside, but perhaps more importantly, it will enhance the buyer's living experience inside the home.
New sash windows will enhance the energy efficiency of the property to retain heat for longer periods of time, reducing heating bills and the building's carbon footprint.
Also, from April 1 2020, all rental properties – domestic and commercial – are required to have a minimum Energy performance Certificate of "E" to comply with the law. Installing new sash windows will ensure you exceed this rating, which adds more value to the property before it is let or sold.
Can I put new sash windows in a Grade II listed building?
Without prior knowledge, asking if you can install windows into any property you own may sound pointless. After all, if you own the property you are allowed to do anything you want to it, right?
Unfortunately that is not the case with Grade Listed buildings, which are given special levels of legal protection as they are deemed to be of historical interest. Grade I listed buildings are classified as being of 'exceptional interest' which means installing new sash windows into them will only be granted on very rare occasions.
Which begs the question, can you put new sash windows in a Grade II listed building? 92% of list buildings are classified as Grade II, with around 376,000 properties in the England included.
In order to get consent there is an official procedure that has to be followed via your local council. In most cases you will be granted consent if the planned works do not have an impact on the historical interest or special architectural design of the building or surroundings. The installation must also be appropriate in terms of the detailing, scale and materials used, while minimising the potential loss of the building's historic fabric.
Although each request is assessed on a case-by-case basis, you are more likely to be granted consent to install new sash windows in a Grade II listed building than you are a Grade I listed building.
Sash Windows Replacement and Installation in London
If you are searching for sash window replacement and installation in London then you've come to the right place. Repair a Sash are experts in the repair, maintenance and installation of sash windows in the capital and are available for jobs of any scale and size. Whether you require work on a single window or entire household, you can rely on us to provide a professional service performed to the highest standard.
As a FENSA and GGFI-accredited company, we offer a fair and transparent service that our customers can always trust in. No matter where you live in London our team are never far away, so if you require repairs, maintenance or installation of sash windows in London, we are the go-to option for thousands of customers.
Comments on this Are Sash Windows replaced from inside or outside advice article are welcome.
Building Articles
Windows Articles
Where should you check out sash windows
Gorgeous Replacement Windows Ideas
What to consider when choosing windows for your home
Five Advantages of Roof Windows Advice
Comments / photos for the Are Sash Windows replaced from inside or outside page welcome