Home Renewal Rules, Interior Design Questions, Building Renewal, Architecture, Property Tips
Architects working with builders
Interior Design Tips: Residential Architecture Queries – Home Improvement Guide
10 Sep 2016
Architects working with builders advice
9 Rules for Working With Builders
Architects work with builders every day – what can you learn from them about getting the best from your builder?
Article first published on Houzz
Michael Schienke, Houzz Contributor
Collaboration and seeking out specialist skills, facilities or experience are key to getting the best job done in your home. Here are some of the rules to remember when searching for and briefing a builder for your project to help ensure good-quality design and great results.
Communicate clearly
The more complex a project is, the more important it is to communicate with the builder. He needs to know what's planned and what you want to achieve. He's the one who will make it happen, or at the very least needs to make preparations for any specialist trades that will be required.
When you first contact a builder, share pictures with him to communicate clearly what you're looking for. Try sharing a Houzz ideabook with him, and add notes to your inspirations.
Discover more living rooms by browsing photos on Houzz
Establish good teamwork
To achieve the clean look shown in this picture, many trades would have had to work together. Look closely at the perimeter drain, for example, which is installed neatly alongside the track for the folding doors. To install it with such precision, a lot of the works – now hidden below the floor – would have been discussed in great detail with the contractor.
A good rule of thumb is, the simpler it looks, the more complicated it probably was to build. Here you see how important it is for both the external and internal contractors to work together and understand what each needs to achieve.
The only way to attain this level of detail and cooperation is good communication. A good architect encourages open discussions with all parties involved and also lets them discuss matters between themselves at the same time, on site, rather than just asking them to talk to each other.
Hire a specialist if your project involves expensive or unusual materials
If you've decided you wish to use an expensive and specialist material, such as marble, as used for this bespoke island in a Dartmoor kitchen, you really need to have it installed by someone with previous experience in handling it.
While it's easy to replace timber or wallpaper if something goes wrong, if you choose a piece of marble and it gets damaged, it can lead to lots of problems, not to mention expense.
Builders gone? Get a stylist's tips for giving your kitchen that final polish
Ask what specialist facilities your builder has
Let's look at joinery, for example. Joinery refers to items made of timber, such as wardrobes and tables, but also doors, architraves and skirting boards. The basic finishes can be achieved by virtually any builder on-site. However, if you would like a non-painted finish (not hand-painted) or veneered or lacquered finish, it has to be done off site, in a controlled and clean environment, by professionals in a joinery workshop.
The bespoke doors to this en suite are an excellent example of good, thought-through detailing, coupled with accurate implementation. If these jib doors were closed, you would think this was just a row of plain wardrobe fronts. The doors into the room are, however, thicker than the cupboard doors, so the detail on them is likely to be different. They are also heavier, so the hinges are larger, too.
It's one thing to get an architect to work out and draw such details, but the only way to have them successfully built like this is to have a good team of joiners. Some builders have their own workshops and this can reduce the total budget, as it's all done 'in-house', under the same contractor, so to speak. Therefore, when hiring your builder, you may wish to check they have the capacity to facilitate this sort of request.
Find someone who's worked on a similar project
If you have an unusual construction request, find a builder who has done something similar.
Some contractors are unique, in that they've specialised in working with different finishes or materials, but have also developed an expertise in certain skills – perhaps in building distinctive staircases like this one.
For example, we had to clad a cinema room with acoustic wall panels, but in very specific geometric shapes, the sizes of which had to be adapted to the actual size of the room. It was a very tricky job, and so we found someone who had the right experience to do it.
Check your builder's exterior experience before he starts on your garden
If the building work extends into the garden, it's good to find out whether the builder has appropriate skills. At the very least he will be able to advise on drainage, so your plants won't get waterlogged or your new lawn dry out.
Not many builders have worked on gardens; to find out if your chosen builder has, ask someone with experience to speak to him about the design.
Discover how to create the perfect front garden
Verify your builder's attention to detail
Ask your prospective builder to demonstrate how they make the effort to adhere to the finest of details.Speak to your builders' clients about their experiences and, if possible, visit their home to have a look at the work done. Take a look specifically at details and finish – probably the single most important quality in a builder is their attention to detail.
Also ask previous clients about their experiences with day-to-day communication with the builders in question: were they helpful, did they offer good ideas and solutions, or did they simply build what was asked without offering advice?
As architects, we spend so much time trying to find out what our clients really want and then set about working out how to achieve this in the form of technical drawings and sketches. It would be such a waste if some of the attention given to the details at the outset was then lost due to a lack of care.
Hire a builder with in-house specialists
Some builders can install plug sockets, lights and pipes themselves. However, for big rewiring projects or major plumbing installations, you'll need an expert. In this instance, it's much better, for many reasons, if the contractor has their own electricians and plumbers employed in-house.
The cost benefit to the client is one reason, but more importantly it helps ensure jobs aren't delayed – if the electrician is part of the team, he or she can be brought on site when needed.
In contrast, some builders – those who work with subcontracted companies – usually have other clients to look after at the same time and therefore need more notice to sort out ongoing issues.
Choose a flexible builder
Flexibility is an extremely helpful characteristic for a contractor to have. By this I mean the ability to switch tasks around, and rearrange the plan of works with the aim of incorporating client changes, or changes caused by other circumstances, into the set time frame with the least amount of delay. The only way to find this out is to speak to past clients or architects who have worked with this builder.
If contractors have a degree of flexibility, it means there's the opportunity for everybody to improve various parts of the building as and when discussions arise – during a site meeting perhaps or, most importantly, before the build is 'set in stone'. If contractors are inflexible, they may view adapting in this way as carrying out changes for free, and this can lead to delays, escalated costs and frustration on both sides.
Home Design
Rotana Salalah Five Star Hotel, Oman
Design: GM Architects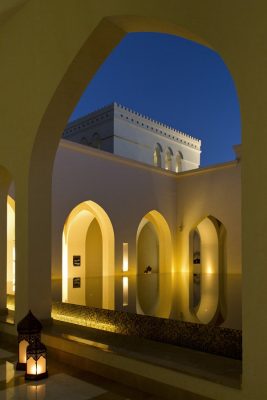 photo from architects
Renaissance Barcelona Fira Hotel, Spain
Design: Ateliers Jean Nouvel



photo : Agostino Calandrino
Comments / photos for the Architects working with builders page welcome
Website: Architectural Walking Tours