Amazing tips to decorate a French chateau tips, Luxury France furniture advice, Online home decor guide
Amazing tips to decorate a French chateau property
9 Sep 2021
A French Chateau for sale can be an amazing place to live, work and entertain. But to make it a home you need to furnish it with the right pieces. You'll want to incorporate your own personal style as well as traditional elements such as crown moldings and ornate ceilings. Here we'll talk about the property`s interior, how to decorate and furnish it to look at its best.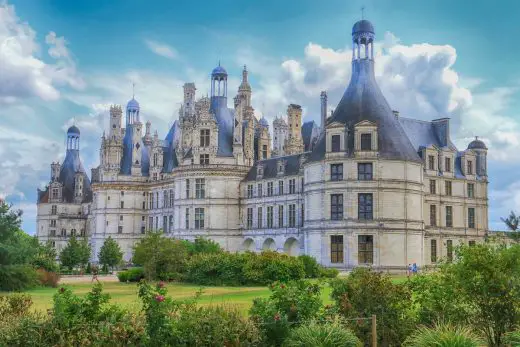 Add a few French-inspired pieces of furniture
You can add a few French-inspired pieces of furniture like armchairs, chaise lounges, and upholstered benches. A French Chateau is all about European culture, so it's only right to have some furniture pieces that mirror this. Adding a few antique or vintage-style chairs with ornate designs will give off an air of sophistication and heritage.
Choose furniture that has intricate carvings and is made of dark wood. Long wooden dining chairs with delicate carvings are sure to make guests feel like royalty when they're sitting at their dinner table during mealtime. For the coffee table, opt for one that has legs made from wrought iron since they are strong enough to withstand heavy use without breaking down easily.
Paint your walls light blue or white for that classic chateau feel
If you are looking for classic French country-style decorations, paint your walls white or a light blue color and choose lighter furniture pieces. If you want more of an Art Deco feel, go with darker hues like deep purple, navy blue or even black. Try painting different rooms in your home different colors so that it has kind of an eclectic look instead of just one cohesive style throughout.
Think about what styles fit into each room's specific space – if there is not much natural light coming through windows try choosing brighter colors whereas dark wood flooring might be better paired with darker decorating choices. Remember to always make sure everything looks well put together though – do not mix too many different styles!
Add some greenery to your home with plants or potted flowers on tables and shelves
Decorating your living space is all about the greenery, especially if it's a chateau. You can put some fresh flowers on display in vases around the mansion to make everything look more elegant and inviting. If you don't want to spend money buying new flower arrangements each time they start looking tired, try clipping off any wilting blooms from the existing bouquets before introducing them into new ones.
Flowers, trees and plants can provide a beautiful addition to any room in your home. Don't be afraid to get creative with the types of flowers you choose – potting some wildflowers together in an old jar is sure to brighten up even the darkest corner of your living room! Add greenery around window sills or doorways for that rustic French look.
Use embroidered linens on couches and chairs to add texture and style
A French Chateau is a great place to use embroidered linens. They add a unique feel to any room in your home. The linens come in many different colors and patterns, so you can find one that will look great with the rest of your home decor. You can find many different colors and styles of cushions, ranging from the 1800's designs to modern ones. For couches and chairs you should look for classic patterns that will help match your room together. To go with these couches you should also get some throw pillows made out of chenille or velvet in black or red draping fabric.
Choose beautiful matching rugs for your chateau
The next step you should take is to use rugs that match. You can find these in old world designs as well as modern styles, so it will be easier for you to match the design of your room together. If you have an antique French Chateau, then I would definitely recommend going with a shaggy style carpet, since they are very elegant and easy to decorate around without drawing too much attention away from other pieces in your furniture set up. Authentic Persian rugs, with their intricate designs and rich history, would also be a wonderful addition to any room seeking an old world charm.
These rugs come in many different colors but if you want something unique then go with an off-white color which has been proven to fit perfectly into older homes built before 1944 due to this being during World War II, when white carpets were used because they didn't leave any footprints behind.
Hang a chandelier in the entrance hall
Your entryway is where your guests will first enter, so it should be dressed to impress. A chandelier in this area of the house can create an elegant statement that sets a tone for what's to come during their visit. It also creates drama and reflects light throughout the room, making it seem lighter and brighter than before you added one. By adding lighting fixtures like these , not only are you creating beauty, but safety as well by increasing visibility.
Replace all your light bulbs with LED lights
Replace all your light bulbs with LED lights. The energy used by these lamps are much lower than traditional ones, and they only use an average of $20 in electricity per year. Also, replace any incandescent floor or table lamps when possible since the price difference is very small compared to their performance increase.
Put candles all over the chateau for romantic look
Candles and castles – they just go together so perfectly! The history behind this goes back to when electricity was not available and people needed light after dark – which came from candlelight instead. Use candles for your chateau to create a romantic atmosphere. The light flickers and gives the place an elegant feel. Candles are a wonderful way to bring warmth and romance into your living room, entrance hall, corridors or bedrooms. You can buy them in different sizes and colors, so they match every interior design perfectly.
Amazing tips to decorate French chateau property
With these tips hopefully designing and decorating a French Chateau doesn't seem nearly as daunting of a task now, does it? Certainly, there are plenty more things that need detailed attention, but following these tips will give you a head start on getting your French Chateau looking like it came out of the pages of a fairy tale book!
Comments on this guide to amazing tips to decorate a French chateau article are welcome.
French chateau properties
100% wooden house, Château de la Bourdaisière, Montlouis-sur-Loire, France
Design: LOCAL and Suphasidh Studio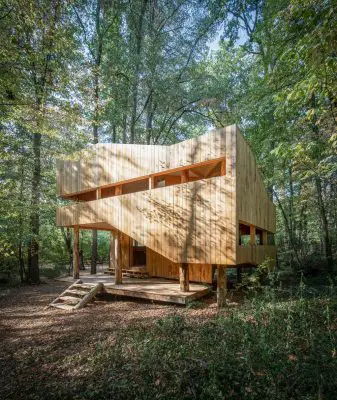 photograph : Atelier Vincent Hecht
100% wooden house Montlouis-sur-Loire
Château Margaux, France
Design: Foster + Partners, architects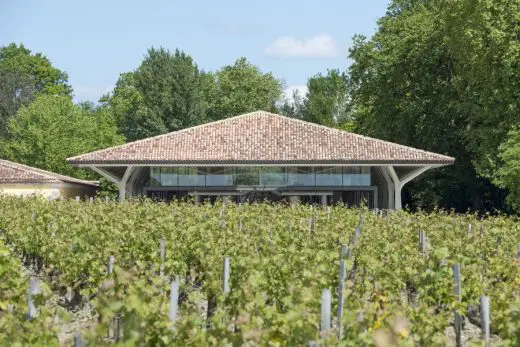 photo : Nigel Young_Foster + Partners
Chateau Margaux Winery Building
Building Articles
Residential Architecture
Comments / photos for the Amazing tips to decorate a French chateau advice page welcome.