7 ways to enjoy a portable projector at home guide, House entertainment advice
7 Ways To Enjoy Your Time Alone At Home With A Portable Projector
4 Oct 2022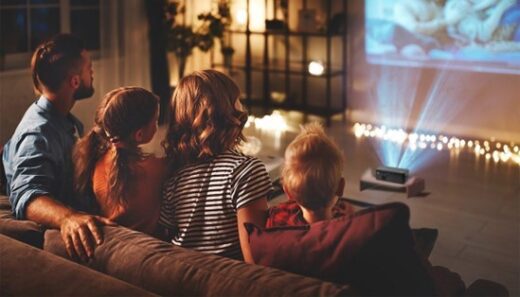 If you are home alone, you can use your time alone enjoying and working up on yourself. Moreover, you have the freedom to do every task without interference or interruptions. After all, who wouldn't enjoy their "me-time" watching some favourite movies on a big screen? A portable projector is quite versatile and supportive in performing various activities. You can get a portable projector in Australia with smart features and effective sound quality for an ultimate cinematic experience. There are multiple activities for you to involve in with a smart portable projector at home. You can increase your entertainment creativity, fitness, and gaming level 10x for the best home alone time.
Here are seven ways to level up your "me-time" session at home with portable projectors.
Elevate physical fitness
You don't need any laptop, TV, or LED to follow your favourite fitness routine. In fact, you can work out alongside the big screen on a portable projector. While staying at home, watching movies is not the only option but there are numerous activities to work on your body and skills. You can set up the projector on the wall in your living room and start practising with a clear vision of the moves.
Get involved with cooking
Feeling hungry but don't have any expertise in cooking? Technology has all the solutions and you can try recipes through online videos. You can enjoy cooking by setting the projector on your kitchen front wall. With portable projectors, you don't have to keep zooming the video to understand the cooking process. Portable projectors also have a loud sound that allows you to hear properly.
Interactive gaming experience
The games on projectors are a different level of experience and thrill. You can enjoy HD-quality graphics with loudspeakers. A bigger screen than your phone, tablet, PC, and PlayStations can increase your interest. Interactive gaming is possible through portable projectors. You can set up your gaming in any room of the house due to its portability feature.
Practice yoga through online sessions at home
Yoga needs a desired space to perform natural and professional moves to stay fit or healthy. If your house is small, you can install a mini projector in Australia to save sufficient space. You did not require a large expensive LED for entertainment and other household activities. A bigger screen allows you to perform exact moves without any hindrance.
Tune up your favourite songs
When you are busy with extra activities like washing clothes and arranging all the things in their desired place, you can tune up your favourite song. You can perform any task without getting bored. Similarly, connecting woofers and amplifiers to your projectors give you that perfect base. You can enjoy and do household chores with perfect enjoyment or entertainment.
Watch your TV shows on a larger screen
You can set up the projector on a wall and watch your favourite TV show. You will enjoy watching your show on the big screen. It improves your experience with projector features and functionalities.
Watch discovery channels
If you are a curious individual, discovery channels, animal videos, and knowledge about various research will excite you. You can watch tiny things into a larger broad picture. The clarity of videos, graphics, animation, and sound can be found with a mini portable projector in Australia.
You can improve your experience with projectors as it allows you to provide mobility. You can enjoy your favourite movie, sports, or play games everywhere in your house – from your bedroom and living room to the garden or lawn.
7 ways to enjoy a portable projector at home Conclusion
Portable projectors are efficient and effective in providing high-quality features. You can enjoy your time indoors and involve yourself in various activities with ease. Switch your amplifiers on and set up the projector at a correct angle against the wall for proper vision. Similarly, ensuring your walls are free from stains and calm paint colours will enhance your viewing experience.
Comments on this guide to 7 ways to enjoy a portable projector at home article are welcome.
Property
Architectural Designs – selection below for property:
Box Office & Cinema Ticketing Software
Building Articles
Architecture – selection:
Comments / photos for the 7 ways to enjoy a portable projector at home advice page welcome