7 kitchen sink trends you should adopt for your remodel, Home interior transformation
7 Kitchen Sink Trends You Should Adopt For Your Remodel
18 July 2022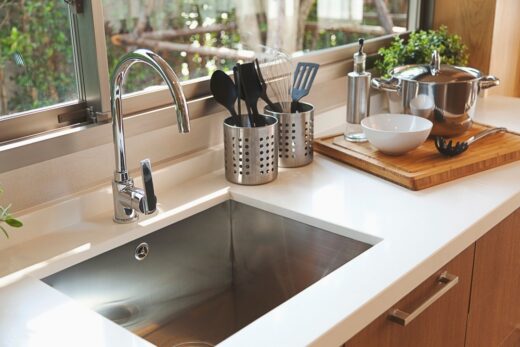 The kitchen is the heart of a home where a lot of cooking and heavy work takes place, especially if you're the type of family who cooks meals three times a day. With that cooking also comes one essential chore: washing the dishes. Even if you have a dishwasher, the kitchen sink will eventually feel the wear and tear of all the washing you'll do. Over time, it's one of those parts in your kitchen that will scream for a replacement.
Perhaps that's what may have brought you here today. Your kitchen doesn't look its part, and you know it's time for a change. Aside from its functionality, kitchen sinks also add to the stylish aspects of your kitchen, such that you have a kitchen that's as aesthetically pleasing as it is functional.
This video should give you a bird's eye view on choosing the kitchen sink that's right for you before you proceed with the kitchen trends listed below:
7 Kitchen Sink Trends List
1. Self-Rimming Sinks
Self-rimming sinks are tried-and-tested classic items for modern kitchens. They're usually made from cast iron, porcelain, or stainless steel.
Also known as drop-in sinks, these are characterized by weights supported by a rim that extends to the countertop's surface. This feature makes it one of the easiest sinks to install. Moreover, this type of sink has a long-standing history of being one of the most durable and long-lasting sinks.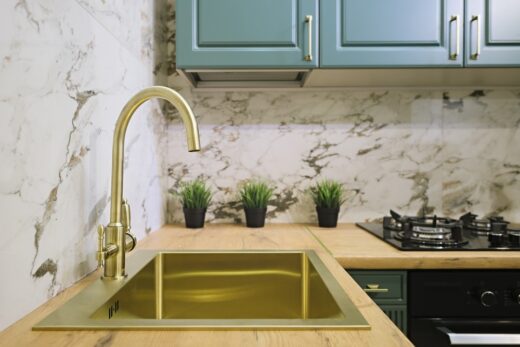 2. Sink Workstations
Whether you have a big kitchen countertop space or not, many households now also desire to have multifunctional pieces. The aim here is to reduce visual clutter and maximize the use of every feature in the home. This desire now extends to the kitchen sink.
A kitchen sink can also double as a workstation when equipped with the right features. This is how double sinks are becoming more popular. The functionality increases when you have two sinks in one place.
Likewise, modern sinks that are a common feature in households today are those with a drying rack. This makes the sink capable of varied functions in one go, like cleaning and drying vegetables and meal prepping, to name a few.
3. Farmhouse-Style Sinks
Key in 'farmhouse style sink' in any search engine and you'll get a picture of how it's a popular trend nowadays. This type of sink is usually made of ceramic, with its iconic deep basin design.
There's a good reason for the popularity of this type of sink. When it comes to style, the whole farmhouse aesthetic is versatile and timeless. As to practicality, ceramic farmhouse sinks are great for busy households, given how easy it is to clean and maintain.
4. Undermount Sinks
Undermount sinks are the opposite of self-rimming sinks. Instead of on top of the countertop, these are mounted under the countertop. Design-wise, it sits well with modern countertops like those made of quartz, as it complements a seamless and minimalist look.
5. Functional Self-Trimming Kitchen Sinks
This type of sink is characterized by how it leaves an exposed lip around the sink's edge, with the counter area cut for it to fit.
This type usually complements thick and solid wood or granite counters. These are installed after cutting around the countertop, revealing a clean and modern design.
6. Island Sinks
In the past, kitchen sinks were usually placed against a wall or a window. Nowadays, some kitchens have a sink on an island. This is particularly good for bigger kitchens that sometimes double as a place for hosting and entertaining.
7. Integrated Quartz Sink
If you love quartz and your budget allows the construction of one, you can have it for your kitchen sink. It doesn't have to be limited only to your kitchen countertop. This is what's known as the integrated quartz sink, usually blank.
Because it's stylish, the integrated quartz sink isn't made for daily heavy washing and cooking. It's more suitable for the main kitchen for entertainment functions or formal dinners, but you have another auxiliary kitchen where you do all the daily kitchen work.
Conclusion
The sink trend ideas presented here have a mix of classic and new styles. If remodeling your kitchen has always been in the books, you can make that a reality by incorporating a sink design you'll love to have for your home. If you're overwhelmed by what you'll find out, hiring an interior designer to help you make that choice will help. Weigh the pros and cons of each kitchen sink you're looking to buy and assess whether it's the one you'll love to see in your kitchen in the coming years.
Comments on this 7 Kitchen Sink Trends You Should Adopt For Your Remodel article are welcome
Kitchen Decor
Kitchens Posts
Equip your Kitchen for a Professional Cook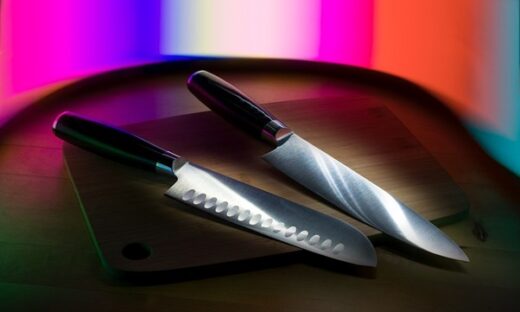 Consider While Renovating Your Kitchen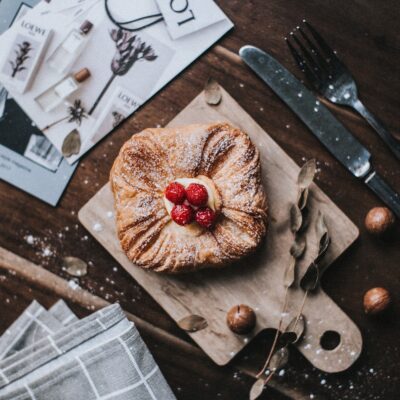 Kitchen design common mistakes to avoid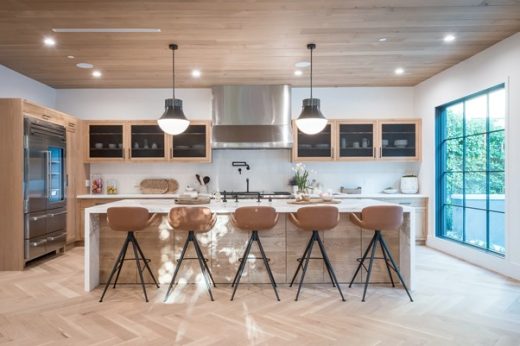 Make Your New Kitchen Tech Savvy
Items You Should Invest In For Your Kitchen
Comments on this Bohemian style kitchen decor ideas for new homes article are welcome.
Property
Residential Architecture
Comments / photos for the Kitchen Sink Trends You Should Adopt For Your Remodel page welcome