6 Famous Works of Architecture to see in Person Advice, Building Visit Tips, Design Travel Guide
6 Famous Works of Architecture you must see
8 Aug 2020
There's something awe-inspiring that occurs when you stand in front of an architectural masterpiece. Your mind is instantly drawn to the building's lines and the textures that pop out at you.
More interestingly, your mind frantically tries to figure out how such a masterpiece was conceptualized and constructed.
6 Famous Works of Architecture You've Gotta See in Person
There are many structures like this around the world that you have to see with your own eyes to truly understand and appreciate. The beauty that these buildings emit will leave you more enamored of architecture as a whole. Some people truly have the gift, and to be face to face with that gift is a once in a lifetime experience.
Here are seven famous landmarks you have to see in person.
6. Leaning Tower of Pisa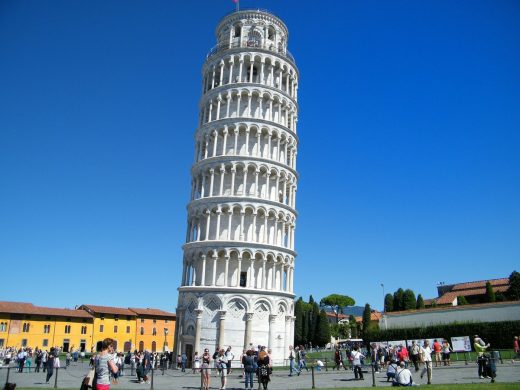 Italy is one of the most popular tourist attractions in the world. But, not for the pasta, or the gelato, nor the truffles, but for the Leaning Tower of Pisa.
People flock to the bell tower with a 3.999 degree to take their photos and create long-lasting memories that they can share with their friends and family for years to come.
The tower began to lean during construction in the 12th century because the ground was soft during the development. It occurred to tilt more shortly after, and it reached at 5-degree tilt until it was renovated a bit.
We know you're dying to get over to Italy and visit the Leaning Tower of Pisa because you want to take a forced perspective photo!
5. The Taj Mahal
This masterpiece is located in Agra, India, and is easily one of the most breathtaking buildings in the world.
Construction started in 1632 and took twenty years to complete. Past emperor Mughal emperor Shah Jahan commissioned the Taj Mahal to be built to house the tomb of his wife that passed away.
The Mughal architecture combines influences from some of the other regions that border it. These influences include those of Persian, Indian, and Islamic.
4. The Guggenheim Museums
There are five Guggenheim Museums across the world. You can find them in Spain, New York, Venice, Abu Dhabi, and Berlin.
These museums have influenced the genre of architecture in so many ways that you have to see at least one of them with your own eyes.
These museums house some of the most unique, abstract art in the world, so it's only right that the overall vessel is a work of art itself.
3. The Dancing House
Have you ever stared at a building for such a long time that you started to feel like the earth was moving—or, maybe it's building—it's hard to tell?
This is what you'll experience as you gaze at The Dancing House in Prague.
It's named after two dancers, Fred Astaire and Ginger Rogers, who are infamous in the Czech Republic. This building displays deconstructivist architecture and was intended to be a symbol of new hope after the arrival of democracy.
2. Acropolis of Athens
We've all read great stories of Pericles from the BC times, and maybe that's why we have the urge to visit one of those great works of architecture that seemingly transports us to the past.
There are three different temples, the Parthenon, the Erechtheion, and the Temple of Nike. All of them were dedicated to Athena's honor.
The Acropolis of Athens receives bounties of visitors each year who are ready and willing to soak up the monument exudes' culture and history.
1. Le Mont St Michael Normandy
One of the most breathtaking sights you'll see in your entire existence lies in this castle's eyesight. The castle used to be occupied by King Phillip II of France and was actually burned down a bit during his capture.
However, visit this magnificent castle. You'll see nothing but an unforgettable sight that will be etched into your memory forever.
If you fancy King's, Queen's, and that general time frame—it'll be a treat to be right in the middle of something extremely relevant and amazing.
This is easily one of the most beautiful buildings in France.
Tips For Travel
Some of these locations might be quite the journey as far as travel is concerned. This is acceptable for some but frowned upon by others.
Why is it frowned upon?
Well, some people don't do very well on long flights. The space is limited, you deal with immense boredom, possibly can't sleep because you have a chatterbox beside you….the list goes on.
There are some things you can take along to ease the irritation of it all.
These types of buildings will change your life forever.
Enjoy the journey and the sights!
Comments on this 6 Famous Works of Architecture You've Gotta See in Person article are welcome.
Building Articles
Contemporary Architecture – architectural selection below:
Art Gallery of York University, Toronto, Ontario, Canada
Design: Hariri Pontarini Architects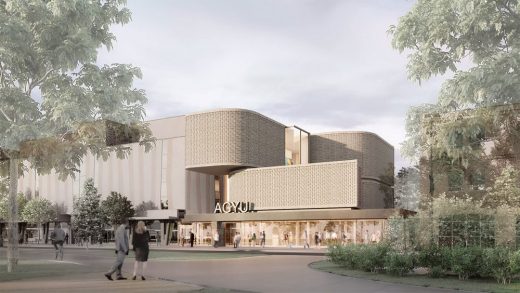 image courtesy of architects
Art Gallery of York University
Comments / photos for the 6 Famous Works of Architecture You've Gotta See in Person page welcome