6 construction industry trends you should watch out for, Online building advice, BIM guide
6 Construction Industry Trends You Should Watch Out for
28 May 2021
Since the time coronavirus hit the globe, all industries have faced turbulent times, trying to cope with the changing forecasts and customer behavior. The construction domain has also been challenged by the rising construction costs, shortage of labor and material, and stricter regulations. All this has changed how the construction segment operates.
But 2021 looks like the year of growth and revival as new trends and technologies disrupt this domain and improve the industry professional's ability to win projects and increase profit margins. Let's look at the top trends that are expected to change this domain.
6 Construction Industry Trends Guide
The Rise of Drones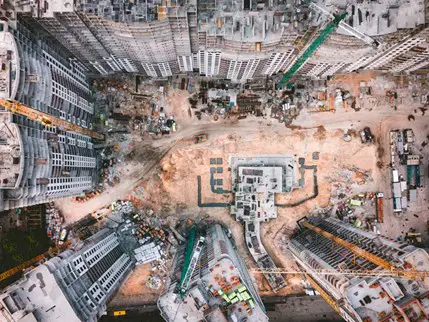 image source : unsplash.com
Construction drones are one of the fastest-growing trends in the industry. Statistics reveal that the construction segment reigns supreme in drone adoption with a growth of 239% over the last year followed by mining. In fact, a Skyward Report revealed that the construction and engineering segment represented 35% of all companies using drones in their operations.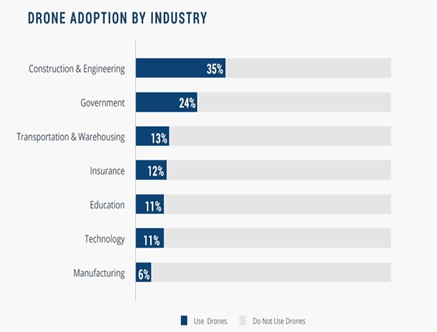 image courtesy of article provider
These  Unmanned Aerial Vehicles (UAV) or drones are rapidly replacing the conventional land surveillance methods. They offer an overhead view of the work site, significantly reducing the labor and time involved in producing accurate surveys.
Real-time control of a project is challenging. Such visual data can help construction industry professionals immensely. They get a thorough and more accurate visual footage when the drone is in flight. The data helps in efficient data project management, enhances worksite safety, and speeds up tasks.
In the coming years, we'll see more construction firms integrating the UAV technology into their workflows.
Building Information Modeling Is Trending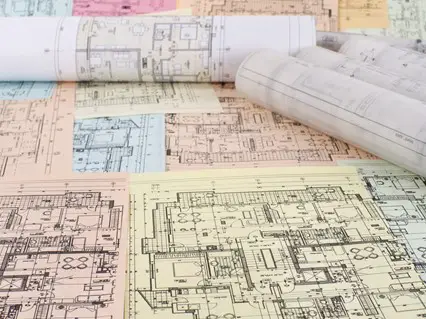 image source : https://commons.wikimedia.org/wiki/File:Engineering-bim.jpg
Building information modeling (BIM) is proving to be a solid foundation of digital transformation in the construction and engineering domain. BIM is much more than technology; it's a holistic process that helps construction professionals create innovative buildings of the future. A BIM model can replicate the most complicated future project with precision.
No wonder, BIM has become the industry standard. An increasing number of architects and construction professionals are using it in the early planning stage, thereby creating accurate and fully detailed design drawings. This leads to cost savings, greater efficiency, and high-quality results.
BIM is also being coupled with technologies like augmented reality. So, in the not-so-distant future, architects and engineers will be able to leverage this technology to conduct digital walkthroughs of future buildings.
Blockchain Is Entering the Construction Domain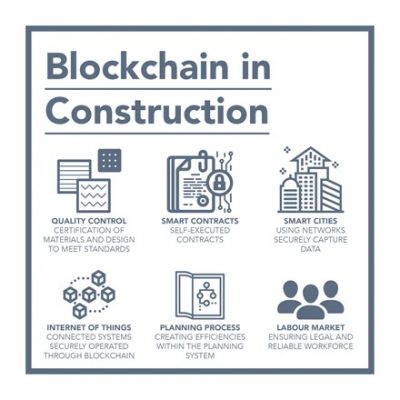 image courtesy of article provider
Construction industry experts are beginning to see how blockchain technology is enabling improved execution of strategic projects. The technology is emerging as a powerful tool that offers a secure and efficient workflow for all parties involved.
The technology is perfect for a highly fragmented construction industry with a complex supply chain. Moreover, the industry has always suffered from a lack of accountability. Blockchain applications are bringing a new level of traceability through their immutable nature of keeping records and offering accountability to project procurement.
Smart contracts is a blockchain application that offers all the parties in a project a shared system to do business. It's an all-in-one system where the rules for buying, paying for services, and tracking progress are set with the blockchain enforcing them. This ensures increased security and transparency, quick closeouts, and better project tracking.
Remote Worksite Access Is Becoming Possible
Mobile technology is revolutionizing the construction industry. It allows real-time information to be shared easily and quickly. This has led to reduced construction delays, increased back-office efficiency, and improved accountability of field staff.
Moreover, mobile applications make worksite access possible like never before. So,  real-time inspections, safety incident reporting, on-site accountability, and accurate measurements can be taken using the mobile and shared from the job site to the project managers back at the office.
Going forward, we can expect more firms to adopt mobile technology to automate job costing, schedules of installation crews, and timesheets and manage onsite projects.
Green Buildings Are the Expected Standard
Until a few years back, sustainable and eco-friendly features in architecture were always considered a luxury. But thanks to the increasing eco-consciousness and advancements in the ecotech and sustainable construction domain, green construction is becoming a hot trend.
Green buildings are in demand today as they reduce the carbon footprint and minimize the use of fossil fuels. Further, these buildings use advanced technologies that lead to energy savings.
For instance, most modern green structures are installing smart glass or electrochromic glass that promises to cut down on HVAC costs. The glass uses tiny bursts of electricity to charge ions on the surface of the window, thus changing the amount of sunlight reflected.
Similarly, you'll find LED parking lot lights in these buildings' car parks as they save up to 75% energy. Moreover, these lights do not use mercury that results in bioaccumulation, and is a threat to animals and human life.
Increasing Use of the Construction Management Software
The complexity and size of the construction projects today demand software that automates administrative tasks, simplifies the estimating and billing processes, and facilitates planning and scheduling. The construction management software is a tool that helps project teams manage the construction project while keeping all the stakeholders informed.
Every construction firm that wants to build a profitable business, master operational efficiency, and remain competitive needs to invest in this software. As a result, the demand for construction management software will continue to increase.
Wrapping Up
Like other industries, COVID-19 has changed the construction domain for good. From scheduling projects to meeting clients, the construction industry is adopting new ways to do business. In such a fluid environment, it pays to be aware of and harness the top construction trends.
Consider the trends shared above when planning and executing projects to stay competitive.
Comments on this 6 construction industry trends to watch out for article are welcome.
Building Articles
Residential Architecture
20 Times Square Skyscraper Building, Manhattan, NYC, USA
Design: PBDW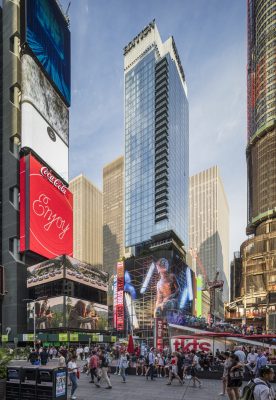 image courtesy of architects office
20 Times Square Skyscraper Building
Comments / photos for the 6 construction industry trends to watch out for page welcome