5 Interior Design Tips to Increase Your House Value Advice, Home Tips, Property Guide
5 Interior Design Tips to Increase Your House Value
14 Sep 2020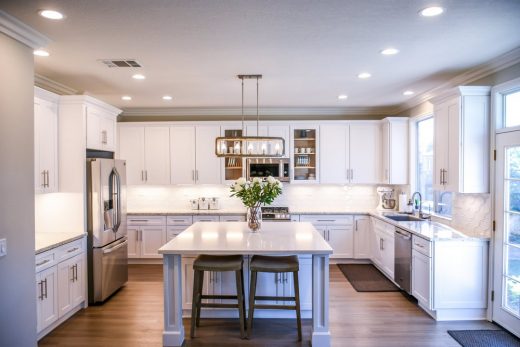 Image Source: pexels.com
Are you currently thinking of selling your home? It's a decision we must make someday, and while it's already hard enough to decide whether you want to sell it or not, it's even more challenging for you to sell it in its current state. When you've decided to sell your home, you must evaluate and assess your house's current state to see if it needs any changes for potential buyers.
One misconception about selling your house is that the interior design is not that important since the new homeowners will take everything out anyway. However, that's not true at all. In reality, your house's interior design can potentially give your house an increased value on the get-go.
That said, here are some interior design tips you can do to increase your home's value.
Renovating Your Kitchen and Bathroom
Many renovation designers will tell you to first renovate your kitchen and bathroom, as doing so will return a significant percentage of your investment. Most buyers nowadays are looking for updated kitchens with modern appliances and natural countertops, usually made of granite or quartz.
Some also like to see a kitchen that can aerate quickly and has clean floors. That said, if your kitchen is outdated and poorly maintained, especially the appliances (if you're not planning to change them), you might turn up a lot of potential buyers.
You must change your flooring to non-slippery floors for the bathrooms if you don't have them already. Also, clean the stains and grime in the parts where they are not usually seen since some buyers will check every nook and cranny of your bathrooms.
Make Rooms Feel Bigger
Making the rooms feel more significant is the right way of telling the potential buyer that they'll get more than what they pay for. Try replacing your furniture with ones that fit the room's scale to make a particular room bigger from the buyer's perspective.
It's essential to take note that while the actual size of the house will affect the home value, having the perception that it is bigger on the inside will give you a higher chance of selling it. This is because if you make the room feel spacious than it is, buyers will see more potential to the house.
Reinvent Rooms
Some homeowners think that expanding the size of their house is the key to increase the house value. Yes, it will increase it, but you will most likely get nothing out of it since it is expensive. Instead of expanding your house, why don't you reinvent your rooms and make them feel more spacious?
That said, creativity is vital. One common thing that people do is to give a house more rooms. For example, you can tweak your attic into a guest room of some sort or clean the basement and make it into another bedroom. Don't stop there! You can also turn an unused room into a game room or a home office.
You can do many possibilities with an unused room, and all you have to do is be creative. Remember, expanding is costly, but reinventing rooms can be cheaper and will likely give you a significant investment return.
Be Aware of Being Too Trendy
Don't be over trendy! There are a lot of trends that show up now and then in every market these days. However, most of them don't last that long and will be overshadowed by new ones. This can make selling your home, especially an as is home sale, difficult to sell. That said, being overly trendy in your interior design can do more harm than good.
It's best to stick to classic ones since they can never go out of trend. Hence, sticking to classic interior designs is your best shot at finding potential buyers. I'm not saying that going with the trend is not the way. You can always tweak your house with new trends by altering your house's little aspects, such as your paintings and choice of curtains.
Custom Closets
One of the surefire ways to add value to your house is to add custom closets in your master bedroom. It's a luxury for many people and will most likely get you more potential buyers. However, the price for installing new custom closets vary and is usually dependent on how big you want your custom closet.
If you find an affordable price for a service or decide to make it yourself, it's all good. However, some people opt for buying since professionally made custom closets tend to have a more finished and high-end look. But if you can do this, though, good for you.
5 interior design tips to increase house value – Takeaway
One of the most underestimated aspects of a home in terms of selling houses is interior design. While people tend to overhaul the interior once they buy a new house, it doesn't change the fact that a house's interior design directly affects its price. That said, never underestimate the effect of a nice interior to a house' home value.
Comments on this 5 Interior Design Tips to Increase Your House Value advice article are welcome.
Buying Property
Buying Property Posts
7 Tips Before Buying a Luxury Home
Future of house buying advice from leading experts
Buildings
Building Articles
Comments / photos for the 5 Interior Design Tips to Increase Your House Value page welcome