5 ideas for quickly revamping a guest bedroom guide, Property advice, Home tips
5 Ideas for Quickly Revamping a Guest Bedroom
15 July 2021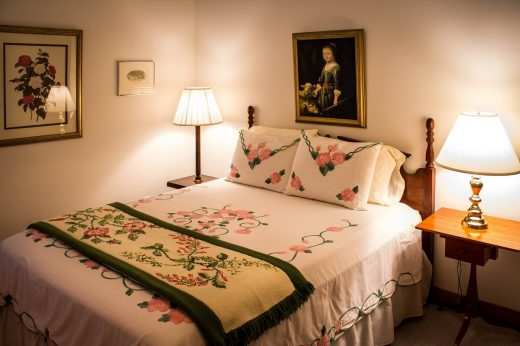 When we think about redecorating, the guest room is usually not on our priority list, especially if it has remained unoccupied for a while. This is precisely why you do need to pay it some attention if a guest is due to arrive soon. As fully-fledged redecorations are out of the question due to the short timeframe, you need ideas for revamping the guest room quickly. Check and see if any of the following suggestions click with your sense of décor.
Minimalist Décor is Quick Décor
The main principle that any minimalist interior decoration theme must follow is that of minimising clutter. In other words, remove everything unnecessary from the guest room, as most of us are prone to using our extra rooms as a dumping ground for unused stuff. By the time you are done, your guest room should only have the bare minimum in it. Call in a professional cleaning crew if the room is too big and too dusty. Otherwise, just clean it yourself and you are halfway done already.
Next, it is time to remove any unusable, broken, or shabby furniture out of the room. If the room is lacking necessary furniture, always buy dual-function furniture to keep the floor occupancy low. In case you don't have the budget to replace everything that you want to, just remove as much of the unnecessary stuff from the room as you can to declutter it. Now you can build further on it, according to your budget for the redecoration. Just keep the other rules of minimalist décor in mind as well, to not end up with a contrasting theme within the same room.
Every individual item in the room must be located at a minimum distance from the other.
None of the floor-standing pieces should touch the wall at any point.
The room should ideally have a bright but solid theme in colours.
Do a Maintenance Check
Depending on weather conditions, the building's age, how long the room has remained unattended, and the homeowner's annual house maintenance routine, a lot of things may or may not go wrong in an unoccupied room. While you are cleaning the room, check for:
Mould and mildew under the carpet, behind the wallpaper, and in the en-suite bathroom (if applicable).
Damage to the electrical wiring, sockets, earthing wire, lights, electrical appliances, etc.
Clogs, drips, and reduced water flow anywhere in the bathroom.
Roof leaks and water damage inside the room.
Broken/damaged window(s) and tattered/stained curtains.
Prominent wall and floor stains that do not come off with regular cleaning.
If your check reveals any of the above to be present, call the appropriate professionals to get rid of those problem(s) first. Any guest would prefer to sleep in an undecorated but clean, safe, and pest-free room, rather than sleeping in a room that has mould growing behind costly wallpapers and bugs hiding below expensive rugs! If the room really is in relative disrepair, you would be surprised by how much better everything looks after just a bit of proper maintenance work.
Replace the Old Curtains with Brand New Roller Blinds
Unoccupied rooms and dirty, water-stained curtains come hand in hand. One might even be surprised at how quickly this can happen to curtains that are left unattended for a while. If the room was never really occupied by anybody in the past, it is also possible that there won't be any curtains or blinds on the windows to begin with. Unless you want your guests to wake up with the first rays of the sun every morning, use this opportunity to revamp the guest room with blinds.
Check this comprehensive selection of roller blinds and choose a few that can complement the room's décor beautifully. They even have free priority manufacturing and UK-wide shipping available on special orders, which is perfect when you are in a hurry. Moreover, these roller blinds are made from fabric that can be wiped clean without any real effort, even after long disuse. This is ideal for guest rooms that generally stay empty for long periods of time.
Art and Light: Quick and Affordable
Without light, there is no décor, and it's an important point to always remember while redecorating. Aside from the repairs, anything you use to revamp the guest room will only have the desired effect, provided that there is adequate lighting to see it. For example, if you decide to put up a piece of art on one of the walls, there should be at least one or two focus lights to illuminate it properly. On the other hand, you can instead use strategically placed ambient lighting to illuminate the piece without direct focus.
For those that are not familiar with the concept, rest assured that this idea can be deceptively affordable. Buy something that appeals to you online and do so from a budding artist who has not yet seen enough fame to hike up the price of his/her work. As for the lighting, a few focus lights or ambient lighting fixtures with LED bulbs should not cost much either. Even if you do decide to spend good money on an art piece that you really like, chances are that you will not regret it.
Cover It Up: Managing the Not so Aesthetic Parts of Your Guestroom
If not damaged or infested, even ugly pieces can be covered up with some intelligent planning. It makes no sense in wasting money on replacing furniture that is in good condition. However, just because something is in good condition, it does not make it aesthetically pleasing. After all, most of us only put useable furniture in an unoccupied room because we do not want to see it too often!
Instead of wasting money on replacing that ugly sofa or recliner, simply cover it up. Use furniture covers and throw pillows to transform your least favourite piece of furniture within the house into something that perfectly complements the guest room décor. Exceptions must be made if your maintenance check reveals damage or woodworm in the furniture, as those are problems that cannot be covered up. Comfort and health take precedence over everything else. Never buy or use any piece of furniture that isn't ergonomic, irrespective of how good or bad it may look, or how many functions it may serve.
5 Ideas for Quickly Revamping a Guest Bedroom Summary
This only covers the basics, and there is still a lot you can do if you have the budget and time to redecorate your guest room or bedroom properly. However, if your budget feels insufficient for any decorative item that can be considered inessential, put that plan off for now. It might be just the guestroom, but it is still your own property, and there is no sense in making it look tacky.
Not only will those be bad investments, but they can also make you look bad in front of your guest(s). As advised, just go for a minimalistic décor when you are in a hurry because nobody can (or at least should) complain about sleeping in a clean, decluttered room with plenty of floor space and dual-use furniture. Focus on making the guestroom functional and comfortable, while making everything look clean and bright.
Comments on this guide to 5 ideas for quickly revamping a guest bedroom article are welcome.
Beds and Bedrooms
Bedrooms Posts
Tips for Choosing the Best Bedroom Bed
Tricks to make your small bedroom look bigger
Ways to make your bedroom look like a million bucks
Building Articles
Comments / photos for the 5 ideas for quickly revamping a guest bedroom advice page welcome