5 Famous Architectural Landmarks guide, Best World Solar Architecture Designs, Global renewable energy
5 Famous Architectural Landmarks To Know
17 Feb 2021
Five architectural landmarks in four different countries… They all have one important secret in common. So what's the secret? Solar power. The renewable energy source that's sweeping the globe. Solar panels aren't just for private homes anymore. You've no doubt heard of the locations on this list, but did you know they've gone green?
From an infamous island to the most famous tower in the world, here are the five landmarks that now have a special sustainable feature.
5 Famous Architectural Landmarks With A Secret You Need To Know
The White House, Washington D.C., United States.
The White House was designed by Irish architect James Hoban. The building's long history begins with its construction in 1792. Although not nearly as long as its overall history, the building does have a bit of a history with solar power.
The first panels were installed in 1979 by President Jimmy Carter. They were then removed only two years later by President Ronald Reagan when a leak on the roof had to be repaired. In 2010, they were finally reinstalled by President Barack Obama, and they've been providing part of the building's power ever since.
This also marked the beginning of an easier era for solar power in America. It's now easier than ever to switch to solar power thanks to community solar projects. These communities "rent" electricity to you, without all the added fees and carbon emissions, so it's easier than ever to choose solar.
Vatican City, Rome, Italy.
Vatican City was established in its current form in 1929. It is the home of the Catholic Church and the Pope. It became the first solar nation in 2008 when it installed 2,400 solar panels. That many panels can power the famous building and roughly 40,000 homes in the surrounding area. The move also allowed Vatican City to become more independent from Italy, where it was previously buying its power.
The Eiffel Tower, Paris, France.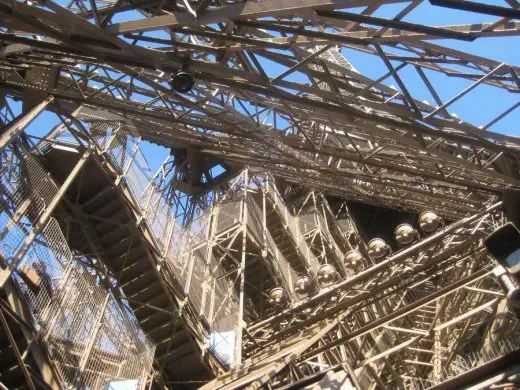 image courtesy of architects office
The famous wrought-iron tower was the subject of protest when it was first proposed by Gustave Eiffel, Maurice Koechlin, and Emile Nouguier in the 1800s , but it rose regardless and has been an iconic landmark, and photography destination, ever since. In 2015, the tower went solar after a 38 million dollar renovation, making it one of the first sustainable monuments.
Alcatraz Island, California, United States.
This infamously inescapable island is known for its maximum-security prison, which sits on over 22 acres of land. Designed to keep the prisoners in at all costs, this architectural giant was built in 1847. It sits almost two miles away from the shore. It no longer houses prisoners, but it has become a well-known tourist destination. What might not be as well known is that in 2012, the island installed a solar power system large enough to power the whole island.
Kaohsiung National Stadium, Kaohsiung City, Taiwan.
This dragon-shaped sports arena was built in 2009 to host the World Games. The stadium was designed by Japanese architect Toyo Ito, who is known for his innovative designs and conceptual architecture. It is the world's largest solar-powered stadium. The roof of the stadium is covered with 8,844 solar panels, making it the first stadium in the world to run completely on its own energy.
These five famous landmarks are at the top of the list when it comes to architectural wonders gone green. Next time you're planning a trip, be sure to look for destinations that are making the change to help the solar energy industry save the planet. You never know what location will be the next solar city, but wherever it is, it's bound to have a bright future ahead of it.
Be sure to break up your paragraphs. After about 3-4 sentences, go on and form a new paragraph. It just makes the article easier to read. I separated this one big paragraph into three for readability.
Anchor texts only need to be around 5-7 words long. So instead of your original anchor text being "subject of protest when it was first proposed by Gustave Eiffel, Maurice Koechlin, and Emile Nouguier in the 1800s," I changed it to "the famous wrought-iron tower" because the link is just giving a brief history of the Eiffel Tower.
Comments on this guide to 5 Famous Architectural Landmarks Tips article are welcome.
Solar Panels
Solar Panels Posts
Architects getting more involved in solar power design
5 mistakes to avoid with a commercial solar package
How to maintain solar power generator for home
Home Articles
Residential Architecture
Comments / photos for the 5 Famous Architectural Landmarks advice page welcome