Trusted Unusual House Extension advice, Real Estate expansiontips, Property enlarging guide
5 Best Ideas for an Unusual House Extension
14 Nov 2019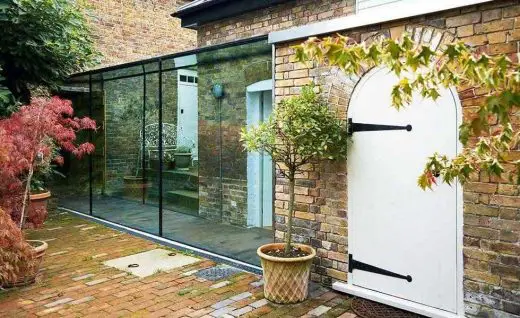 image courtesy of article provider
Our homes are a physical manifestation of who we are. From the paint color, style, and interior design, it serves as an addition to our differing personalities. Thus, to get the most out of your place of residence, customization is vital.
Usually, when people think of personalized pieces to add on to their homes, their first thoughts drift to custom wallpaper or landscape redesigns. While those additions do make a notable difference in the appearance and feel of the home, they do not usually stand out.
Unusual House Extension Ideas
As time progresses, architects are cultivating new ideas such as house extensions that are sure to stand out from the crowd. Besides improving the aesthetic of the home, these architectural features also give consideration to the environment. With the use of modern-day technology, planners and builders have created house  extensions that serve a greater purpose. If you're interested in adding on to your house footprint in the form of an extended structure or a conservatory, we've got you covered. Here are our five best ideas for unusual house extensions:
Tiny Mirrored Cabin
In Ontario, Canada, a tiny woodland home stands out due to its unique design. For those interested in viewing nature up close, this house extension is the one for you. Designed by Lake Cottage, this energy-efficient cabin was crafted with locally sourced materials and based on utilising sustainable principles. Some of its unique architectural features include the use of untreated timber, placement of the large window, the outdoor terrace, and it's contrasting black and white paint. Each extension not only adds to the distinctiveness of the house, but it also gives residents the ability to undergo a dome-like nature experience.
Living Room Extension
Because of a living room's enhanced importance in our everyday life, taking its design into detailed consideration can help significantly improve our lives. One way to improve your living room space is by adding a single-storey extension. This implies extending your living room by a full room. Why do this? Well, because the extension maximizes the ground floor space to perfection, and thus allows for excellent activities such as stargazing and hosting parties.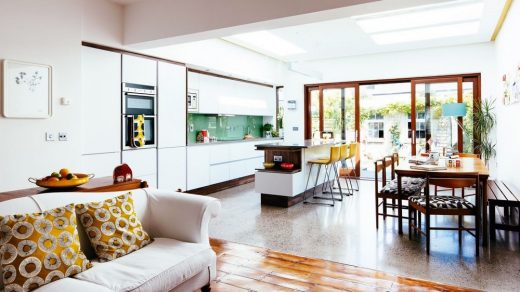 image courtesy of article provider
Ultraframe Roof Windows
Ultraframe is a company focused on transforming light and space. They provide conservatories and roof extensions that can change the way sunlight hit the inside of your home. While normal flat-roofed extension gives an almost dark and gloomy atmosphere, Ultraframe's roof addition completely changes that. Their high-performance roof window such as roof lanterns or flat skylight, transform rooms by flooding them with natural light. This difference is key in altering the atmosphere of your home because it provides the space with a lighter aura.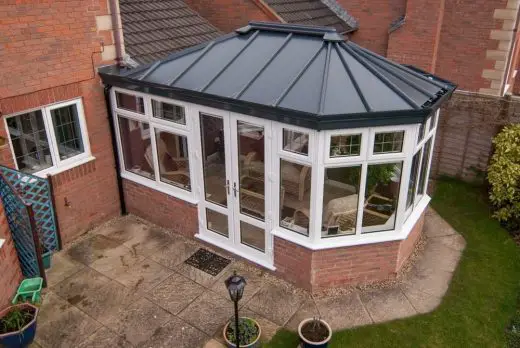 image courtesy of article provider
Architectural Aluminum Framework – Extension Resembling a Shipping Container
This architectural aluminum framework is not for the faint of heart. To start its creation, a tiled roof was brought together with an existing roof. The architect here has brought the old features and modern ones together in a perfect harmony. The brickwork looks like it's centuries old, yet in fact the brick wall was constructed at the same time as the conservatory roof framework. Featuring old-style bricks with recesses and allowing the aluminium to nibble into the underlying wall. Following that, two special colors were chosen to indicate high specification Thermally Separated Architectural Aluminum framework. While this unique design definitely shifts from modern design, it is still a crowd favorite.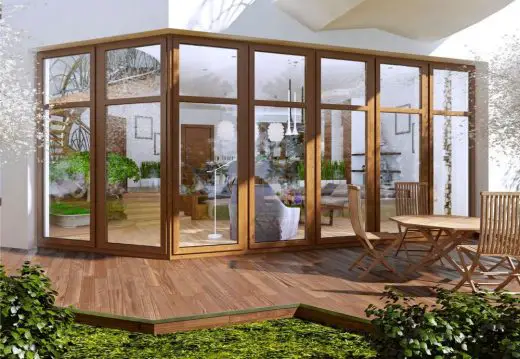 image courtesy of article provider
Solomon Street Alterations and Additions – Architectural Aluminum Frame & Old Brickwork
Solomon street alterations and additions primarily consist of shifting the appearance of an existing 1980's home on Solomon St in Mosman Park, NSW, Australia. Alongside a $200,000 budget, architectures were able to combine features to create an architectural aluminum frame with its old brickwork. On that note, original cabinets from different parts of the house were reconfigured and features such as corridors were extended. The result consisted of a beautiful home that was ready to entertain guests.
Today there are so many different types of home extensions. So, picking the right one might be a little tricky. Nevertheless, by conducting thorough research and exploring your options, you will be better prepared to make a more confident decision on your house extension project.
Comments on this guide to 5 Best Ideas for an Unusual House Extension – home improvement projects advice article are welcome.
Building Articles
Comments / photos for the 5 Best Ideas for an Unusual House Extension page welcome