10 Useful tips and ideas for at-home workspace, Property interior design style tips, Online house decor advice
10 Useful Tips and Ideas for At-Home Workspace
18 May 2022
Are you thinking of a dedicated workspace setup at home? Ever since the lockdown, most companies have shifted to working from home. And to have a focused and productive day of work, it is also essential to have a proper workstation that will help you keep the distractions away. If you are looking for at-home workspace ideas, these tips and ideas listed below will benefit you for a remote office setup. After deciding on the best design for your home office workspace, you can call an interior designer to get your home office setup done.
Essentials to Increase Productivity for Home Office Space
Before moving on to the guide to creating a workspace at home, it is crucial to prepare yourself with the right office essentials, which will keep you focused and increase your productivity when you are ready to work from home. Make sure that you have the following home workspace essentials with you: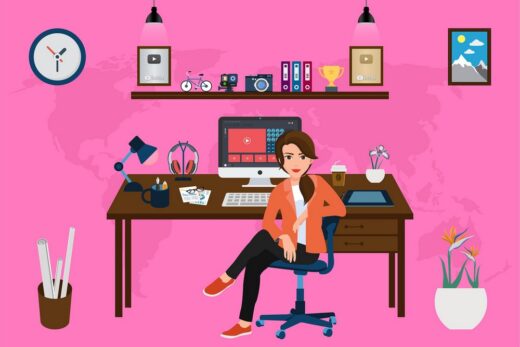 Useful Tips and Ideas for At-Home Workspace Guide
An Ergonomic Desk
The first thing you need is an ergonomic desk where you will perform most of your work. You can select a standard desk for the work, which also goes with the size of the room, or you can also opt for a standing desk which will enable you to stretch your legs during long hours of work.
Computer/ Laptop
Next up in the home workspace essentials is having a computer on which you will perform the necessary work-related tasks. You can choose a full computer set up or a laptop if you seek flexibility. You can also contact your office and ask if they provide employees with the company laptops.
Office Chair
Since you will be working most of the time from your desk, you also need a comfortable and ergonomic chair for the office. Select an office chair that is also comfortable and provides back support according to your preference. It is best to test the chairs before making a purchase.
Strong Internet Connection
These days, most office work is heavily reliant on the internet. Now that you will be working from home, you need high-speed internet for office work and regularly communicate with your co-workers regarding your work. When setting up a remote work setup, make sure the internet connection you choose provides high-speed WiFi so that you can smoothly work at home.
USB Power Strip
Since you will be working from home, you will have several cords. So, it is best to invest in a USB power strip that will add an extra outlet space and keep all the cables organized.
How to Setup a Home Office Workspace?
Here are some helpful at home work space ideas which you can refer to and set up your own home office:
An Office under the Staircase
If you have no spare room in your house, then this at-home workspace tip will be helpful for you. When you only need small office space, then you can consider setting up a remote office under the stairs of your home. You can install a secretary desk which comes with lots of storage space and also surround the workstation with some plants if greenery is what makes you work with undivided focus.
Proper Lighting for Workspace 
An ideal at-home workspace should have ample light when choosing a space for a home office, as proper lighting helps a lot in focusing during work. Pick a corner of the home which gets proper light so that your eyes don't get strained or tired during work. You can also buy a desk lamp for good lighting.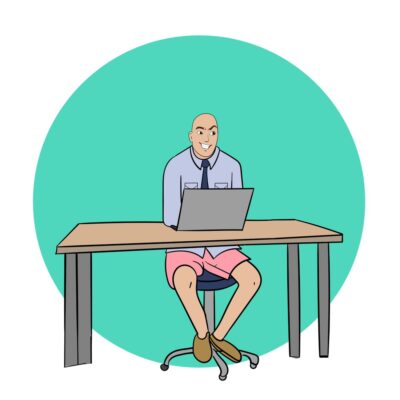 Tip: When looking for a space for remote office setup, you can set your workspace next to a window to access natural light.
Walk-in Closets
You can also set up your home office in your walk-in closet if it has a lot of space. This idea may seem a bit odd, but it can be very helpful as this workspace will be soundproof so that you will have no distractions while working. You can also take your business calls or attend business video calls without interruptions in your walk-in closet office.
Outdoor Office
If you live in temperate environments, you can also consider setting up your at-home workspace outdoors. This way, you will have ample natural light while you work, which is good for concentration. Before setting up your home office workspace, ensure that your Wi-Fi extends outdoors.
A Co-Working Space
These days, more and more people have started working from home. If you and your partner or roommate are moving into a new home and have a spare room, it can be used as an at-home office space. Set up a comfortable and organized space where you and your partner can concentrate and maintain a work-life balance. To recreate a spare room as a full home office setup, you can take help from professional office interior designers.
Tip: One of the essential at-home workspace tips to remember is to keep the floor clear of any obstacles. When setting up an at-home office workplace, always keep the floor clear as clutter anywhere will give the room a feeling of congestion. A clean room will help you stay focused on your work.
A Hideaway Office Space
Office spaces that are a hideaway are perfect options for those seeking a way to keep their office life separate from their home life. You can choose shelves that fold out as sturdy desks with ample storage. When working you can unfold the table and start your work, and in the evening, fold back the table, which will hide the office space.
A Corner of Your Room
When creating a workspace at home, consider choosing a corner in your home which is rarely used. If there is any unused wall space in your bedroom, living room, or any room of the house, then you can set up a suitable size work desk based on the space you need. You can also consider shifting some furniture around to create a space for your remote office setup.
Note: When relocating your home or office space, it is best to avoid shifting the heavy furniture and other items yourself as you may get injured. For a smooth and secure relocation, you can hire professional and genuine packers and movers from Thepackersmovers.
Chalk Painted Office Space
You can also set up your home office space near a blank wall by painting it with chalkboard paint. You can use this wall as a backdrop for your next office meeting, or you can also use the walk to write reminders, tasks to do for the day, etc.
Attic Office Set-Up
If your house has an attic, you can use its space to create home workspace at home. The attic's sloped ceilings and exposed rafters will also be an ideal backdrop for your remote workplace. To renovate your attic as a complete home office space, contact your interior home designs.
Vertical Space for Home Office
If the chosen wall space in your home doesn't have floor space to keep shelves for office storage, you can install a vertical storage space above the desk. You can choose a desk with a vertical storage with a minimalistic design that doesn't take up visual space in the room.
Bonus Home Workspace Idea
If you are out of small spaces in your home to set up a remote work setup, then you can also carve out a nook in the kitchen for your work area. You can dedicate one of the kitchen shelves to storing office related items.
Without a dedicated workplace at your home, you may not be much focused and struggling with planning, virtual meetings, etc. But, with the help of at-home workspace tips and ideas, you can create an office setup that makes you productive without taking up too much space.
And, if you have to move to a new location with a separate room for the home office, then remember to hire professional packers and movers who will handle the household items carefully for safe delivery. Thepackersmovers is an online directory where you can quickly find reliable packers and movers Hyderabad, Bangalore, Delhi, etc.
Comments on this 10 Useful Tips and Ideas for At-Home Workspace article are welcome.
Furniture Articles
Furniture Posts
Made goods furniture and home decors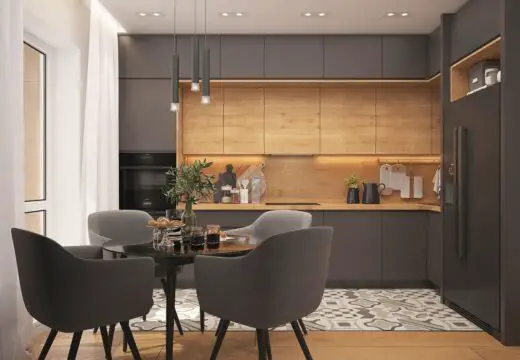 Vital rules of bedroom furniture placement tips

How to choose the perfect furniture for your garden
Building Articles
Residential Property
Comments / photos for the 10 useful tips for at-home workspace advice page welcome