MicroPolis Housing NYC, New York affordable homes, Manhattan Residential Building Images
MicroPolis Housing in New York City
July 30, 2021
Design: Studio ST Architects
Location: New York, NY, United States of America
Article by Esther Sperber, Studio ST Architects
MicroPolis Housing – what the pandemic taught us about housing, urban resilience and equity
In February, while the Covid-19 pandemic was silently raging through New York City, I wrote an Op Ed. responding to a court decision that revoked the building permit for the top 20 floors of a Manhattan luxury condominium because it used Jerrymandering style tax lot assembly tactics to justify the request for a very tall building. I suggested that we should not waste these already built floors but rather use them for affordable housing.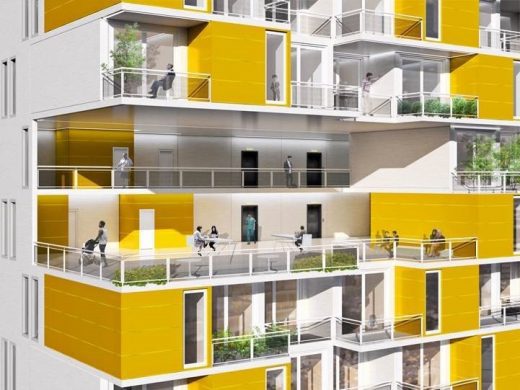 MicroPolis Housing NYC
New York City is home to diverse communities that create a vibrant, urban landscape. But the pandemic revealed that the city is more divided than we would like to acknowledge. While the educated and wealthy had the luxury of staying home, the city's low- income families, immigrant population, and communities of color faced heightened challenges. Healthcare workers, frontline and essential workers continued working, often overtime, risking their own health and safety in order to provide for their families and keep the city functioning. They traveled on subways and busses to get to their jobs and risked contagion when facing customers or working in tight quarters.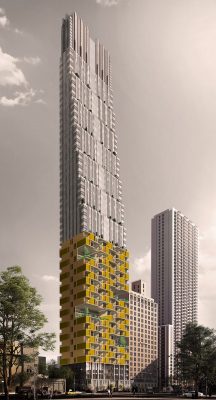 Cities develop complex, multi-agency, emergency plans. I now realize that it is these healthcare and frontline workers who are the city's human resilience infrastructure, our emergency pandemic plan. They kept the city going and made it possible for us to survive.
It is therefore incumbent on us to prioritize these communities who have been the city's lifeline over the past year, who we have underserved and undervalued for way too long.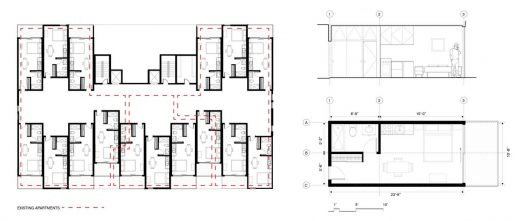 New York City real estate exposes the city's socio-economic inequalities. Manhattan's luxury residential market seems to be rebounding. At the same time, the Department of Housing Preservation and Development, which is responsible for funding and maintaining affordable housing, suffered a 40% funding cut that could result in the loss of 21,000 affordable housing units throughout the city. Moreover, while there is a surge in homelessness and thousands of people are unable to pay rent, an estimate of 12,000 newly constructed luxury residential units remain vacant and unsold.
Recently, developers have been experimenting with adding empty mechanical voids in buildings to raise the upper floors and increase the value of those apartments. In September, a judge ruled against the developer of a tower on the Upper West Side that included 198-feet of empty mechanical void in order to make the building 775-feet tall.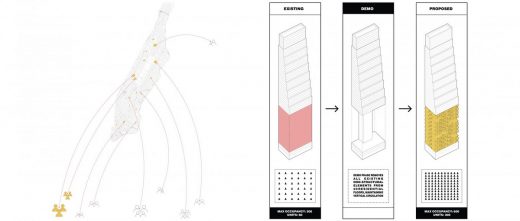 The prevalence of unoccupied and unusable space presents an opportunity to rethink affordable housing throughout the city. MicroPolis is a proposal for a new housing typology of micro-homes in metropolitan centers. The design is by Studio ST.
It is a modular system of prefabricated, energy-efficient and cost-effective micro-homes that can be installed in already built empty urban spaces. The number of units and their organization will be adapted to the buildings in which they will be deployed. Each unit is 270 square feet and features an ADA bathroom, queen size bed, kitchen and living/working space. The staggering of the units creates a push-and-pull relation, generating balconies for most units. Large public outdoor terraces provide social and co-working spaces, and safe place for children to play.
Reusing built spaces has environmental advantages: it conserves materials and resources, lowers carbon footprint, and brings old, energy-inefficient buildings up to current code. Carefully selected building materials and cladding ensure thermal insulation to lower energy use and costs for these micro-homes.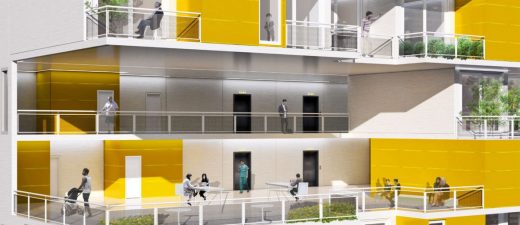 MicroPolis will help the city achieve a more equitable landscape. Installing these complexes in wealthier neighborhoods and business districts will improve living standards for communities of color, immigrant groups, and low- to middle-income families. Research has shown that a child's home zip code is one of the best predictors of adult success in the life. Living in such areas will give families better access to daycare, education, and a safer neighborhood for their children. Constructing affordable homes within centrally located luxury developments will also decrease health risks for essential workers who bear long commutes daily.
We realize there will likely be resistance to this proposal. Few privileged communities welcome low- and middle- income developments in their neighborhoods, let alone their own apartment buildings. But if we have learned anything this year, it is that our society is deeply intertwined. The communities that suffered most from the pandemic are those that we depend on most to keep our city running.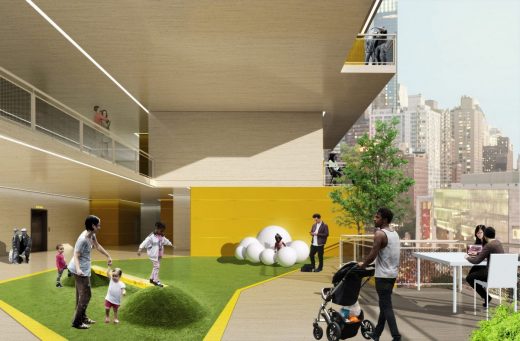 New York City is a financial, intellectual, and innovative center. We now see that its strength depends not only on its financial stability and profit margins, but also on the ability to withstand catastrophic unexpected events. It is our moral responsibility to create more equitable housing plans for the city.
MicroPolis celebrates the city's diversity by increasing equity and valuing the range of people needed to make the city thrive. Adding affordable housing units throughout the city's higher-end buildings neighborhoods will make New York City more integrated, resilient, and equitable.
MicroPolis Housing New York City images / information received from Studio ST Architects, NY, USA
Address: New York City, NY, USA
New York City Architecture
Contemporary New York Buildings
Manhattan Architectural Designs – chronological list
New York Architecture Walking Tours : by e-architect
265 West 45th Street Super Slender Tower
Design: RB Systems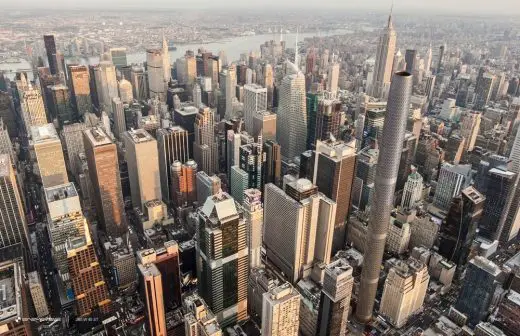 image courtesy of architects
265 West 45th Street Super Slender Tower
Kinfolk Studio, Brooklyn
Architecture: Berg Design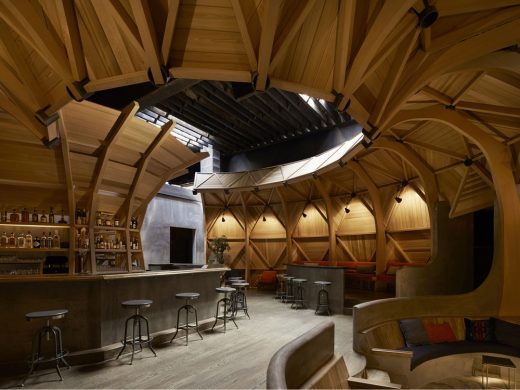 photograph : Edward Caruso
Kinfolk Studio in Brooklyn
Pier 2: Apartment of the Future
Design: Humphreys & Partners Architects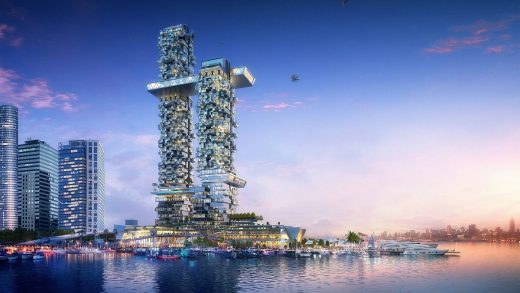 image courtesy of Humphreys & Partners Architects
Pier 2: Apartment of the Future in Manhattan
Comments / photos for the MicroPolis Housing New York City from Studio ST Architects page welcome