UNStudio, UNSense, IE School of Architecture and Design, Master in Business
Master in Business for Architecture and Design News
26 Feb 2020
UNStudio and UNSense to collaborate with IE School of Architecture and Design as they launch the world's first MBArch
Martha Thorne and Ben van Berkel: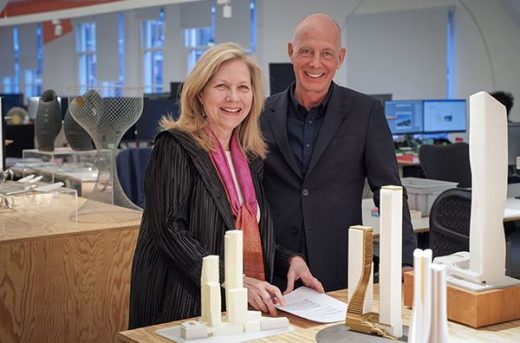 photo courtesy of UNStudio
Master in Business for Architecture and Design by UNStudio + UNSense
IE University's Master in Business for Architecture and Design is a leading global program that trains professionals with the skills and knowledge they need in management, entrepreneurship and innovation, all aligned within a single vision: business and design are stronger together.
IE School of Architecture and Design is the first higher education institution in the world to offer a Master in Business for Architecture and Design (MBArch). The program encompasses the experience accumulated through the school's more than a decade of educational leadership at the intersection of design and management.
Martha Thorne, Dean of IE School of Architecture and Design "I can't think of any other firm as forward-thinking and ideal for this collaboration. UNStudio and UNSense are exemplary in reorienting the profession to make real, positive impacts in our communities and cities."
One of the main objectives of the school is to educate architects and designers to acquire knowledge and understanding of other fields in order to be effective across industries. Facing complex global challenges, higher education needs to empower architects and designers to fulfill new and expanded roles.
Jerónimo van Schendel, Director of the new program: "Today, our impact as professionals increasingly depends on action, collaboration and multidisciplinarity,"
Believing that professionals in the field can make a unique and substantial contribution to academia and together enhance and explore new roles related to the built environment, MBArch has established a design-entrepreneurship collaboration agreement with UNStudio and our sister company UNSense, an innovative start-up enterprise that combines architecture and technology. Through this collaborative agreement, both parties will benefit in the areas of design entrepreneurship, teaching and research.
Ben van Berkel, Founder of UNStudio and UNSense: "We believe that the key to 'future-proofing the future' is knowledge. For the last decade, we have focused on expanding our understanding of trends and practice in architecture and beyond."
UNStudio and UNSense will actively participate in the development of IE's Venture Discovery Workshops, along with teaching activities. The Venture Lab, a fundamental component of the program, is a real-world entrepreneurship exercise that allows students to develop a start-up business within the classroom and pitch this to "business angels" as they would in their professional lives.
Ren Yee, Head of Innovation Strategy & Forecasting at UNStudio and Head of Design/Strategy at UNSense: "Design is taking a more crucial role in efforts to understand and tackle 21st century challenges. It should be understood that design isn't only limited to designers."
The MBArch2020 starts on February 10th, with students from more than 15 nations. The new master blends online sessions, face-to-face periods in Madrid and Amsterdam, as well as a professional post-graduation trip to London to meet with industry leaders.
About UNStudio
UNStudio is an international architectural design network with four full-service offices, in Amsterdam, Shanghai, Hong Kong and Frankfurt. UNStudio is recognized as a leader at a global level, for its capacity, design quality, continuous innovation and focus on creating value for the built environment.
About UNSense
UNSense is the Architecture Technology startup founded by UNStudio. It sees digital technology as a design tool to create humane cities that are safe, healthy, and futureproof.
About IE School of Architecture and Design
IE School of Architecture and Design is one of the five schools of IE University. The goals of the IE community include a constant pursuit of excellence, the belief that diversity and different points of view can lead to a greater understanding and create knowledge, an entrepreneurial spirit that allows us to see unexpected opportunities, as well as the conviction that innovation can open up new and exciting ways of thinking, learning and taking action. 
The School offers undergraduate and postgraduate programs in its three different campuses: Madrid, Segovia and online. Apart from the MBArch, the School's program portfolio includes the Bachelor in Architecture, the Bachelor in Design, the Master in Strategic Design of Spaces and the Master in Real Estate Development.
Master in Business for Architecture and Design image / information from UNStudio
UN Studio Architects
UNStudio
Smart and green mobility to futureproof cities
UNStudio Sustainable Mobility Report
Business School for the Creative Industries, Epsom, Surrey, southeast England, UK
Design: UNStudio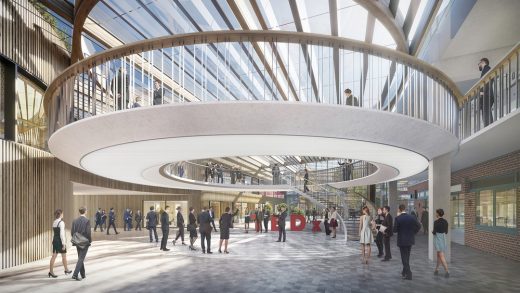 visualisation : FlyingArchitecture
Business School – UCA – University for the Creative Arts
Karle Town Centre Masterplan, Bangalore, India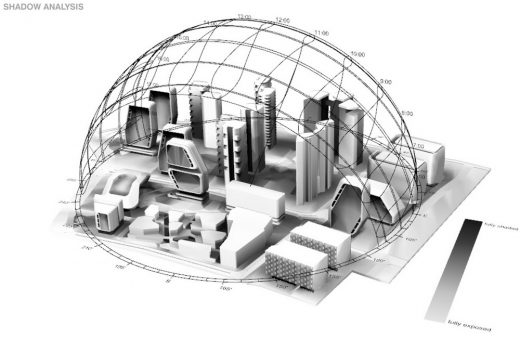 image courtesy of architects
Karle Town Centre Bangalore
UNStudio Netherlands practice information
Comments / photos for the Master in Business for Architecture and Design by UNStudio and UNSense page welcome.