2016 Ada Huxtable Prize, Women in Architecture Awards, Julia Peyton-Jones, UK, News
2016 Ada Huxtable Prize
Julia Peyton-Jones, Serpentine Galleries director, London: Women in Architecture Awards News
24 Feb 2016
Ada Huxtable Prize 2016
Julia Peyton-Jones wins 2016 Ada Huxtable Prize
Serpentine Galleries director Julia Peyton-Jones has been awarded the Architectural Review's 2016 Ada Huxtable Prize
WOMEN IN ARCHITECTURE AWARDS 2016
ADA HUXTABLE PRIZE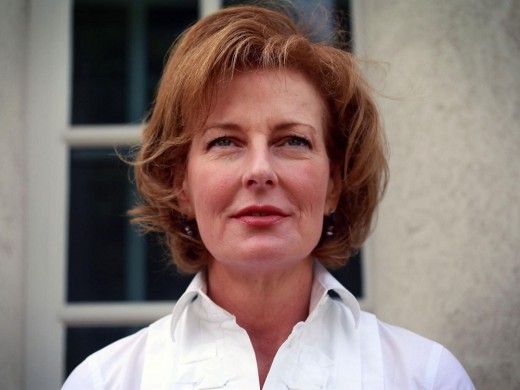 This award recognises individuals working in the wider architectural industry who have made a significant contribution to architecture and the built environment.
The award is open to critics, politicians, clients and planners, or anyone influencing architectural culture.
The prize is named after architecture critic Ada Huxtable. She made history by being the first full-time architecture critic at a US newspaper when she joined the New York Times, and was later awarded the first Pulitzer Prize for Criticism in 1970.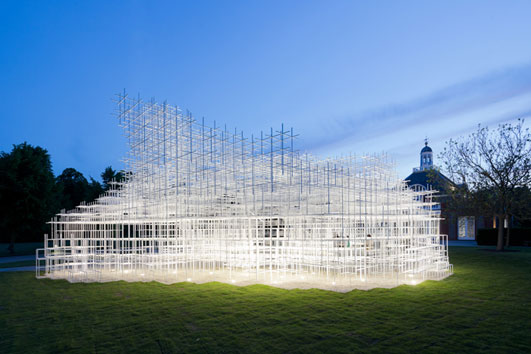 Serpentine Gallery Pavilion 2013 Designed by Sou Fujimoto © Sou Fujimoto Architects ; Image © 2013 Iwan Baan
Serpentine Galleries
Client and architectural patron Jane Priestman, who played a key role in the appointment of Norman Foster to work on Stansted Airport and Nicholas Grimshaw to work on the International Terminal at Waterloo station, won the inaugural Ada Huxtable Prize in 2015.
Serpentine Pavilion design by Herzog + de Meuron with Ai Weiwei:



photos © Adrian Welch
Julia Peyton-Jones OBE (born 18 February 1952) is currently the Co-Director of the Serpentine Gallery. She lives and works in London.
Peyton-Jones studied painting at the Royal College of Art between 1975–78, but did not continue a career as a professional artist. Two of her works still hang in the Bank of England. After her education, she was briefly an art lecturer at the Edinburgh College of Art. In 1988 she became a curator at the Hayward Gallery.
source: wikipedia
Ada Huxtable Prize
CONDITIONS
• The award is open to applications from non-architects
working within the field of architecture and the built
environment such as critics, politicians, clients and planners,
or anyone influencing architectural culture
• Applicants can nominate themselves for the award,
or someone else
WHAT YOU WILL NEED TO SUBMIT
There is no specific entry form for this award. Please submit
a Word or PDF document with the following:
• Name of nominee
• A brief outline of the reasons behind the nomination outlining
the candidate's contribution to the status and profile of women
in architecture
• Contact details of person submitting the entry – including
a daytime telephone number
HOW TO SUBMIT YOUR ENTRY
Send your entry to:
[email protected] or
Women in Architecture Awards 2016
c/o Frederika Fraser
The Architectural Review
69-77 Paul Street
London EC2A 4NW
The WIA Awards are supported by: The Architectural Review
'Visionary' pioneer  Jane Priestman wins Ada Louise Huxtable Prize
5 Fewb 2015
The inaugural Ada Louise Huxtable Prize has been awarded to 'visionary' client and architectural patron Jane Priestman
Ada Louise Huxtable
Website: Ada Louise Huxtable (née Landman; March 14, 1921 – January 7, 2013) was an architecture critic and writer on architecture. In 1970 she was awarded the first ever Pulitzer Prize for Criticism. The esteemed architecture critic Paul Goldberger, also a Pulitzer Prize-winner for architectural criticism, said of Huxtable: "Before Ada Louise Huxtable, architecture was not a part of the public dialogue."
"She was a great lover of cities, a great preservationist and the central planet around which every other critic revolved," said architect Robert A. M. Stern, dean of the Yale University School of Architecture.
Huxtable was born and died in New York City. Her father, the physician Michael Landman, was co-author (with his brother, Rabbi Isaac Landman) of the play A Man of Honor. Ada Louise Landman received an A. B. (magna cum laude) from Hunter College, CUNY in 1941.
In 1942, she married industrial designer L. Garth Huxtable, and continued graduate study at New York University from 1942 to 1950. From 1950 to 1951 she spent one year in Italy on a scholarship of the U.S.-Italy Fulbright Commission.
source: wikipedia
Stefano Boeri – Vertical Forest:



image from Serpentine Gallery
Serpentine Gallery Pavilion – Past Designs
Serpentine 2011 Pavilion by Peter Zumthor


picture from Serpentine Gallery
Serpentine Pavilion 2010 by Jean Nouvel


image © Ateliers Jean Nouvel
Serpentine Pavilion 2009 by SANAA Architects


photo © Nick Weall
Location:UK
RIBA Awards
RIBA Awards : Winners 2011



photo © Andrew Lee
Comments / photos for the 2016 Ada Huxtable Prize – Julia Peyton-Jones page welcome
2016 Ada Huxtable Prize – page