Brooks + Scarpa Los Angeles Architects, Californian Design Studio, Architectural Office USA
Brooks + Scarpa Architects
Los Angeles Design Studio – Californian Architecture Practice, USA
post updated February 25, 2023
Brooks + Scarpa Architects News
Brooks + Scarpa Architects News
Sep 29, 2019
DENSE-CITY: Housing for Quality of Life and Social Capital
Exhibition: October 19 – December 14, 2019
Airport Gallery, 3026 Airport Avenue, Los Angeles, California, USA
DENSE-CITY: Housing for Quality of Life and Social Capital is an exhibition of projects by Los Angeles architecture studio Brooks + Scarpa exploring urban development, cultural equity, and access to public space:
DENSE-CITY: Housing for Quality of Life and Social Capital
Aug 3, 2018
Ordinary and Extraordinary: Brooks + Scarpa Book
Acclaimed architecture firm Brooks + Scarpa has a new book title available.
'Ordinary and Extraordinary'
By: Tibby Rothman
ISBN# 9780998529851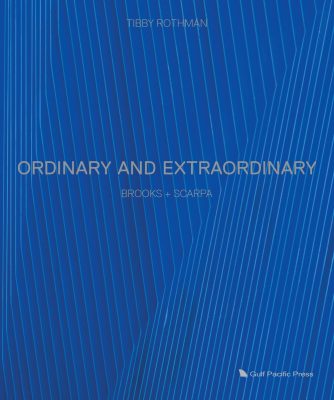 ORDINARY AND EXTRAORDINARY BROOKS + SCARPA
Ordinary and Extraordinary tells the story of the celebrated Los Angeles-based architecture and design practice Brooks + Scarpa, recipients of the Cooper Hewitt National Design Award.
Working across disciplines including landscape architecture, planning and environmental design, as well as furniture, graphic and interior design, Brooks + Scarpa employs rigorous research and technological prowess to produce iconic buildings that surprise and delight in their ability to enrich the cultural fabric of our cities.
Equally dynamic and accessible is Ordinary and Extraordinary , which charts Brooks + Scarpa's history to date, methodology and working philosophy through a selection of highlighted projects that come to life through a narrative concerning the practice, penned by exjournalist and Wallpaper * contributor Tibby Rothman.
Ordinary and Extraordinary takes its readers on a journey from Brooks + Scarpa's origins in 1991 as Pugh + Scarpa to its current leadership under Angela Brooks and Lawrence Scarpa, who together steer the 25-person team from one successful project to the next, emphasising a collaborative and client-led approach that is further lauded for its sustainability-savvy design approach.
Brooks + Scarpa's work ranges from high-density housing in Chengdu, China, to Downtown Los Angeles boutiques including Aesop's cardboard- coated interiors; it spans the iconic, Corten-clad facades of the Adam Aronson Fine Arts Center at Laumeier Sculpture Park near St Louis, Missouri, and the futuristic canopy roof of the Contemporary Art Museum in Raleigh, North Carolina. Ordinary and Extraordinary meditates upon the artistry defining Brooks + Scarpa's unique practice in a format equally engaging as an object and as a book.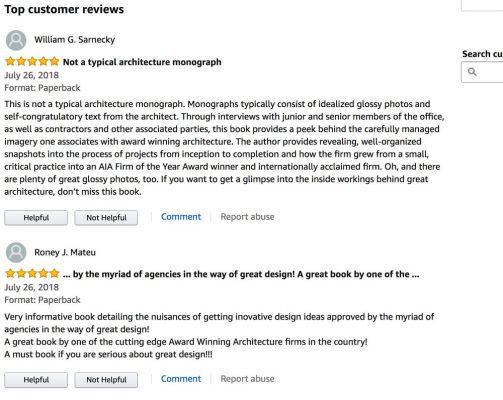 Retail Locations:
Amazon
Barnes & Noble
https://www.barnesandnoble.com/w/ordinary-and-extraordinary-tibby-rothman/1126662510?ean=9780998529851&st=PLA&sid=BNB_DRS_New+Core+Shopping+Top+Margin+EANs_00000000&2sid=Google_&sourceId=PLGoP211668&gclid=CjwKCAjw1tDaBRAMEiwA0rYbSLvQUHACiEFHOZMIzLkZYF-aKqCZkY3c96HE-1RF2zsA1Tcsv4WO3xoCU-IQAvD_BwE
Itasca Books
https://www.itascabooks.com/ordinary-and-extraordinary.html
Retailer Orderings:
Ingram and Baker & Taylor. https://www.ingramcontent.com/retailers/ordering
ISBN# 9780998529851
Contemporary Art Museum, Raleigh, North Carolina, USA
Date built: 2011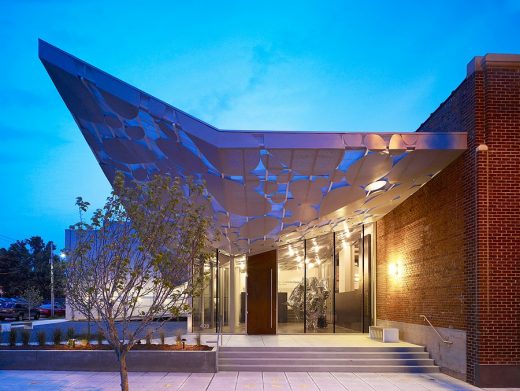 photography: John Edward Linden, Nick Pironio and Lawrence Scarpa
Contemporary Art Museum Raleigh – 1 Oct 2011
Located in Raleigh's revitalizing Historic Depot District, an unlikely butterfly has emerged from its decades-long cocoon. The historic 1910 two-story brick structure built for Allen Forge & Welding Company and enlarged around 1927 for the Brogden Produce Company — and more recently home to longtime occupant Cal-Tone Paints — has emerged from its asbestos clad sheathing into a new incarnation as the home of Raleigh's Contemporary Art Museum (CAM).
Redelco Residence, Studio City, California, USA
Date built: 2011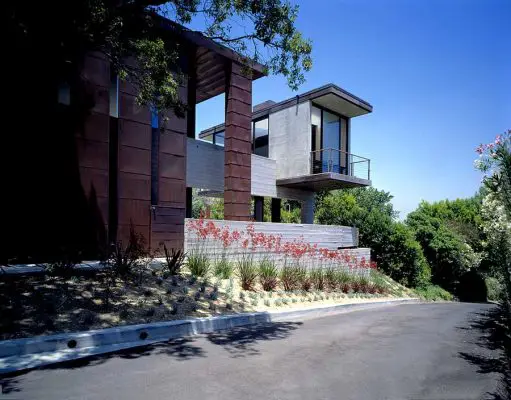 photograph : Marvin Rand
Redelco Residence
In early 1994, the architects began work on the project and while in construction (demolition, grading and foundations) the owner, due to circumstances beyond his control, halted all construction of the project. Seven years later the owner returned to the architects and asked them to complete the partially constructed house.
Vasquez Rocks Nature and Interpetive Center, California, USA
Date built: 2011



image from architects
Vasquez Rocks Nature and Interpetive Center
The Vasquez Rocks Nature and Interpetive Center is a vital gateway to a unique asset in the Los Angeles County Parks system. The high-desert site is one of the most significant natural areas in the region; its sculptural rock formations have inspired generations of visitors and provided the backdrop to dozens of Hollywood movies and television shows.
Brooks + Scarpa Studio News
Brooks + Scarpa is the new name for Pugh + Scarpa
Brooks + Scarpa is the successor to architecture firm formerly known as Pugh + Scarpa, founded in Santa Monica, California in 1991. The name change reflects the natural evolution of the firm since its founding in 1991. Lawrence Scarpa, FAIA, and Angela Brooks, AIA, LEED AP, are the sole principals and the firm is consciously structured to ensure their participation in each project.
Pugh + Scarpa – Buildings
Featured Buildings by Pugh + Scarpa, alphabetical:
Cherokee Lofts, Santa Monica, Los Angeles, California, USA
Date built: 2010



photo : John Edward Linden
Cherokee Lofts
Make it Right home, Lousiana, USA
Date built: –



image from architects
Make it Right home
This design seeks to redefine the concept of a home into a flexible, multifunctional and adaptable space addressing the needs of today's modern family, on a limited budget. Offering shelter and comfort, the MIR home breaks the prescriptive mold of the traditional home by creating public and private "zones" in which private space is deemphasized, in favor of large public living areas.
Solar Umbrella Residence, Venice, California, USA
Date built: 2008



photo : Marvin Rand
Solar Umbrella : Sustainable energy-neutral building
Nestled in a neighborhood of single-story bungalows in Venice, California, the Solar Umbrella Residence boldly establishes a precedent for the next generation of California modernist architecture. Located on a 41′ wide x 100′-0″ long through-lot, the Solar Umbrella addition transforms the architects' existing 650 square-foot bungalow into a 1900-square-foot residence equipped for responsible living in the twenty-first century.
Step Up on Fifth, Santa Monica, California, USA
Date built: 2009



photograph : John Edward Linden
Step Up on Fifth
Step Up on 5th is a bright new spot in downtown Santa Monica. The new building provides a home, support services and rehabilitation for the homeless and mentally disabled population. The new structure provides 46 studio apartments of permanent affordable housing. The project also includes ground level commercial/retail space and subterranean parking.
More projects by Brooks + Scarpa online soon
Location: 4611 W. Slauson Ave., Los Angeles, California 90043, USA '
Brooks + Scarpa Practice Information
Brooks + Scarpa are based in Los Angeles, CA, USA
At Brooks + Scarpa we believe that architecture should engage the user, heighten their sense of awareness, and bring a deeper understanding and vitality to their experience. We strive to create environments that stimulate their occupants and leave lasting impressions. We encourage a culture of ingenuity and exploration that enables us to maintain a fresh approach to every project we undertake. This is true regardless of the scale – big or small, whether for public or private use, for rich or for poor. This is an approach that has often led us to reinvent established building types.
Brooks + Scarpa approaches each project as the continuation of an ongoing inquiry. This belief has produced a constant stream of inventive work leaving each client with a building which is solely their own, non-formulaic, and yet facilitates even the most mundane requisites.
Los Angeles Architecture Designs



photograph : Art Gray
Buildings / photos for the Brooks + Scarpa Architecture page welcome
Website: www.brooksscarpa.com