Perkins + Will Architects, New Visual Identity and Narrative Voice, US Design Studio News
Perkins + Will Architects News
Contemporary International Architectural Practice – new brand identity
23 Apr 2021
Designers on track to deliver on first-ever net-zero carbon interiors pledge and launch new sustainable materials database
Perkins&Will share progress update on delivering their Net-Zero Now pledge
Major firms JLL, Citi, Unilever, Mace, and ISG part of the consultation process
Sustainability team announce soft launch of new circular materials database.
Searchable directory enables designers to specify sustainable and circular products and materials from suppliers
April 2020, Six months since the launch of the Net-Zero Carbon interiors pledge, which ensures the internal fit-out of offices and commercial buildings will be net-zero embodied carbon, the London studio of architecture and design firm Perkins&Will has shared its first progress update.
A new sustainability database
A major outcome since the report launched in October 2020 is the new Now Database, a searchable directory of products that enables the studio's designers to specify products that support its net-zero interior pledge. It has been developed collaboratively with suppliers to capture products from suppliers of all sizes, large or small, and to ensure Perkins&Will measure contributions in a fair and equitable way.
Products and materials are scored by Perkins&Will's in-house sustainability team across various metrics that include sustainability, recyclability, circular principles, and areas of focus such as workers rights and the diversity of the supplier's organisations.
Going forward, designers and architects at Perkins&Will London and Dublin studios will use this database to prioritise a supply chain that reflects its goal for a sustainable future.
As with Perkins&Will's Transparency platform, a publicly accessible site that specifies healthy materials, the Now Database aims to sit alongside Transparency as the go-to site for sustainable and circular designed products and materials. Additionally, the firm has a long-term vision to make the Now Database accessible to all and ensure the entire industry works together to tackle the climate challenges ahead.
Meeting Net-Zero Pledge Targets
Perkins&Will's internal Net-Zero Champions team regularly connects with the market to understand new solutions, challenge ways of thinking, and explore opportunities to work together. The Net-Zero Champions group do fortnightly internal sessions to continuously share knowledge, reporting back on elements of investigation and what the wider studio can learn from. This directly ensures the target set out in the manifesto of at least one section of a project, whether its location, package or finish, is net-zero by Design Stage 2.
Led by Adam Strudwick, principal of the interiors team, the studio launched a consultation process in Q4 2020 with key clients, including JLL, Citi, and Unilever, major contractors such as Mace, ISG, and Overbury as well as supplier partners, sub-contractors, and furniture manufacturers Knoll, Senator, and Organgebox amongst others. The consultation helped Perkins&Will better understand the challenges and opportunities for holistically delivering net-zero embodied carbon interiors and ensure that its supply chain meets net-zero requirements.
Other goals outlined in Perkins&Will's Net-Zero Now manifesto are also on track which includes:
–   By 2030, all projects will be net-zero embodied carbon as demonstrated through a Whole Life Carbon Assessment.
–   LCA on every project.  All projects now have a whole life carbon assessment and a carbon budget developed at the Concept design stage.
–   Publish Circular Design Guidelines for use on all interior projects.
–   Mandate EPDs. All materials require completed EPD with circular design commentary.
After launching its manifesto, Perkins&Will realised it needed to go deeper than focusing on EPDs alone. While EPDs are vital to pushing the industry forward, it is equally essential that small manufacturers with newer solutions who may not yet develop an EPD for their project are also supported.
A key element of our pledge was full transparency on our progress, something we feel is often missing on some Sustainability pledges.  We know some targets set out within the Net-Zero Now manifesto will require more work to stay on plan. Off-plan targets include:
–   By the end of 2021, half of our projects will be designed to be 100% circular.
–   Provide a net-zero embodied carbon or circular design strategy at RIBA stage 2 for all new projects, at no cost to the project.
Commenting on this, Adam Strudwick, principal, Perkins&Will, said: "We want to maintain transparency about all the work we do, whether it applies to targets that are on track or pledges we've made that need a bit more work to achieve.
"We are already a quarter through 2021, and there is still a long way to go for us to be confident that we will meet the target that half of our projects will be designed to be 100 percent circular by the end of this year.  We estimate we are ten percent to the target. We are also working harder on what we mean and can achieve through embedded circular design in interiors.
"Furthermore, we have not yet been able to do a detailed Stage 2 report on every project started from October last year as per our manifesto.  This is mainly down to the technical requirement being in place at the right time through the project flow, and it's something we need to improve on in Q2. Since October 2020, 25 percent of projects have had a full report produced.
Asif Din, Sustainability Director, Perkins&Will, said: "Perkins&Will has always considered the environment as a tenet of all our designs, part of this is having a deep understanding of materials and their lifecycles. The net-zero carbon goals build on the Transparency initiative to enable a circular construction industry. However, there is a need to provide clear definitions of circular materials processes within a carbon analysis, which is why we are working with the supply chain to learn what is possible in suggesting initial metrics and definitions.
"The Now Database brings our firm one step closer to achieving the ambitious but necessary targets set out within our net-zero pledge. We aim to eventually make this database accessible to all, to allow the whole construction supply chain, from designers to installers, to collectively tackle the climate challenges ahead."
For more information or access to the database, please contact

[email protected]

For suppliers that would like to enter their products can fill out the form linked here
Previously on e-architect:
June 24, 2020
Perkins+Will Architects Office News
Architect reacts to Rent Quarter Day
Adam Strudwick, Principal at the London studio of Perkins and Will, said:
"Despite the calls that the office is dead, office space providers have been reporting relatively high rent collections since the lockdown began – proof that the office is still a valuable asset for companies.
"The days of high-density offices and occupation are probably over, but our natural human need for society and community means that central spaces for collaboration will still be a necessity post-lockdown. To ensure that employee demand for this space remains high, both landlords and businesses will have to offer a high-quality, safe space, geared around a healthy approach to collaboration, socialising, and training.
"With Perkins and Will's 'Roadmap to Return' we hope to offer advice that not only advises businesses on providing a high-quality offering for their employees, but allows landlords to secure rents for the next quarter."
Guild Living's planned scheme in Epsom: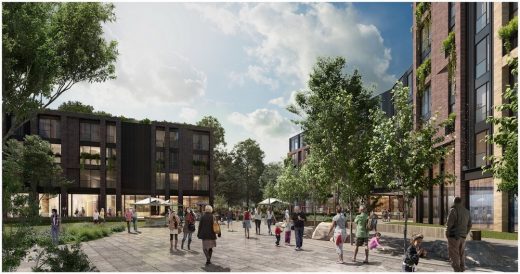 image courtesy of architects
Eugene Marchese, co-founder, Guild Living, said:
"The seismic shift we are seeing in retail offers our towns and cities the opportunity to redevelop surplus space into much-needed housing that is purpose built for people in later life.
"Just 7,000 new homes built each year are designed for older people. This is insufficient to serve the 180,000 65-plus households that will be created each year over the next decade. With an ageing population and a growing social care crisis, Britain has a chance to embrace radical change – not just in housing or care – but in how we treat older people.
"At Guild Living, we are creating later living communities that will reinstate older people in the hearts of our towns and cities. Our approach to design, development, operations and care is motivated by a fundamental commitment to drive change in how we live in later years, driven by robust research.
"Our partner, Legal & General, shares this vision, and has the capital and long-term commitment to revolutionise the way we age. We want people to live in beautiful homes with their own front door, that offer discrete, tailored care for when they may eventually need it."
A key building design by Perkins + Will
House Built Around a Tree, Alto de Pinheiros, São Paulo, Brazil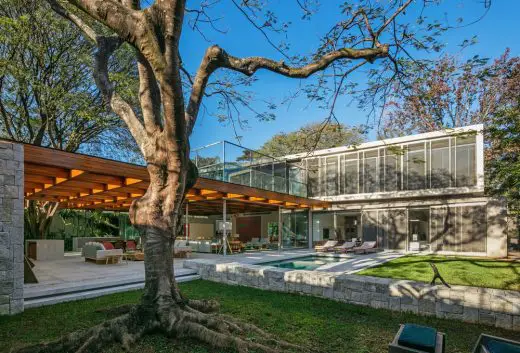 photograph : Nelson Kon
House in Alto de Pinheiros
Dec 19, 2019
Architect reacts to government net zero plans in Queen's Speech
Asif Din, sustainability director at the London studio of Perkins and Will, said:
"It's great to see the Queen's Speech outline Britain's plans to host the United Nations Climate Change Conference in 2020, but the promise to meet net-zero greenhouse gas emissions by 2050 will require urgent and significant systemic change.
The built environment currently contributes to 40 percent of the UK's carbon footprint. If we, as a nation, are to actively pursue an ambitious net-zero target, the property industry must have a robust response to climate change.
This requires the development of all new cities, towns and buildings that are energy-efficient, net-zero operational and climate resilient with immediate effect.
With the race to net-zero by 2050 firmly on, the onus is on architects, developers, and investors to develop new business models required to step-up to the challenges posed by the climate crisis, reflecting an industry with a long-term approach."
Dec 3, 2019
VAT cuts to unlock £1bn green homes revolution
Jack Pringle, EMEA regional director at global architects Perkins and Will, said:
"A VAT cut on home improvements and refurbishments would have a significant effect on the built environment's ability to reach net-zero by the middle of the century. With the collapse of the Green Deal initiative, it's the existing building stock that remains the big greenhouse gas emitter with no systemic way of being tackled. Without shifts in taxation and policy, a huge amount of it will remain inefficient to run and financially unviable to retrofit.
As a result, the high carbon footprint of our industry will continue unabatedly. Designing, delivering and operating net-zero buildings is possible and financially feasible with the technology at our disposal. But without tackling the monumental problem of old and carbon-intensive stock, the green revolution will never materialise. We argued for these VAT changes back in 05 when I headed up the RIBA and I would encourage the Institute and CIC to get behind this initiative."
June 26, 2019
One of the Most Recognized Architecture and Design Firms in the World Unveils New Visual Identity and Narrative Voice
Perkins + Will Architects News – A fresh palette of creative expression reflects the firm's legacy while enhancing its ability to communicate with clients.
Albion Library building by P + W: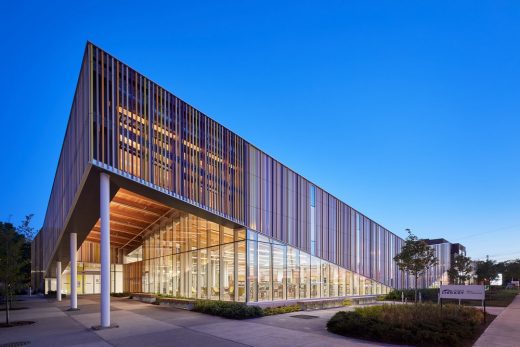 JUNE 26, 2018—The visionary architecture firm whose 1940 Crow Island School project revolutionized human-centered design has ushered in a new era of self-expression. Like the school that catapulted Perkins and Will to fame, the firm's new brand identity—revealed publicly for the first time today—emphasizes beauty in humanity, simplicity, and clarity of communication.
University of Washington Life Sciences building by Perkins + Will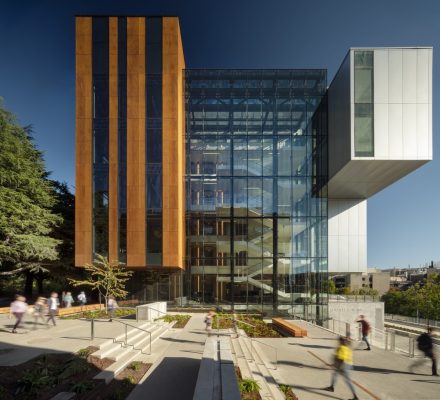 "Our goal is to deliver the content that matters most to our clients in a clear, confident, impactful way," says Phil Harrison, CEO of Perkins and Will. "The enhancements we've made to our look, feel, and voice are designed to help us achieve that. They also reflect our values better, showing the world who we are and what we stand for."
Aaniin Community Centre building: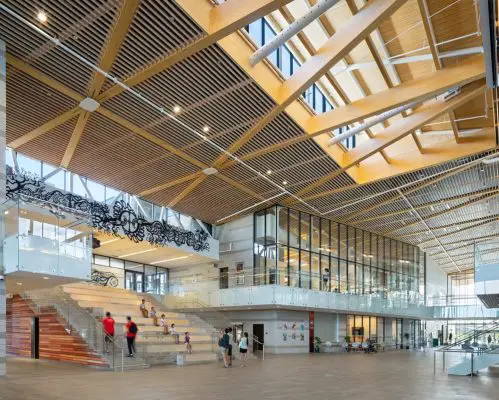 photos courtesy of architects
Flexibility in Communication
The new Perkins and Will brand is built on a concept of flexibility. A range of communication styles allows the firm to share content with clients in a way that's tailored to their unique preferences. The brand is both timeless and classic, yet also flexible enough to dial up or dial down creative expression as needed.
NCCHR building by Perkins + Will: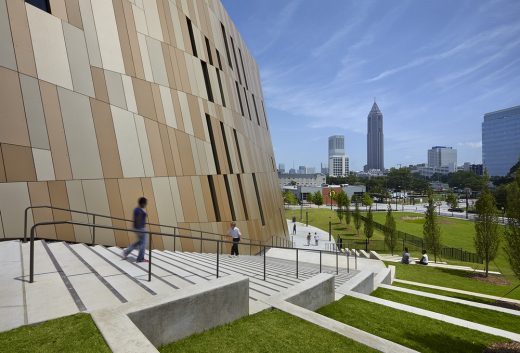 A Legacy-Inspired Logo
Perhaps most noticeable is the logo, inspired by the firm's vintage mark from the 1940s. A modern interpretation of the original, which helped define firm for over 60 years, it's a nod to the firm's legacy with a regard toward the future.
Minneapolis Studio interior: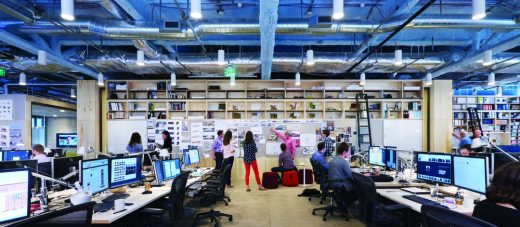 Stories about People
The firm is also doubling down on its commitment to human-centered storytelling. There's a renewed focus on telling stories about everyday people who use the built environment, and about the people who design built environments every day. "People are at the heart of everything we do. We want to tell stories of how our projects and teams are making a positive difference in people's lives," Harrison says.
Newell Rubbermaid building: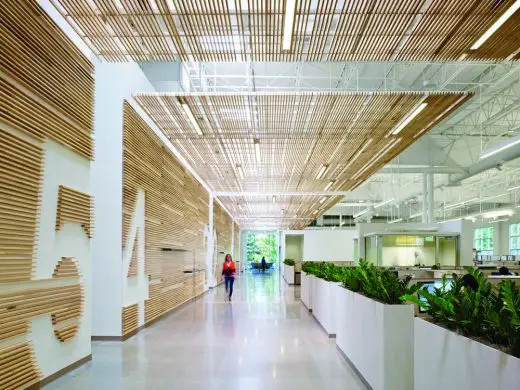 Designed from the Heart
One of the things that make the rebrand of Perkins and Will particularly special is that the design concept, strategy, creation, and implementation were done almost entirely in-house. A highly collaborative cross-section of the firm's designers, business leaders, marketers, graphic designers, and communications specialists—with the input of key clients—worked together for more than a year to craft the new identity. It was a rigorous process, Harrison notes, but one that resulted in a brand that's as beautiful as it is authentic.
Rush University Medical Center building by Perkins + Will: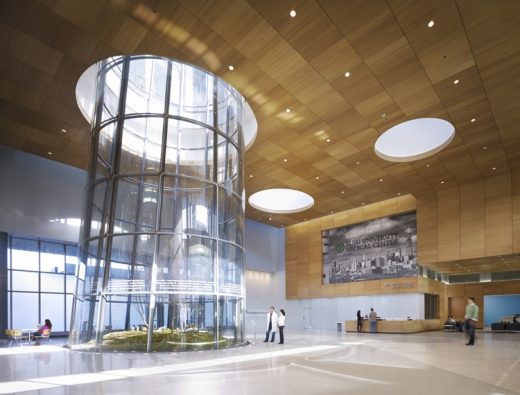 Serving Clients Better
In its totality, the new Perkins and Will brand represents much more than a new look and feel. It's a platform on which to better serve the firm's clients, allowing for more a personalized, relevant, and modern expression of the firm's heritage and values. "The Perkins and Will brand is iconic because it's built on an 85-year legacy," Harrison says. "But it's also a fresh, unequivocal expression of our core values—and how those values help us deliver world-class design solutions to our clients. It tells the world why we do what we do."
SFO Studio building by Perkins + Will: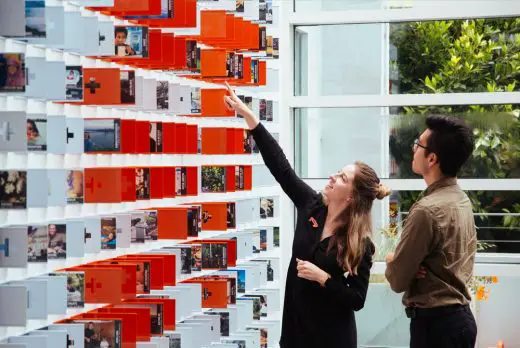 Vancouver Studio office interior by Perkins + Will: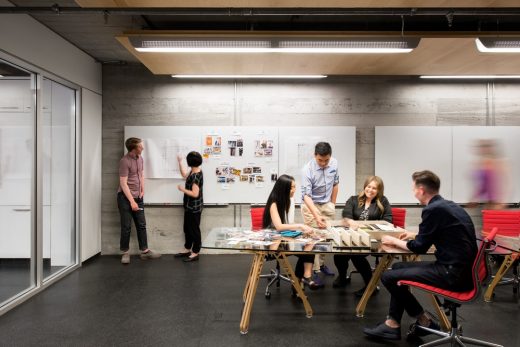 More Perkins + Will Architects News online soon
Perkins + Will – new buildings
Perkins + Will Architects Firm – practice info
Location: various offices, headquartered in USA
Perkins + Will
Schmidt Hammer Lassen bought by Perkins & Will
World-Renowned Danish Design Firm schmidt hammer lassen architects Joins Perkins+Will
Recent Buildings by Perkins + Will
Floatyard, Charlestown, Boston Harbor, MA, USA



image from architect office
Floatyard Boston Harbor
ENfold pavilion, Boston, MA, USA
ENfold pavilion
Cofco Research And Innovation Campus, Science City, Changping District
Cofco Research And Innovation Campus
University of Florida Clinical Translational Research Building, Florida, USA
University of Florida Clinical Translational Research Building
NCBC – office & conference addition, Research Triangle Park, North Carolina, USA
North Carolina Biotechnology Center Building
Perkins+Will Office – Interior fit-Out, North Carolina, USA
Perkins+Will Architects Office
235 Van Buren, Chicago, USA
235 Van Buren Chicago
Al-Birr Foundation Office Tower, Riyadh, Saudi Arabia
Al-Birr Foundation Office Tower Building
Comments / photos for the Perkins + Will Architects News page welcome
Website: Perkins + Will