Chinthaka Wickramage, Sri Lanka Architects, Sri Lankan Design Studio, South Asia Architect Office
Chinthaka Wickramage Associates, Sri Lanka
Architects Office in Southern Asia – Practice Profile
Chinthaka Wickramage Associates – Contact Details
Chinthaka Wickramage Associates
Tel +94(11) 2826436
Fax +94(11)2820037
e-mail: chinthaka(at)wickramagearchitects.com
Website: www.chinthakawickramage.com
Address: Chinthaka Wickramage Associates, No: 23/16, Upananda Batugedara Mawatha, Chapel Lane, Nugegoda
Chinthaka Wickramage Associates Sri Lanka – About us
Firm Profile
History
Archt. Chinthaka Wickramage, after obtaining his Bachelor of Science honours degree in Built Environment from the Faculty of Architecture, University of Moratuwa, worked as an Assistant Architect under renowned Architect Anura Ratnavibhushana during his apprenticeship. He completed post graduate studies in London, obtaining his Masters from the Bartlett School of Graduate Studies, University College London (UCL), University of London.
After returning to Sri Lanka and working in the leading Architectural Firm Design Group Five (DG5) for several years, he set up Chinthaka Wickramage Associates in Association with Archt. Nileeka Senerath.
Philosophy
If one chooses to encapsulate our work one feature stands out: a free thinking yet functional conception of how buildings can work both inside and out. Though mindful of the traditions that have shaped Sri Lankan Architecture, Chinthaka Wickramage Associates never allow them to become unbending rules, inhibiting our freedom to design or the comfort of those that will occupy that building.
A keen awareness of light and colour, an in-depth knowledge of materials and surfaces, and a sharp sense of spatial proportion provide us with the requisite tools to realize our unique vision of architecture. In an urban environment, where costs often override aesthetics, shape, light and colour work seamlessly together to maximize space.
In a rural setting, a vista or a breeze will be optimized against a lush garden or a private courtyard. Chinthaka Wickramage Associates share an exciting vision of how architecture not only is, but how it can be, an environment for working and living with an eye to the past but both feet firmly planted in the future.
Scope of Services
Chinthaka Wickramage Associates offer a complete consortium consultancy services package, with a talented and energetic young team of architects in association with other allied professionals. Our strong Multi Disciplinary Team Provides well integrated Design support from the Conceptual Stage of a project through Construction, ensuring total co-ordination of all Services.
Chinthaka Wickramage Associates provide a highly efficient Consortium service, comprising of Architectural, Structural/Civil Engineering, Mechanical/Electrical Engineering, Interior Designing, Cost Planning, Quantity Surveying, Project Management Services and Urban Design, which offers professional skills required for building projects of any magnitude. Experienced professionals who are leaders in there own fields aided by experienced support staff head the respective fields.
Architecture Awards
Architectural Awards – Selection
Canteen Recreaton and Rest Room Building, RPL Factory, Horana, Sri Lanka



photograph : Waruna Gomis
Chinthaka Wickramage Associates Projects
Architecture News – latest additions to this page, chronological:
13 Nov 2013
A House by a Marsh, Baddagana, Sri Lanka
Architects: Chinthaka Wickramage Associates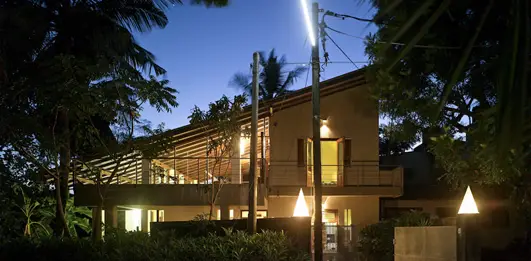 photograph : Eresh Weerasuriya
A House by a Marsh, Baddagana
This house, which is situated in the leafy suburb of Baddagana Pita-Kotte, is arrived at after traveling through a network of narrow winding roads, at the end of a gently sloping road. At arrival one is absorbed by the natural beauty of the terrain, with breathtaking views of the adjoining marshes and the lush green vegetation of Diyawanna Bird Sanctuary.
12 Apr 2013
School by the Lagoon, Ampara, eastern Sri Lanka
Architects: Chinthaka Wickramage Associates



photograph : Waruna Gomis
School by the Lagoon
The Two thousand Four boxing day tsunami was the worst natural disaster to hit Sri Lanka in living memory. For a country already reeling from a two and a half decade old war the timing of the tsunami could not have been worse.
16 Oct 2011
Madiwela House, Colombo, Sri Lanka



photograph from Chinthaka Wickramage Associates
Madiwela House Colombo
This new Sri Lankan house was designed for a doctor couple nearing retirement, who wanted to move into this small compact residence by a paddy field in suburban Colombo. This 150 square meter site was located at an end of a slope overlooking a panoramic view of paddy fields and distant trees.
26 Sep 2011
IFRC Community Centre, Sri Lanka



photograph : Kesara Rathnavibhushana
IFRC Community Centre
ar+d Emerging architecture awards 2011 : selected amongst 10 highly commended projects
This Building was designed as a community center for tsunami affected community of Thalalla, Mathara in Southern Sri Lanka.
15 May 2011
Belihuloya Mountains House, Sri Lanka



photograph : Waruna Gomis
Belihuloya Mountains House
This Sri Lankan retirement home was designed as a 'discreet hideaway look-out' for clients who wanted to spend there retirement in quite solitude amongst the mountains. The house was built on stilts avoiding expensive retaining wall foundation systems to keep costs down as this was to be there second house.
Ceylinco Sussex College, Horana, Sri Lanka



photograph : Waruna Gomis
Ceylinco Sussex College Horana
The Site is located in Horana, overlooking the paddy fields. The brief made the project a challenging task, as it required the school to be housed in one building with classes from grade one up to O/L, a science lab, staff rooms, toilet blocks, a play area and assembly hall- which could accommodate the entire school.
Poruwadanda Wooden Toy Factory, Sri Lanka



photograph : Waruna Gomis
Poruwadanda Wooden Toy Factory
The project was to build a Wooden Toy Factory on an abandoned Rubber estate, by a joint venture between a Norwegian investor and a Sri Lankan partner, with the toy products expected to be exported to the Nordic and Scandinavian Countries.
Rocell Bathware Concept Centre Building Refurbishment, Nawala, Sri Lanka



photograph : Waruna Gomis
Rocell Bathware Concept Centre in Nawala
The architects' brief was to "convert an existing dilapidated Car Showroom Service Centre, to a Rocell Bathware Concept Centre, an elegant and stylish living space, with the task of stimulating and inspiring visitors was a challenging task". This Corner Block Site, bordering two roads, was once open to the Main Nawala Narahenpita road side only.
Canteen Recreaton and Rest Room Building, RPL Factory, Horana, Sri Lanka



photograph : Waruna Gomis
RPL Factory Horana
This project was to design a Canteen, Recreation and Restroom building for Royal Porcelain Factory in Horana in a newly acquired six (06) perch block of land adjoining the Factory Premises. The building was designed capturing the architectural idiom of the Factory building itself with a monitor roof in the centre.
Sri Lanka Architects Practice Staff Information
Chinthaka Wickramage
Chinthaka Wickramage
B. Sc. (BE) Hons., M. Sc. (BE) London, AIA(SL)
Chartered Architect/Designer
Head of Chinthaka Wickramage Associates
Location: Chapel Lane, Nugegoda, Sri Lanka
South Asia Building Designs
South Asian Architectural Design
Comments for the Chinthaka Wickramage Associates page welcome
Website: www.chinthakawickramage.com