Mario Botta Architect, Buildings, Switzerland, Italian Design Studio, Ticino Practice
Mario Botta Architect
Contemporary Swiss Architecture Practice – Lugano Architectural Office
post updated 13 Apr 2021
22 + 14 Apr 2014
Mario Botta Exhibition
Exhibition Spans Career of Acclaimed Architect Mario Botta
Bechtler Museum of Modern Art Pays Homage to its Building's Designer with an Exhibition Featuring Artifacts that Exemplify Botta's Architectural Style.
Bechtler Museum of Modern Art, Charlotte, NC, USA
Dates built: 2000-2009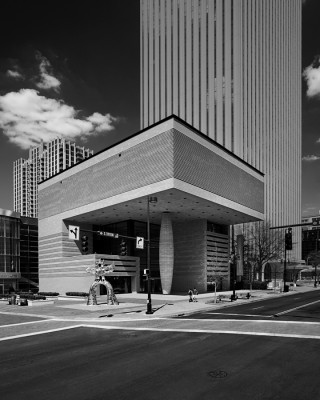 photograph © MBA – Photo Joël Lassiter
Location: Charlotte, North Carolina, USA
April 14, 2014 (Charlotte, N.C.) – Considered one of the century's most fundamental contributors to postmodern classicism, Swiss architect Mario Botta is respected particularly for his sensitivity to regional vernacular and to the building's relationship with the land. He is the designer of the Bechtler Museum of Modern Art and the San Francisco Museum of Modern Art – the only commissions he has accepted in the United States.
Mario Botta: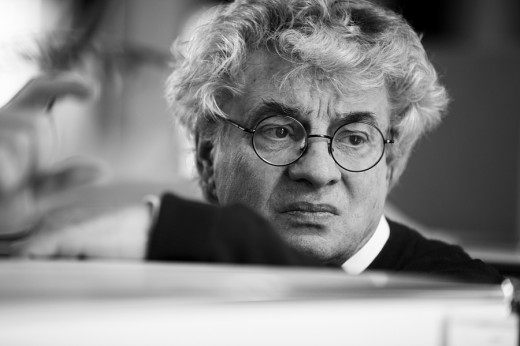 Mario Botta's body of work ranges from private residences in the Swiss Alps to urban projects in Europe and Asia. The Bechtler Museum of Modern Art presents the exhibition Mario Botta: Architecture and Memory January 31 through July 25, 2014.
Botta is among the most noted architects on an international scale. His reputation and status have long been established throughout the rest of the world by the great number and wide variety of commissions the 70-year-old architect has received in the last 50 years throughout Europe and most recently Asia. He is considered one of the world's foremost architects of churches and museums.
Maison du livre, de l'image et du son, Villeurbanne, France
Dates built: 1984-1988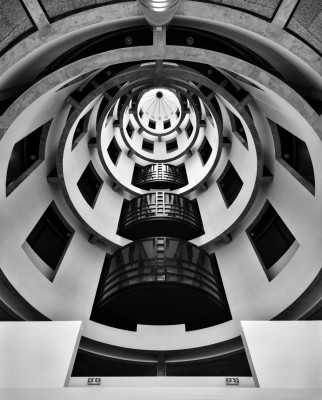 photograph © MBA- Photo Pino Musi
The Bechtler Museum of Modern Art is the only U.S. venue for this engaging exhibition that highlights the designs for some of Botta's significant museums, libraries, theaters and religious spaces. Over the last decades, Botta has focused on creating major public buildings worldwide. The exhibition features sketches, original wood models and photographs for 30 of these projects.
More than 200 objects will be on view throughout the museum's entire fourth-floor gallery including wooden stools designed by Botta, which provide seating for the exhibition's digital slide shows.
San Carlino, Lugano, Switzerland
Date built: 1999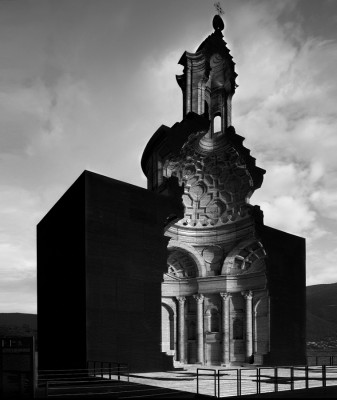 photograph © MBA – Photo Pino Musi
Also featured in the exhibition are letters and sketches by architects and others who have influenced Botta. Included in this Encounters section are artworks from the Bechtler collection created by artists who have inspired Botta such as Alberto Giacometti, Jean Tinguely, Alexander Calder and Pablo Picasso.
"This exhibition is a celebration of the Bechtler building as the single largest object in our collection," said John Boyer, Bechtler Museum of Modern Art President and CEO. "It is a reminder of the powerful uniqueness of this commission in the United States and an acknowledgement of the important relationship between architecture and other forms of art."
The show's title, Architecture and Memory, addresses what Botta says are inseparable elements in that the transformations wrought by architecture become part of the human landscape. Botta's buildings interpret modern culture while evoking the memory of the land.
Church San Giovanni Battista, Mogno – Interior View
Dates built: 1986-1996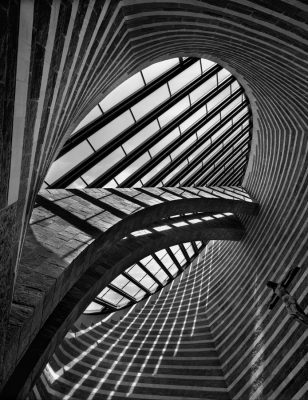 photograph © MBA – Photo Pino Musi
Botta's buildings respect topographical conditions, regional factors and building materials. His designs bear the stamp of respect for craftsmanship and are often ruled by an underlying geometric principle. Though he occasionally uses steel and glass in visible quantities, Botta is truly an architect of stone, brick and concrete. He uses geometric shapes to juxtapose lightness and weight.
Botta's work, as described in The New York Times, "eschews the slickness and the sleekness of so much late modernism. His material is masonry, not glass or steel, and he uses it to create buildings that are firm, self-assured essays in geometry."
The exhbition will be supplemented by a roster of public and educational programs as well as a catalogue.
Mart – Museum of modern and contemporary art of Trento and Rovereto, I – view of the central court:
Dates built: 1988-2002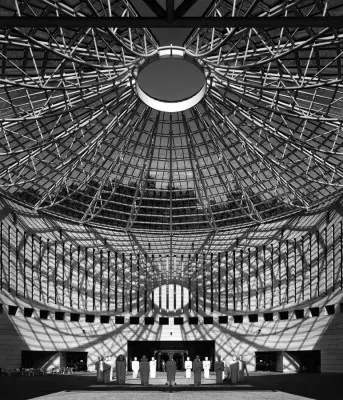 photograph © MBA – Photo Pino Musi
Mario Botta: Architecture and Memory is organized by Mario Botta and is based on the exhibition Mario Botta Architecture 1960-2010, which was on view September 11, 2010 through January 23, 2011 at the Museum of Modern and Contemporary Art in Trento and Rovereto, Italy.
Centre Friedrich Dürrenmatt, Neuchâtel, Switzerland – interior view:
Dates built: 1992-2000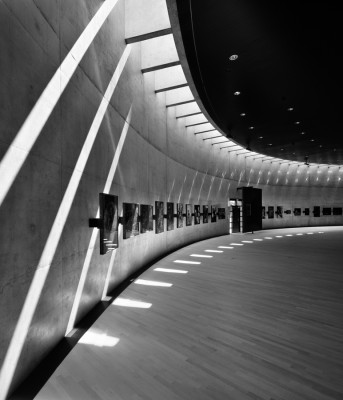 photograph © MBA – Photo Pino Musi
Exhibition Sponsors
The exhibition is made possible with a generous grant from presenting sponsor Wells Fargo Private Bank.
"The Bechtler Museum of Modern Art building designed by architect Mario Botta is a gem of contemporary architecture not only in Charlotte, North Carolina but in all of the United States. Wells Fargo Private Bank is pleased to be the presenting sponsor of this noteworthy exhibition of Botta's work," said Wells Fargo Private Bank Regional Director Madelyn Caple. "We are proud to demonstrate our continued support of Charlotte's cultural community by sponsoring a show highlighting one of the world's masters of architecture."
Significant funding for the exhibition is provided by Belk, Inc, Childress Klein Properties, Electrolux North America, The Hartford and the Swiss Arts Council Pro Helvetia.
Additional funding comes from Rodgers and Balfour Beatty Construction. A design consortium led by Wagner Murray Architects, which includes American Institute of Architects (AIA) Charlotte, Gantt Huberman (a division of Bergmann Associates) and Housing Studio, also provided financial support. The exhibition's media sponsor is WFAE 90.7fm, Charlotte's NPR News Source.
Mario Botta: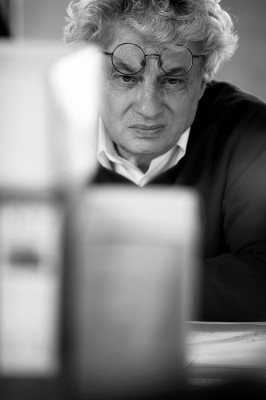 The Bechtler Museum of Modern Art is dedicated to the exhibition of mid-20th-century modern art. It is named after the family of Andreas Bechtler who assembled and inherited a collection created by seminal figures in modernism. The museum is located at Levine Center for the Arts, 420 South Tryon Street, Charlotte. Operating hours are Monday, Wednesday, Thursday, Friday and Saturday 10 a.m. – 5 p.m.; Sunday 12 p.m. – 5 p.m.; closed Tuesdays. For museum details visit www.bechtler.org.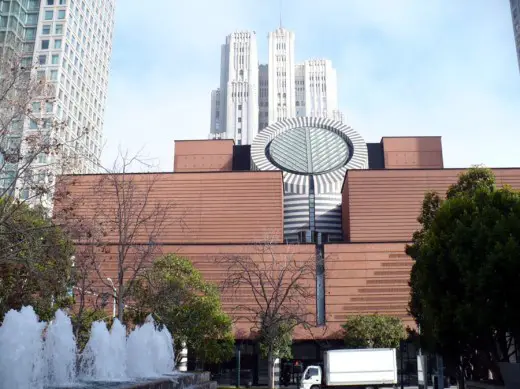 photograph of San Francisco Museum of Modern Art © Andrew McRae
Mario Botta – Key Projects
Key Mario Botta Buildings, alphabetical:
Cathédral de la Résurrection, Paris, France
–
Evry Cathedral, Essonne, France
Date built: 1994
The House at Viganello, Italy / Switzerland
1981
San Francisco Museum of Modern Art, California, USA
1995
Mario Botta Architetto / HOK



picture © Andrew McRae
San Francisco Museum of Modern Art
Santo Volto di Torino, off Viale della Spina, Turin, Italy
2007
Spa Tschuggen Berg Oase, Arosa, Switzerland
2007
More Mario Botta Architecture online soon
Location: Lugano, Ticino, Switzerland
Lugano Architects Practice Information
Mario Botta Architetto studio based in Lugano, Ticino, Switzerland
Website: www.botta.ch
Swiss Architecture
Chenot Palace Weggis Health Wellness Hotel, Weggis, Canton Lucerne
Design: Davide Macullo Architects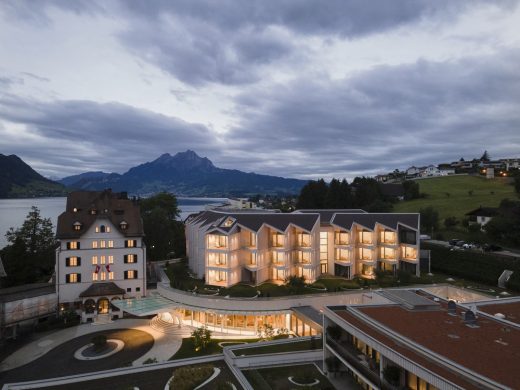 photograph : Roberto Pellegrini
Chenot Palace Weggis Health Wellness Hotel
Comments / photos for the Mario Botta Architect page welcome