LABB Arquitectura, Barcelona Architects, Building Photos, Catalan Design Office, Projects News
LABB Arquitectura : Architecture Practice
studio labb Barcelona, Catalonia, Spain : Contemporary Catalan Architecture Information
post updated 28 Apr 2021
LABB Arquitectura – Key Projects
Hotel hospes en haro La Rioja, Spain
Date built: –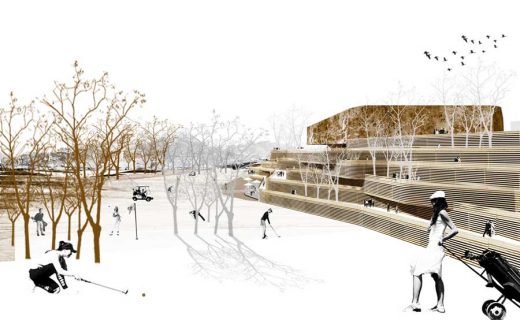 image from architect
Hotel hospes en haro La Rioja
Competition: First Prize – 5* Hotel-Convention Center with Spa-Winetherapy
Daycare Health Centre, Sant Cugat del Vallés, Barcelona, Spain
Date built: under construction at time of writing



image from architect
Daycare Health Centre
Competition: First Prize
More architecture projects by LABB Arquitectura online soon
Location: Barcelona, Catalonia, Spain, southwestern Europe
Barcelona Architects Practice Information
studio labb is an architectural office located in the city of Barcelona, Catalonia, Spain
studio labb directors : Cristina Fernandez + Markus Lauber



photo from LABB Arquitectura
studio labb, together with Francine Houben of mecanoo architecten, are the authors of the project Theatre-Convention Centre "La Llotja de Lleida".
studio labb
Interview with studio labb by Diseñart magazine, Madrid – Excerpts
CUESTIONARIO ESPECIAL JÓVENES ARQUITECTOS
1_ ¿Cómo definiríais vuestro estilo?
Más que un estilo, tenemos una manera de trabajar. Pensamos mucho las cosas, pero las ponemos en duda después. Si crees que las has terminado, corres el peligro de eludir un processo.
How would you define your style?
I would not call it exactly a style, but a way of working. We take lots of time to think of things and cast doubt on them afterwards. If you believe you have finished them, then you run the risk of eluding a process.
2_ ¿Hay alguna obra arquitectónica del pasado que os haya influenciado especialmente?
Cristina: indiscutiblemente la Capilla de Ronchamp de Le Corbusier, por la expresividad que transmite y la personalidad que contiene. Es la expresión pura de la poesía. El juego de luz provoca un gran impacto emocional en su interior.
Markus: Alvar Aalto me ha inspirado por su constante búsqueda de geometrías nuevas, secuencias de espacios inesperados y su virtuoso uso de materiales junto con una gran claridad arquitectónica.
Is there any architectural work of the past that has influenced you particularly?
Cristina: Undoubtedly, the "Chapelle de Ronchamp" by Le Corbusier, for the expressiveness that transmits and the personality that contains. It is the pure expression of poetry. The play of light leads to a great emotional impact indoors.
Markus: Alvar Aalto has inspired me for his continuous search of new geometries, sequences of unexpected spaces, and his virtuous use of materials together with great architectural brightness.
3_¿Y de la arquitectura actual?
A parte de haber trabajado en los proyectos internacionales de José Luis Mateo, siempre nos ha intrigado la arquitectura holandesa por sus propuestas radicales y sus conceptos innovadores. A lo largo de este interés, también hemos conocido personalmente el despacho holandés Mecanoo.
What about the current architecture?
Apart from having worked with the international projects of José Luís Mateo, we have always feel intrigued by the Dutch architecture for its radical proposals and its innovative concepts. Throughout this interest, we have also personally met the Dutch office of Mecanoo.
4_¿Qué aprendisteis trabajando junto a Mecanoo?
En el caso de nuestra colaboración con Mecanoo en el proyecto de la Llotja de Lleida hemos participado en el desarrollo de un proyecto de gran escala y de gran envergadura. En Holanda trabajan de manera más industrializada, prefabricada, menos mano de obra, en definiteiva, menos artesanal. Es otro processo de pensar el edificio basado en otro sistema constructivo.
What have you learnt by working together with Mecanoo?
Regarding our collaboration with Mecanoo in the project of the "La Llotja de Lleida", we have taken part in the development of a large-scale ambitious project. In Holland they work otherwise: more industrialized, prefabricated, less labour, in other words, less craft. It is a different way of thinking the building based on a different constructive system.
5_¿En qué se basa vuestra relación actual con ellos?
Labb es el socio local para el proyecto de La Llotja de Lleida. Somos responsables para el proyecto y la dirección de obra. Hay una relación extraordinaria, basada en la confianza.
What is your current relationship with them based on?
Labb is the local member for the project of the "La Llotja de Lleida." We are responsible for the project and the direction of the works. There is an extraordinary relationship based on the mutual trust.
8_¿Trabajáis con la conciencia medioambiental que se supone que tienen que tener hoy las respuestas arquitectónicas?
Por supuesto. En nuestro laboratorio investigamos diariamente en materiales y processos de construcción sostenibles, que incorporamos en los proyectos que realizamos. En nuestro último concurso, donde obtuvimos un segundo premio, la transformación de la antigua central térmica de Alcudia (Mallorca) en un museo de la ciencia, la propuesta radicaba en transformar una central donde antiguamente se producía energía, en un museo donde actualmente se reciclaría energía.
Do you work with the environmental awareness that architectural responses are supposed to have?
Of course. In our laboratory we daily investigate the materials and processes of sustainable construction, included in the projects we make. In our latest contest, where we got the 2nd price, our proposal was based on transforming the old power-station of Alcudia (Mallorca), where before energy was produced, into a Science Museum, where at present energy would be recycled.
9_¿Podríais hablar de vuestros proyectos más recientes?
En el Centro de Atención Primaria en Sant Cugat, que empezará a construirse en septiembre, el processo de investigación en el desarrollo del proyecto siempre ha buscado el equilibrio sobrio entre el presupuesto disponible y la calidad arquitectónica.
Could you talk about your most recent projects?
In the "Primary Health Care Centre" in Sant Cugat, that is to be constructed next September, the process of investigation in the development of the project has always looked for a moderate balance between the available budget and the architectural quality.
10_¿Qué proyecto os ha dado mayor satisfacción hasta la fecha?
Elogio de la sombra. Este fue el lema del primer concurso que realizamos en labb y donde conseguimos el primer premio. Se trata del Centro de Difusión Tecnológico de la Madera y el Mueble en La Senia: la luz se filtra a través de una fachada de madera generando un efecto de sombras, tal y como explica Tanizaki en su famoso libro.
Which project has been -so far- the most satisfactory of all yours?
"In Praise of Shadows" (Elogio de las Sombras) was the motto of the first contest we made in Labb, and with which we got the 1st prize. It is about the "Wood & Furniture Technological Diffusion Centre" in La Senia: the light filters through a wooden façade generating shadows effects, as Tanizaki explained to in his famous book.
Spanish Architecture
Óptics Lafuente, Pontevedra, Northwest Spain
Design: NAN Arquitectos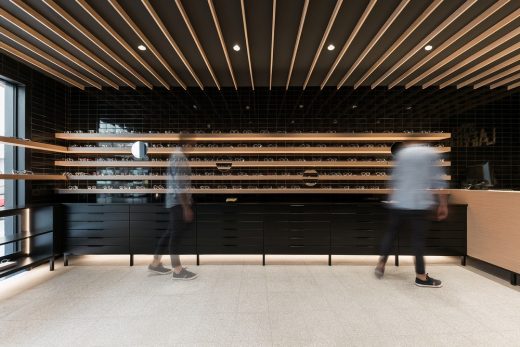 photograph : Iván Casal Nieto
Óptics Lafuente Pontevedra
Hotel Mercer 5*, Seville, Southern Spain
Architects: Cruz y Ortiz Arquitectos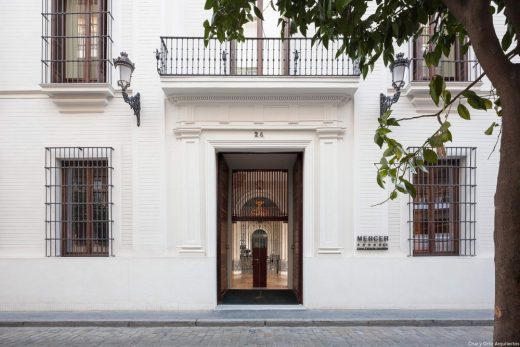 photo © Manolo Espaliú
Hotel Mercer 5*
Comments / photos for the LABB Arquitectura Architecture page welcome
Website : www.labbnet.com