Hames Sharley Architects Western Australia, Building Projects, Perth Design Office, WA Studio News
Hames Sharley Architects Australia News
post updated 23 Feb 2022
Hames Sharley Architects News
Hames Sharley Architects News
23 Feb 2022
Design firm Hames Sharley to offer paid leave for mental health, menstruation and menopause amongst suite of progressive new workplace policies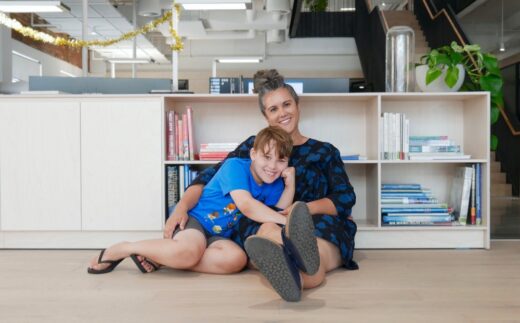 Australian design practice, Hames Sharley, has today announced a suite of progressive new workplace policies as it strives to become one of the most equitable and diverse employers in the country. The new policies include updated personal and bereavement leave, updates to its non-gendered parental leave, and the introduction of strong diversity targets to achieve a minimum of 40% female representation across the organisation.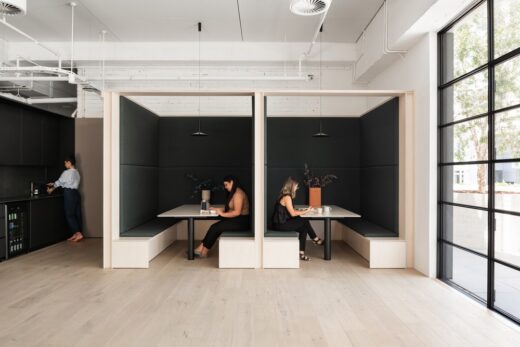 The firm's paid personal leave policy has been extended to formally include paid leave for a variety of reasons, such as mental health, menstruation, menopause, domestic violence, familial breakdown, divorce or separation, a challenging health diagnosis of a child, and taking time to work through gender identity.
Hames Sharley's Principal of People and Culture, Michael Wright, explained that although these policies already existed in practice, they had not been formalised until now – which was an important step for the company to help destigmatise the notion of taking personal days.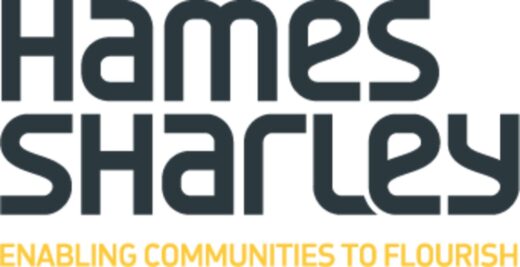 "We've always been extremely flexible and understanding at Hames Sharley when it comes to taking personal leave, but we realised that for staff, there was still an element of guilt associated with taking personal leave when they weren't physically unwell. We realised how important it was for us to formally update our policies, so people don't feel the need to feign illness if they're experiencing other issues.
"We want to normalise taking personal days away from the workplace – if you're suffering from crippling period pain, if you're going through a breakup, or if you just feel like you can't face the world today – it's ok to take a personal day. We want our staff to be both physically and mentally well and we believe it's really important to create a culture where self-care is not only accepted, it's celebrated.
"We have also updated our bereavement leave policies, which will now formally include leave for close friends, mentors, and any other significant people in a person's life. We know that not all families look the same and not all support systems look the same, so we wanted our bereavement policy to reflect our acknowledgement of these diverse communities."
Hames Sharley has also introduced a new 40/40/20 framework for gender equity, which is a commitment to achieve a minimum of 40% female representation across all levels of the organisation. To ensure equality, the targets are for a minimum of 40% female, 40% male, and 20% of any gender.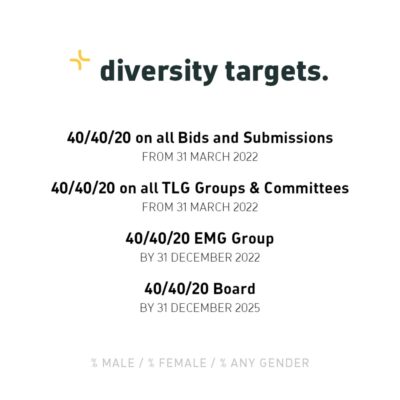 The new framework has now been codified as part of Hames Sharley's Equal Employment Opportunity (EEO) policy, which ensures the company will hold itself accountable to its targets. The framework has been divided into key stages, with the goal of achieving:
• 40/40/20 representation on all bids and submissions from 31st March 2022
• 40/40/20 on all TLG groups and committees from 31st March 2022
• 40/40/20 EMG group by 31 December 2022
• 50/30/20 Board interim goal by 31 December 2023
• 40/40/20 Board by 31 December 2025.
"Diversity and representation is extremely important to us at Hames Sharley, which is why we have a dedicated internal working group, Champions for Change, who regularly meet to find ways to make Hames Sharley more diverse and more inclusive. The group decided it was time for Hames Sharley to accelerate its proactive approach to have a board that truly represents the diversity of the organisation," said Caillin Howard, Managing Director, Hames Sharley.
"Our Champions for Change group has worked incredibly hard to develop a new framework for equity which has given us very specific goals and targets. I'm incredibly proud to say that as of 31st March 2022, every single bid and submission tendered by Hames Sharley, and every one of our TLG groups and committees, will have a minimum of 40% female representation; with the focus for achieving 40% female representation on the board by 2025."
As part of the new policy changes, Hames Sharley has also degendered its parental leave. After announcing an industry-leading parental leave package late last year, the parental leave policies have been further updated to ensure that gendered language is removed from the policy.
"Society's expectation is that primary carer is considered a female, and secondary carer is male, so we've removed this language in order to remove any gendered implications of the policy," explained Michel Wright, Hames Sharley's Principal of People and Culture.
"We've also added a deferred parental leave payment for couples who choose to share parental leave, so that if one parent was taking the first six months' leave, the other parent could defer their leave and take it when the other parent went back to work."
30 Sep 2021
SunCentral Automated Waste Collection System, Maroochydore, QLD, Australia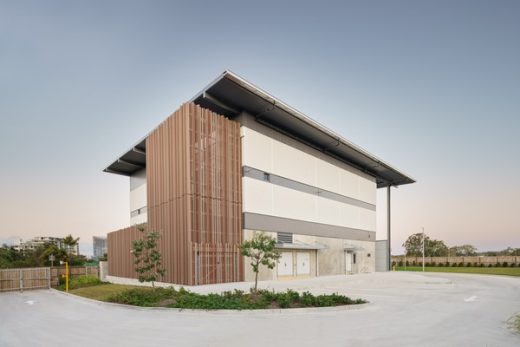 photo courtesy of architects office
SunCentral Automated Waste Collection System
SunCentral Automated Waste Collection System (AWCS) is unlike any other project in Australia, becoming the first high-tech, automated waste collection system for a CBD in the Southern Hemisphere. ⁠⁠
24 Aug 2021
Martin Bradbury joins Hames Sharley as Senior Architect
From the centre of London, to the centre of Perth, Senior Architect Martin Bradbury has joined the Western Australian Studio of growing national design firm Hames Sharley.
Martin, who has more than 15 years of architectural experience in Australia and Europe, specialised in large-scale urban regeneration projects while an Associate at London-based firm Allies and Morrison.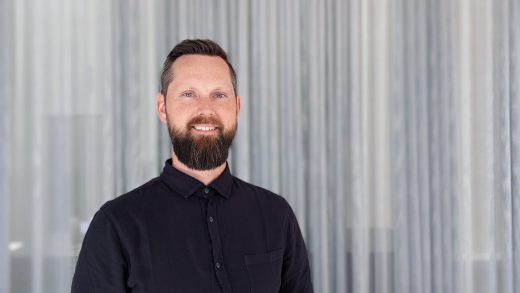 photo courtesy of architects office
WA Studio Leader Brook McGowan said Martin was a welcome addition to Hames Sharley's western operations.
"Hames Sharley has many exciting developments underway and a strong pipeline of projects coming up. We are thrilled to not only welcome Martin, but also his invaluable international experience," he said.
While in the United Kingdom, Martin developed a keen interest in how urban regeneration can transform inner-city environments and the role of architects in creating sustainable built environments.
With construction activity contributing so significantly to Australia's carbon footprint, Martin feels intelligent architecture is one of the keys to reducing this statistic.
"High-quality, environmentally conscious design not only delivers better projects for our clients, but better results for the planet," he said.
"The buildings and spaces we are privileged to design have a duty to both their immediate site and to the wider surrounding context, be they small pop-up interventions or major urban master plans."
While in London, Martin learnt strategies to navigate often challenging site constraints, including small plot sizes, re-use of existing buildings, legislative impediments and valuable heritage assets.
He said such hurdles had brought about an appreciation of how contextual and historical richness can bring value to design outcomes – no matter where they may be.
"The cross-pollination of ideas, concepts and critical thought is key to a healthy design studio. I am keen to share my experience and knowledge with the team at Hames Sharley, and grow and develop in return," he said.
With a new studio in the heart of Perth city to operate from, Martin said he was looking forward to immersing himself into studio life again, after spending the better part of the last two years working from home in the UK.
"Our team and clients will benefit from Martin's hands-on experience, deep technical expertise and strengths in project leadership," says Brook.
21 May 2021
Hames Sharley named largest architecture firm in WA for the third year in a row
Hames Sharley has been named the largest architecture firm in WA for a third consecutive year, according to Business News.
Hames Sharley boasts a diverse portfolio with 45 years of design excellence. Specialising in nine key sectors – Education, Science & Research, Health, Office & Industrial, Public & Culture, Residential, Retail & Town Centres, Sports & Recreational Urban Development and Workplace.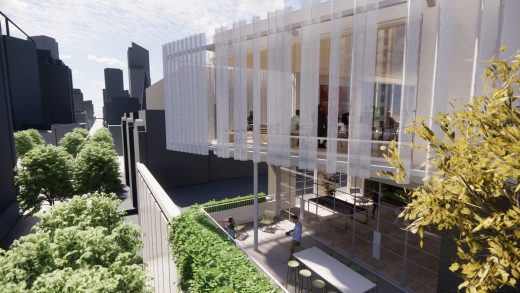 Brook McGowan, WA Studio Leader, says, "The list acknowledges that Hames Sharley has found resilience in the past year and turned its challenges into a positive impact. We did more than survive, we thrived."
Hames Sharley currently has a significant array of projects in WA, including its own studio on the Hay Street Mall, Karrinyup Shopping Centre Redevelopment, One Subiaco, Australis at Rossmoyne, Wearne Cottesloe, Kardinya Shopping Centre Redevelopment, Carillon City Redevelopment, and the TL Robertson Library Redevelopment for Curtin University.
The annual survey ranks firms based on the number of architects they employ.
Full article here: https://www.hamessharley.com.au/article/hames-sharley-named-largest-architecture-firm-in-wa-for-the-third-year-in-a-row
Hames Sharley Australian Architecture
Australian Architectural Designs by Hames Sharley
14 May 2021
UWA Early Learning Centre, Perth, Western Australia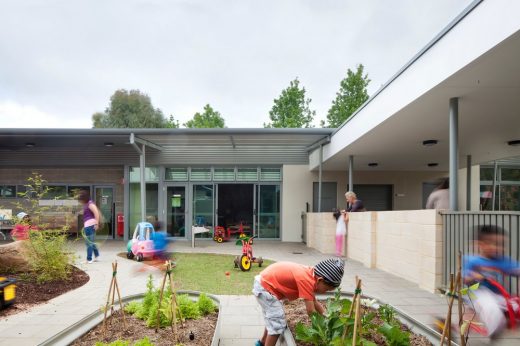 image © Hames Sharley
UWA Early Learning Centre
The UWA Early Learning Centre outcome is an environmentally sustainable design with a fun environment for children to play, learn, and explore.⁠⁠ Nestled into a quiet, leafy corner of the UWA campus, the building's single-storey scale and residential character relate well to the neighbouring residential area. ⁠⁠
23 Apr 2021
Picnic Point High School Redevelopment , Picnic Point, City of Canterbury-Bankstown, 23 kilometres south-west of Sydney, New South Wales, Australia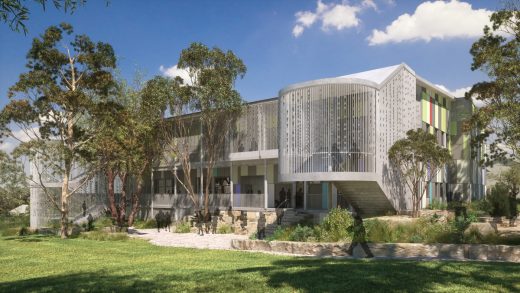 image courtesy of Hames Sharley Architects Australia
Picnic Point High School Building, NSW
Picnic Point High School (PPHS) is a government high school located in the Picnic Point, New South Wales suburb. The redevelopment project, which involves the refurbishment of some existing buildings and the construction of a new learning facility, responds to the expansion of the school's catchment to provide the East Hill's and Picnic Point communities more choices for co-education.
18 Feb 2021
NEXTDC Data Centre, Perth, Western Australia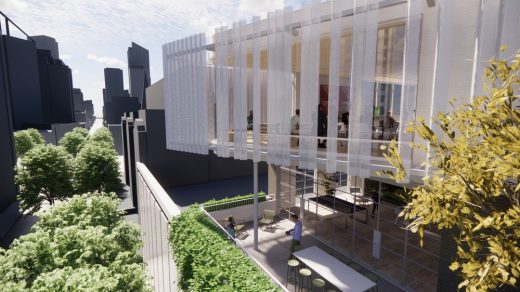 image © Hames Sharley
Hames Sharley New Home in Perth
A major international planning, design and architecture firm is moving its 80-strong workforce into a high-profile derelict site in Perth's Hay Street Mall in a vote of confidence for the lacklustre precinct.
14 Dec 2020
East Village Karrinyup Apartments, Perth, Western Australia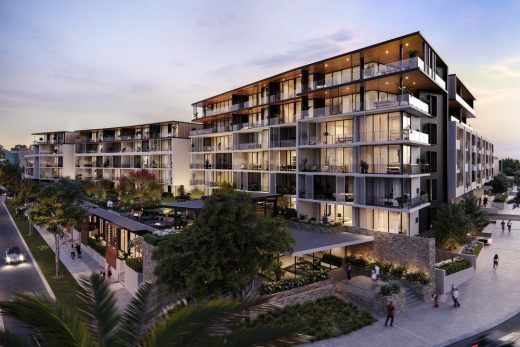 image © Blank Canvas
East Village Karrinyup Apartments, Perth
Hames Sharley is proud to have designed the first stage of the East Village Karrinyup residences for Blackburne. This important milestone starts to complete the picture of this $800 million mixed-use activity centre development with AMP.
1 Sep 2020
Queen Elizabeth II Medical Centre Master Plan, Perth, Western Australia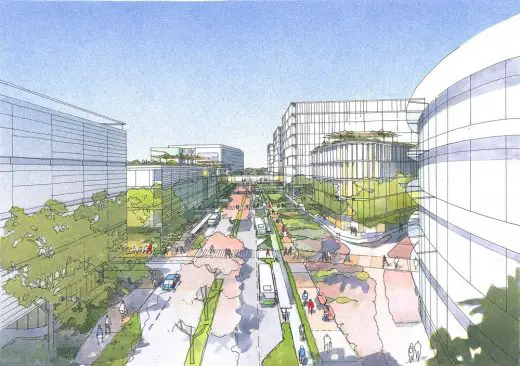 image courtesy of Hames Sharley Architects
Queen Elizabeth II Medical Centre Master Plan
The Hames Sharley Team and their consultants engaged with stakeholders extensively for the Master Plan of Queen Elizabeth II Medical Centre (QEIIMC), which ensures a carefully planned future for the development of the campus over the next 50 years.
23 July 2020
Australis at Rossmoyne Waters, Perth, Western Australia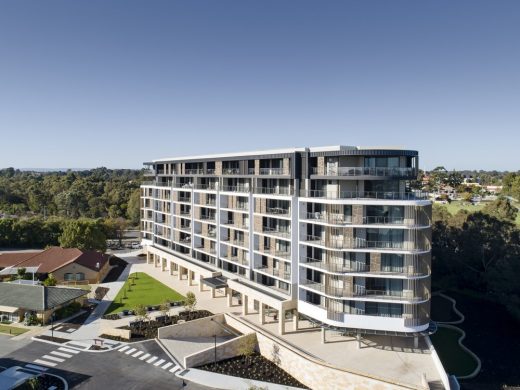 photograph : Douglas Mark Black
Australis at Rossmoyne Waters in Perth
The result of the Australis Development at Rossmoyne Waters by Hames Sharley was an intelligently designed communal space that heavily focused on being legible and easy to navigate. The design resulted in a centrally focused spine of activity and green encouraging a connection of spaces, both internally and externally.
6 July 2020
Tonkin Office, Adelaide, South Australia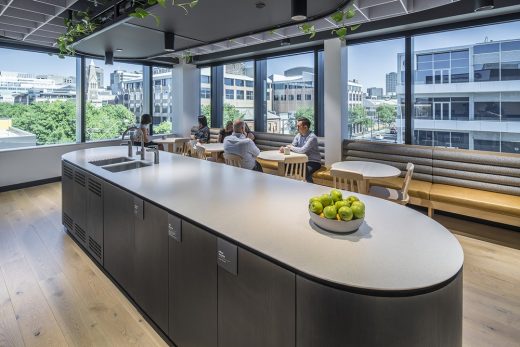 photograph : Peter Barnes
Tonkin Office Adelaide
In designing the Tonkin Office Fitout Hames Sharley set out to create an environment that is conducive to 'Building exceptional outcomes together', Tonkin's core vision.
1 May 2020
Essence Apartments, Perth, Australia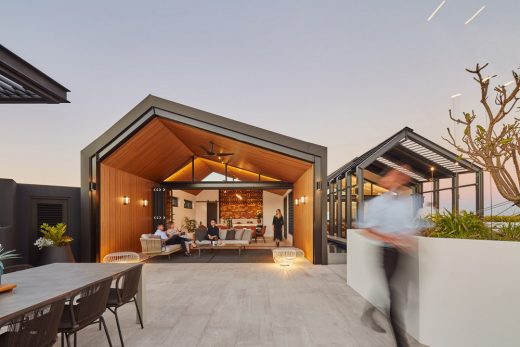 photograph : Douglas Mark Black
Essence Apartment Building in Perth
Essence Apartments encapsulates a balance of vibrancy and intimacy for its residents through the design response that focuses on the end-user's desires and comfort while still playing its role in its important local context.
26 Mar 2020
Aurecon Darwin Office Fit-out News, Berrimah, Northern Territory
Design: Hames Sharley Architecture, Urban & Interior Design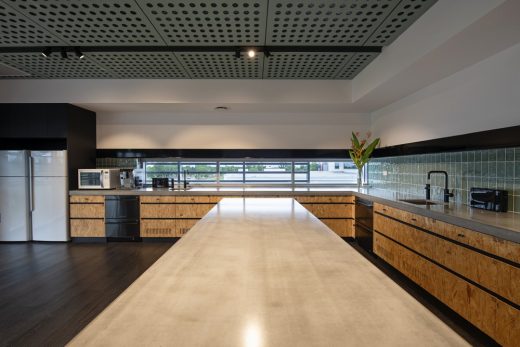 image Courtesy architecture office
Aurecon Darwin Office Fit-out
A collaboration between multi-disciplinary design firm Hames Sharley and international engineer, Aurecon has ensured a hugely successful outcome in Aurecon's own Darwin office fit-out.
19 Feb 2020
Forrest Chase Perth Shopping Mall, 200 Murray Street, Perth, WA
Design: Hames Sharley Architecture, Urban & Interior Design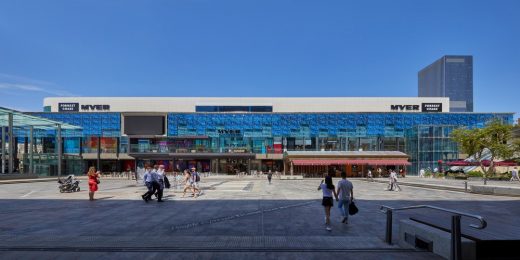 photograph : Douglas Mark Black
Forrest Chase Perth Shopping Mall, Western Australia
The redevelopment of Forrest Chase has positioned the complex as a world-class retail and entertainment precinct that was executed in multiple stages to maintain both the building operation and movement of people along Padbury Walk.
A related article: Forrest Chase Mall, Perth
25 Jan 2020
One Subiaco Concept, 10 Rokeby Avenue, Subiaco, inner western suburb of Perth, Western Australia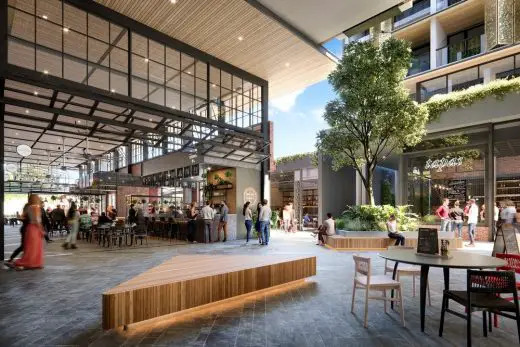 image courtesy of architects practice
One Subiaco
This Australian architect studio explore architectural individuality, character and refined elegance in their latest project, One Subiaco. The interior palettes reflect a contemporary yet timeless aesthetic ensuring a luxurious haven from the vibrant Subiaco life.
23 Jan 2020
Charles Darwin University City Campus Concept, Darwin CBD, Northern Territory
Design: Hames Sharley Architecture, Urban & Interior Design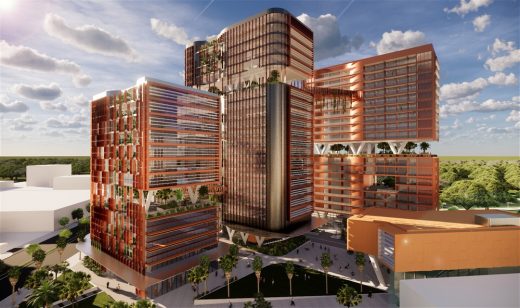 image Courtesy architecture office
Charles Darwin University City Campus Building
Elevating the base of the buildings and lowering the carpark creates Darwin's first proposed "public plaza" – a focal point for students,community events and CBD users.
Hames Sharley Articles about Architecture and COVID-19
How COVID-19 changes the way we work
More Hames Sharley Architecture projects online soon
Location: various offices in Australia
Architecture Practice Information
This Australian architecture practice has offices in the following cities:
Adelaide
Level 15, 19 Grenfell Street
Adelaide South Australia 5000
Brisbane
Level 2, 235 Edward Street
Brisbane QLD 4000
Darwin
Level 1, Tower 3 19C Kitchener Drive
Darwin City NT 0800
Melbourne
Level 3 Podium, 530 Collins Street
Melbourne VIC 3000
Perth
Level 2, 50 Subiaco Square
Subiaco Western Australia 6008
Sydney
Level 7, 46 Market Street
Sydney New South Wales 2000
Australian Architecture Designs
Australia Architecture Designs – chronological list
Australian Architect Studios – design firm listings
Perth Architecture Design – chronological list
Comments / photos for the Hames Sharley Architects – Australian Architecture Office page welcome
Website: https://www.hamessharley.com.au/