DIALOG Architects, Cohos Evamy, Hotson Bakker Boniface Haden, Mole White Associates, Office for Urbanism
DIALOG, British Columbia, Canada
Canadian Architectural Office: Vancouver Design Studio News
DIALOG News
Dialog Design News
Feb 1, 2018
Decidedly Jazz Danceworks, Calgary, Canada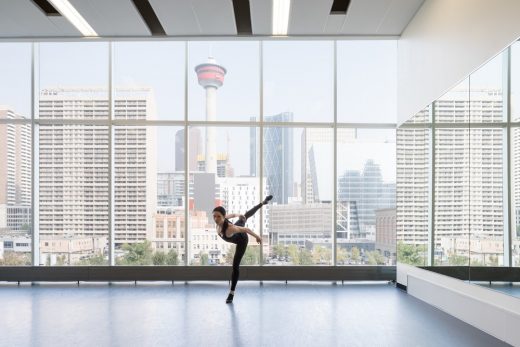 photograph : Ema Peter Photography
Decidedly Jazz Danceworks
DJD, a professional and recreational dance company, has been exploring how jazz music shapes movement and feeling since its humble beginnings in 1984. Over 30 years later, DJD continues innovating and evolving this art form, growing a jazz-savvy community around the world. The site of DJD's new studio is at the Kahanoff Centre, a unique facility in the heart of downtown Calgary, providing space to nonprofits at discounted rates.
12 Jan 2018
The 100 Street Funicular and Frederick G. Todd Lookout in Edmonton, Alberta, Canada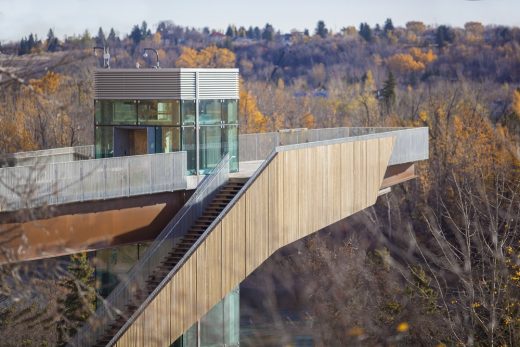 photograph © Brock Kryton
Edmonton landscape design by DIALOG
Canada's first funicular, officially named 'the 100 Street Funicular and Frederick G. Todd Lookout', has now opened as an attraction to members of the public in downtown Edmonton. Designed in its entirety by Dialog Design, this $24 million project has been publicly funded to improve access to Edmonton's river valley – the city's largest and publicly accessible green space.
23 Oct 2017
Zen Office Space, Vancouver, British Columbia, Canada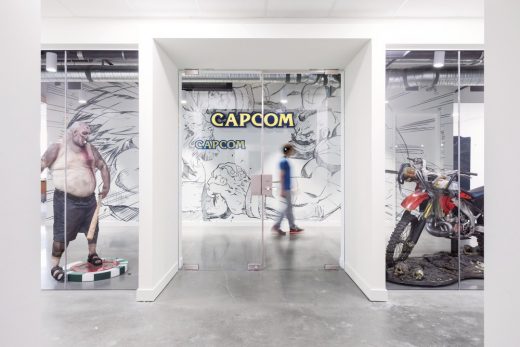 photograph : Ema Peter Photography
CapCalm Office Space in Vancouver
DIALOG's Vancouver interior design team turned video game office design on its head with Capcom's new location for its Canadian Headquarters. Capcom wanted to relocate to a more urban, transit-oriented building that would ease employees' commutes. DIALOG and Capcom selected a 52,000 sq. ft. of raw shell space in a new mixed-use development quietly nestled in a peaceful business park along Greater Vancouver's Sky train line in Burnaby, British Columbia.
30 Mar 2017
DIALOG Merger News
DIALOG and newstudio architecture inc. announce merger
The leaders of newstudio architecture inc. and DIALOG have decided to join forces. As of April 1, the firms will merge and operate as one from DIALOG's Edmonton studio.
Newstudio is a boutique firm of eight passionate designers who share DIALOG's values and vision to improve the wellbeing of communities. Led by Tai Ziola and Tyler Dixon, newstudio's portfolio includes a variety of multi-family residential, urban infill, smaller scale institutional, and re-zoning projects.
Their work has been making a positive impact throughout Edmonton with projects as unsuspecting as a sports field spotter's box, to stunning renovations at the recently completed Agriculture Life and Environmental Sciences Atrium at the University of Alberta.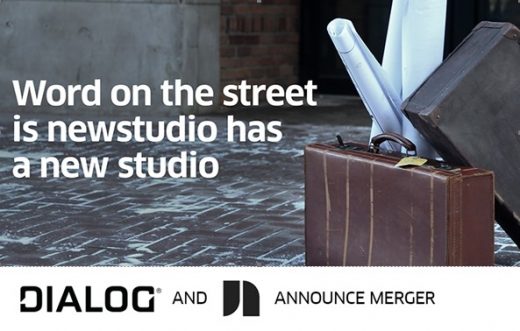 "There's a lot of great things about this for both parties," says newstudio partner Tyler Dixon. "We're really passionate about the city. The merger will allow newstudio and DIALOG to extend our collective expertise further than we'd each be able to do on our own."
Ziola and Dixon will be joining DIALOG's partnership, bringing a fresh perspective and additional bench strength to our leadership team; while the newstudio team as a whole will become an addition to our interdisciplinary practice.
"We've found a great partner with newstudio," says DIALOG firm managing principal Jim Anderson. "Not only do they share our vision and live our values, but they also challenge us to engage with our community at a much deeper level. We truly believe that merging with newstudio will allow us to meaningfully improve the wellbeing of our communities even more."
DIALOG
100, 10237-104 Street NW
Edmonton, AB T5J 1B1
Canada
19 Sep 2016
DIALOG Architects News
City of St. Albert welcomes international placemaking expert
Cynthia Nikitin from Project for Public Spaces to speak as part of Millennium Park Redevelopment Project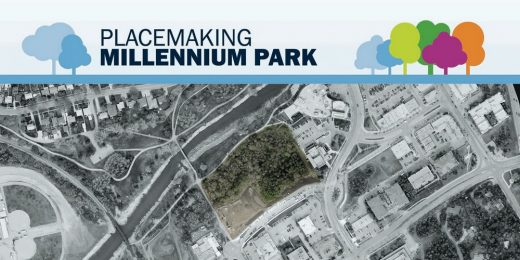 On September 21, 2016, the City of St. Albert, together with its consultant DIALOG, is hosting a free public lecture on placemaking at the Arden Theatre in St. Albert. The keynote speaker will be international placemaking expert Cynthia Nikitin from Project for Public Spaces. This event, which is free to the public, is part of a comprehensive participatory design approach that will result in the development of a placemaking design concept for Millennium Park.
Cynthia Nikitin has led numerous large-scale multi-sectoral projects during her 25 years with Project for Public Spaces. Cynthia's technical expertise stretches from the development of downtown master plans, transit facility and station area enhancement projects, to the creation of corridor-wide transportation and land use strategies, to the development of public art master plans for major cities, and the coalescing of government buildings, libraries and cultural institutions into civic centers.
The lecture will be followed by a panel discussion and question and answer period with Cynthia, who will be joined by Teaka Broughm – City of St. Albert planner and project manager, and Antonio Gomez-Palacio – award-winning urban designer and DIALOG partner.
Creative placemaking is about working with the community to create lively new public spaces that infuse neighbourhoods with a new sense of vibrancy.
The public lecture and panel forum will be held at the Arden Theater (5 St. Anne Street, St. Albert, AB) on September 21, 2016. Doors will open at 6:45 PM.
For more information about the event and to reserve tickets, please visit EventBrite link below:
To learn more about the Millennium Park project, please visit St. Albert Millennium Park Design
For more information, please contact:
Teaka Broughm
City Planner, Planning and Development
City of St. Albert
780.418.6631
tbroughm(at)stalbert.ca
27 May 2016
New Downtown Park in Vancouver by DIALOG
There's been more progress made towards turning a downtown parking lot into a new city park, and Wednesday night, the Vancouver Board of Parks and Recreation revealed their preferred concept and design elements for the project, reports www.vancitybuzz.com.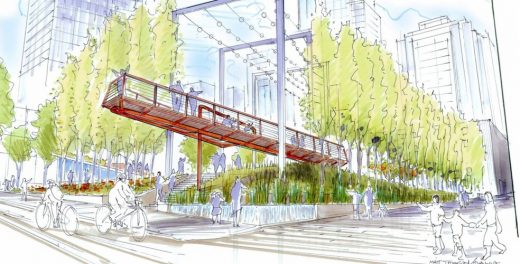 image courtesy Dialog/Vancouver Board of Parks and Recreation
Situated at Smithe and Richards at the edge of Yaletown, the park has been a long time in the works, and would be the first new park in the downtown area in several years. The site, which is surrounded by condo towers and street-level retail units, boasts a dozen mature trees and a north-south slope on Smithe Street.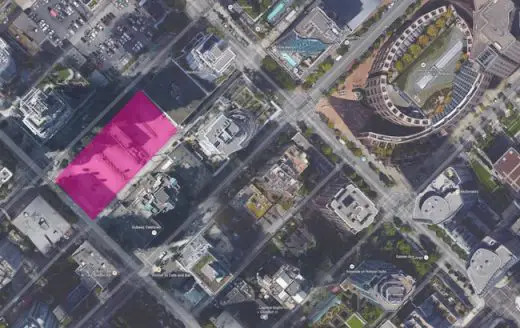 image courtesy Vancouver Board of Parks and Recreation
The Parks Board has been working in consultation with both the design firm Dialog and the area residents to determine the best use and design for the space, and how to meet the neighbourhood's needs. In an open house presentation to the community on April 20, Dialog and the Parks Board shared their findings, and how the preferred design blends elements of the top-most favoured concepts for the space previously generated.
Top priorities for those providing input on the new downtown park are green space, play space for children, inviting spaces for lingering, food service, and organized public activities.
Following Wednesday's open house, the next step is to seek and obtain approval from theVancouver Board of Parks and Recreation, then move into the technical development and construction phase. The plan is to have the park ready for summer 2017.
Website: New Vancouver Downtown Park by DIALOG
Recent Building by DIALOG
23 Aug 2013
Residence in Southlands, Vancouver, British Columbia, Canada
Architect: DIALOG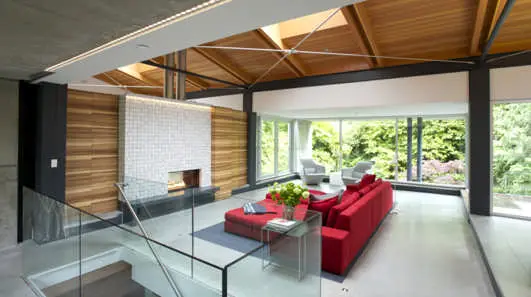 photograph : Kristopher Grunert
Residence in Southlands
This residence nestles into a mature, heavily vegetated corner site in Vancouver's historical Dunbar-Southlands neighborhood. A year-round fresh water stream divides the irregularly shaped property as it threads its way below Marine Drive to the south.
Key Project by DIALOG
Nk'Mip Desert Cultural Centre, South Okanagan Valley, Osoyoos, British Columbia, Canada
2006



image : Nic Lehoux
Nk'Mip Desert Cultural Centre
DIALOG
DIALOG was launched in September 2010 as the new name for the merger of leading national design firms Cohos Evamy, Hotson Bakker Boniface Haden, Mole White Associates, and Office for Urbanism. DIALOG is the language of collaboration. The name conveys the firm's uniquely collaborative approach, founded upon engagement of clients and communities by multidisciplinary teams in an interactive planning and design process that encompasses architecture, engineering, interior design, planning and urban design services. It is an approach that has garnered international recognition for the firm's outstanding contributions to the public realm and the design of cities.
At DIALOG, our philosophy is to deliver outstanding solutions that leave a lasting, positive mark on the community. Our people are unabashedly client-focused and passionate about their work – and our culture embodies talent, energy, creativity, integrity, tenacity, problem-solving ability, teamwork and a sense of fun.
In a world of increasing challenges in the way Canadians live, move and work, DIALOG is a strong voice for innovative thinking and sustainable leadership – a discussion that benefits from the collaboration of people with unique perspectives and skills.
One of our firm's core values is sustainable design, and we bring that value to all of our projects. We typically examine a project's impact on its physical environment, on energy sources and occupants, and its consumption of natural resources. In support of sustainable design, the firm employs over 100 LEED® accredited professionals in all disciplines. DIALOG is wholly owned by its 36 principals.
Augmenting their hands-on leadership is an exceptional team of over 70 associates who play key roles in the day-to-day operation of our studios and projects. DIALOG attributes its strength to its multidisciplinary team of over 500 people who collaborate between studios in Toronto, Calgary, Edmonton, Vancouver and most recently, Regina.
Practice History
DIALOG stands on the shoulders of great firms that have been brought together by a shared vision.
Cohos Evamy began as Cohos Delesalle Architects in Calgary in 1960 under the leadership of Martin Cohos and Phillipe Delesalle. Michael Evamy and Paul Poffenroth soon joined and became early principals in the firm. Martin, Philipe and Michael were architects. Paul was an engineer. This was the genesis of the multidisciplinary approach so central to DIALOG today.
Hotson Bakker Boniface Haden Architects + Urbanistes was founded by Norm Hotson in 1973, and joined soon after by Joost Bakker. Alan Boniface and Bruce Haden joined as partners in 2001. Their national reputation for integrated urban place-making has become an integral element of DIALOG.
Mole White Associates was founded in Toronto in 1976 by Susan Mole, Rodger Mole, and Marilyn White. MWA is recognized for intelligent design, effective project management, and for zealous client collaboration. These key characteristics are important to the strength of DIALOG.
Office for Urbanism is one of Canada's foremost professional urban planning and urban design leaders, with a profound focus on the complex process of city building. Led by principals Jennifer Keesmaat and Antonio Gómez-Palacio, OU's work is characterized by thorough project management, comprehensive planning analysis, a strong and clear commitment to beauty through design, and a drive to understand and reflect the uniqueness of each place. OU's collaborative spirit is representative of the essence of DIALOG.
Nk'Mip's partner-in-charge Bruce Haden and its project architect Brady Dunlop have particular interest in evolving the environmental stewardship role of the firm. Bruce Haden grew up in Kingston, Ontario, studying architecture at the University of Waterloo, and receiving his Masters degree from the University of British Columbia.
Bruce continues to be involved in a number of innovative first nations building projects: including work with Haida Gwaii and bands in the Northwest Territories. He has an active interest in contemporary treaty issues and fostering positive ways of expressing aboriginal history and future directions through architecture. This work has resulted in the development of a unique interaction and decision-making process that reflects the culture and the values of contemporary first nations clients.
DIALOG image / information from DIALOG
Location: Vancouver, British Columbia, Canada
British Columbia Architecture – Selection
Vancouver CC West



picture : VCCEP
House 23.2



picture from architect
UBC Faculty of Pharmaceutical Sciences



picture from architect
Buildings / photos for the DIALOG Architects – British Columbia Design Office page welcome
Website: DIALOG Canada