Bruce Graham Architect, SOM Buildings, America, Design, Chicago, Sears Tower, Office
Bruce Graham, Skidmore Owings & Merrill : Information
Contemporary Architecture Practice in Chicago, USA
28 Oct 2010
Bruce Graham Tribute
Late SOM Architect Bruce Graham Honored after Forty-Year Career in Chicago
Tribute to Mastermind of the Willis (Sears) Tower and John Hancock Center Included Dedication of Honorary Bruce J. Graham Way
October 28, 2010 (Chicago) – More than 500 people gathered at the Art Institute of Chicago on October 14 to celebrate the illustrious career of the late, famed Skidmore, Owings & Merrill architect, Bruce Graham. This tribute event featured renowned leaders in the architecture, design and construction industries who gathered to pay tribute to Graham's legacy and extraordinary contributions to the skylines of the city of Chicago and major metropolitan areas around the world.
Honorary Bruce J. Graham Way / John Hancock Center, Chicago: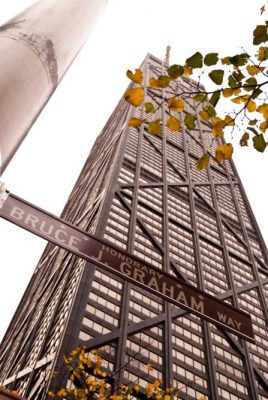 image : SOM | Pamela Yasuko Photography
As part of the memorial activities, the Graham family, joined by Graham's colleagues and friends from SOM joined Chicago Alderman Brendan Reilly, 42nd Ward, to dedicate the streets to the south and east sides of the John Hancock Center – one of Graham's most iconic achievements – as Honorary Bruce J. Graham Way.
"Bruce Graham was a great architect, a great boss, and a great mentor," said Richard Tomlinson, a Managing Partner of the SOM Chicago office. "He was a pioneer for our city and our firm, and his accomplishments completely transformed Chicago into the skyline that so many Chicagoans take pride in today."
Throughout his life, and until his death in March 2010, Bruce Graham considered Chicago to be the best architectural city in the United States. Today, much of that title can be attributed to Graham's architectural vision of the city. Buildings designed by Graham have become irreplaceable, iconic landmarks in the city of Chicago, including Willis Tower (formerly Sears Tower), John Hancock Center, Inland Steel Building and McCormick Place North, among others. Graham also designed numerous buildings across the United States and throughout the world.
Honorary Bruce J. Graham Way runs along Chestnut Street between Mies van der Rohe Street and Michigan Avenue and along Mies van der Rohe Street – named after famed architect, Ludwig Mies van der Rohe- between Chestnut and Delaware Streets.
Bruce Graham dies
1925 -2010
Legendary Architect Bruce J. Graham Dies
Former General Partner of Skidmore, Owings, and Merrill
Designed Chicago's Inland Steel Building, John Hancock Center and Sears Tower
"It would be difficult to say with words or music what I feel I can say best with building."
-Bruce J. Graham, FAIA


image : SOM / Stuart Rodgers Photography
CHICAGO (March 8, 2010) – The elegant genius of Miesian high-rise architecture, Bruce J. Graham, died in his sleep early Saturday morning at home in Hobe Sound, Florida. He was 84 years old. Bruce Graham is survived by his son George Graham and daughters Lisa Graham Langlade-Demoyen and Mara Graham Dworsky. There will be a private funeral. A memorial service will be scheduled in Chicago.
One of the leading architects of the modern era, Bruce J. Graham was a senior design partner at Skidmore, Owings, and Merrill (SOM) from 1951 to 1989, a period when the firm emerged as one of the most influential forces is western architecture. Bruce Graham personally led the design of Chicago's first two 100-story buildings, the John Hancock Center completed in 1970, and the Sears Tower (now the Willis Tower), which opened in 1974.
Bruce Graham's work also highlights the striking skylines of Hong Kong, London and Cairo, as well as many other cities across the North and South America and around the world. He was regarded by colleagues and competitors alike as one of the leading influences of the "modern era" of architecture.
Bruce Graham helped advance and broaden world renown for "the Chicago school of Architecture," a bold style of commercial building based on steel-frame construction and spatial aesthetic. He believed buildings should reflect their cities, bring pride to their people and stand the test of time. Importantly, he believed the meaning of architecture lay beyond the building's function. "We cannot explain every spatial move except that they must exist for the poetry to exist, and for that purpose does the artist in us live."
His impact on Chicago architecture carried on the "bold plans and big dreams" mission Daniel Burnham used to re-build the city at the turn of the 20th Century. He believed that the task of city building should be "wrenched from the grasp of uninspired bureaucracy" and put back into the hands of the architect. Bruce Graham's plans for his projects throughout downtown Chicago were all part of a grand plan.In 1990, Chicago Magazine characterized his contributions as "defining downtown." It described the Hancock Center and the Sears Tower as "bookends" protecting the "jewels" he cast in between-jewels like the Inland Steel Building, Madison Plaza, Three First National Plaza, the Richard J. Daly Center and the "great arched gates of the Midwest Stock Exchange." The magazine's editors described his work as "a perfect expression of the city's corporate aesthetic."
One of Bruce Graham's many legacies at SOM was his belief that the design process should be a collaboration. By structuring SOM into multiple-disciplinary studios, he integrated both design and engineering into the earliest stages of project conception. His collaboration with the engineer Fazlur Khan further inspired commitment that every project should embody the poetic connection between architecture and engineering. That helped SOM drive breakthrough innovation in both design and engineering for more than two decades. It also enhanced the firm's formidable reputation for superiority and reliability.
Bruce Graham led a life of community service and philanthropy. He was president of the Chicago Central Area Committee, a trustee of the Art Institute of Chicago, and a trustee of the Museum of Contemporary Art in Chicago. He also was a member of the board of trustees and chairman of the board of overseers of the Graduate School of Fine Arts of the University of Pennsylvania and funded the Bruce J. and Jane J. Graham Professorship in architecture.
He was instrumental in helping to bring great art to Chicago's public plazas, including the Henry Moore Sculpture at the University of Chicago and the Miro Sculpture near the Richard J. Daley Center. Valuable maquettes of both sculptures were donated to the Art Institute of Chicago.
Bruce Graham was born in Bogotá, Colombia, and was of Scottish and Peruvian decent. He served in the U.S. Navy during World War II and graduated in 1948 from the University of Pennsylvania with a degree in architecture. Mr. Graham was a Fellow of the American Institute of Architects, a member of the Royal Institute of British Architects and a member of the Royal Architectural Institute of Canada.
His wife of 34 years, Jane Abend Graham, who passed away in 2004, was his lifelong partner. Mrs. Graham was an architect in her own right, and she was an important influence on Bruce Graham's work and vision.
In addition to his three children, Bruce Graham is survived by six grandchildren: Alexandra Dworsky, Elizabeth Graham, Kenna Dworsky, Cecily Graham, Oliver Dworsky and Julien Langlade-Demoyen.
Recommended Resources re Bruce Graham
The Art Institute Of Chicago
"The Chicago Architects Oral History Project"
Chicago Magazine
"Bruce Graham's Search for Civility", Dec 1990
Bruce Graham – Further Information on the architect
Architect Bruce Graham spent the vast majority of his career at SOM. Bruce was the most powerful Chicago architect of his generation and influenced by architect Mies van der Rohe. Skidmore Owings Merrill architects remain a global force.


Sears Tower Chicago photo courtesy of Jan Klerks
Bruce Graham : further information on this celebrated architect
Bruce Graham – Link to Key Building by the architect
Sears Tower, Chicago, USA
More information re architect Bruce Graham online soon
Location: Chicago, USA
Lever Building, New York City, USA
SOM Practice Information
Architect studios based in the USA and other locations across the globe
Gordon Bunschaft (+ Oscar Niemeyer) : Pritzker Prize architects Winners 1988
SOM partner : Walter Netsch
Former SOM designer : Marshall Strabala
Chicago Architectural Designs
Chicago Building Designs – architectural selection below:
Chicago Architecture Design – chronological list
110 North Wacker Drive
Architects: Goettsch Partners, Inc.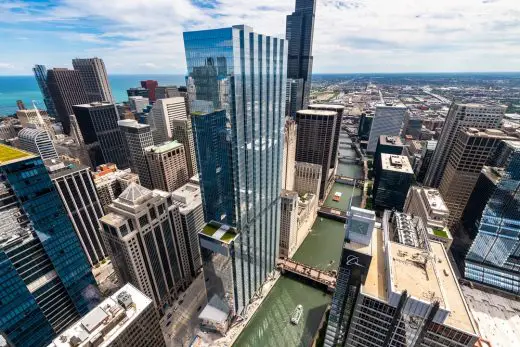 image courtesy of architects
110 North Wacker
The Howard Hughes Corporation® (NYSE: HHC) and Riverside Investment & Development announced today the opening of the trophy-class office tower at 110 North Wacker Drive. The announcement marks the culmination of the highly-anticipated 55-story downtown riverfront building, which is a collaboration with the award-winning leasing, design and construction team of CBRE, Goettsch Partners and Clark Construction.
Charles River Associates Chicago Office, One South Wacker Drive
Design: Elkus Manfredi Architects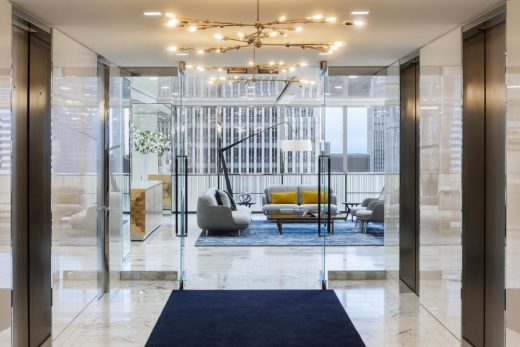 photograph © Andrew Bordwin
Charles River Associates Offices
CRA's 35,620-sf workplace redesign unifies the company's existing two-floor office and replaces the previously dim, dark, crowded environment with a daylight-filled, expansive workplace within the original two-floor footprint.
Architectural Design
Buildings / photos for the Bruce Graham Architect – 20th Century American Designers page welcome