Arkitema Architects, Building, Design Studio Denmark, Danish Architectural Office, Architecture News
Arkitema Architects Denmark
Key Contemporary Architecture Practice Denmark: Danish Design Office News + Images
post updated 1 November 2021
Arkitema Architects – Latest Designs
Arkitema Architecture news arranged chronologically:
1 Nov 2021
Erlev School, Gammel Herregårdsvej 29, Haderslev, southern Jutland, Denmark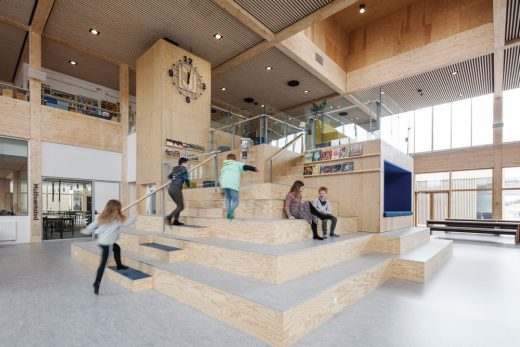 photo : Niels Nygaard
Erlev School Haderslev
This new Danish timber school is a pioneering project with strong ambitions for the Danish city of Haderslev. It is the first "new-generation" timber school located in Denmark and one of the very first of its kind in Scandinavia.
27 Feb 2020
Trondheim Central Station, northern Norway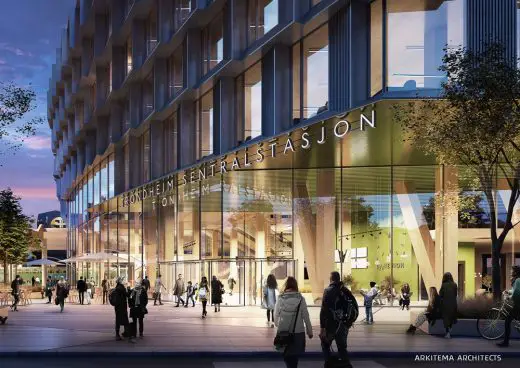 image © Arkitema Architects
Trondheim Central Station Building
The winning entry in the architectural competition for the design of the new Trondheim Station has been chosen. Arkitema Architects has designed the new station building, which will be constructed across the tracks in a central location in Trondheim.
11 Mar 2013
New City School in Frederikshavn, Denmark



photo : Kontraframe
New City School Frederikshavn
The new city school in Frederikshavn, Denmark is a big school by Danish standards with 1,200 students between 1st and 9th grade and a large contingent of special attention classes. With its starlike shape all class rooms in the school can be placed at a facade with direct access to light and fresh air.
16 Nov 2011
Vestas Wind Systems Offices, Aarhus, Denmark



photograph : Jesper Balleby
Vestas Wind Systems Offices
The new office facilities for global wind turbine company Vestas have been completed by Arkitema. This building designed by Arkitema Architects and will be first building in Northern Europe to obtain the exclusive LEED certification category platinum. Only approximately 150 commercial buildings in the world have obtained the American LEED certificate in the platinum category.
1 Jun 2011
Arkitema News
Arkitema Architects winners of the competition for the Tretorn houses in Elsinore, Denmark
Four of Denmark's best architectural firms were invited to compete for one of Denmark's best located and most valuable sites – the Tretorn site, west of Elsinore. Arkitema Architects have been appointed winners of the competition. The housing scheme is to be built beside Elsinore North Harbour with spectacular views of Kronborg Castle and Sweden.




images from Arkitema Architects
Sympathetic housing
Arkitemas winning scheme "Beach Town Kronborg " takes its name and form after its surroundings. Elegant and simple sculptural wooden houses, that stand at varied angles in relation to each other and ensure a vibrant and interesting little town with great views and wonderful natural light. Here you will always be close to the light from the sea and near the magnificent views that are characteristic of the site. The judges were very enthusiastic about the winning proposal "site plan, architecture and individual lay out of the houses and apartments all work together to provide a bid for a highly sympathetic housing development, providing what you might call privatized collectivity, which heralds a modern way of life."
Arkitema Architects
Since 1969 Arkitema Architects have designed a number of prominent and renowned housing developments. With projects like Sluseholmen in Copenhagen, Sustainable student housing in Aarhus and Housing + Arkitema's skills are widely recognized. All their projects are characterized by a focus on diversity and social awareness that the judges also saw in Arkitemas winning proposal for the Tretorn project. At the same time Arkitema's housing projects also all have a clear focus on sustainability.
That same focus on sustainability – both the aesthetic, social, economic and energy related sustainability is an important part of Kronborg Strandby, with its intimate space between the buildings, varied housing types, its sturdy materials and the angled roofs, which are ideal for integrating solar energy, the project is the epitome of sustainable housing. Additionally the town like composition, the slanted roofs and the materials for the façade are all rooted in the identity of the site as a maritime space.
The facades greet visitors with the warm materiality of the wood, the big windows and the elegant folding screens – a project designed for the site which is also commended by the panel of judges "The proposal shows a fine musicality and understanding of the location of the plot in the transition between nature and the city and a laudable respect for Kronborg as the area's undisputed and most important landmark.
A total of four architectural firms participated in the competition. The other three were BIG, Henning Larsen Architects and Vilhelm Lauritzen Architects.
•15.000 sqm, 100-150 housing
•Client: Ejendomsudvikling Kronborg Strand
•Architect: Arkitema Architects
•Landscape: Arkitema Architects
Arkitema – Key Projects
Featured Buildings by Arkitema, alphabetical:
Egernsund Tegl building, Denmark
2008-



picture from architect
Danish brick building
The Icelandic Opera – The national opera in Iceland
2008-
Design: Arkitema / Arkthing



image from architect
Icelandic Opera : International architectural competition win
Nørre Vosborg, Vembvej, Vemb, Denmark
2008



photo : Thomas Mølvig
Nørre Vosborg
Sluseholmen, South Docks / Sydhavnen, Copenhagen, Denmark
2005-09


picture : Ebbe Forup
Sluseholmen Copenhagen
Swim Stadium Bellahoj, Copenhagen , Denmark
2009



image from architect
Bellahoj Swim Stadium
Thor Site, Randers, Denmark
2007
Architecture Competition win
University Gardens, Ørestad North, Copenhagen, Denmark
2007



photo : Arkitema
University Gardens Copenhagen
Viborg halls of residence, Denmark
2008



photograph : Thomas Kaare Lindblad
Viborg halls of residence
Wegenersminde wellness & lifestyle centre, Wegenersminde, Denmark
2007
Architecture Competition win
More buildings by Arkitema online soon
Location: Frederiksgade 32, DK-8000 Aarhus, Denmark, Europe
Arkitema Denmark Practice Information
Arkiema are a Danish design studio with architects offices in Aarhus and Copenhagen.
People in Architecture
Construction is a serious business. Buildings shape us, and we shape them. As we see it, buildings are much more than just machines to live in; they are living organisms which help to promote human activity.
Building Sustainable
Arkitema believes in sustainability. And not just as a slogan called forth by the media and circumstances. We have worked with sustainability as a central dogma ever since the foundation of the practice back in 1969, and we continue to develop and learn within this area. Today, we have no problem designing buildings that are both competitive AND sustainable – our goal is for the two concepts to form a synthesis in the future, when sustainability will be an essential element in all architecture.
Building Customized
We believe that the best architecture is created by involving the architecture's users. Not by just asking them to passively contribute to a questionnaire survey, but by observing their behaviour and the needs they reveal in their daily routine – and then, via our aesthetic and anthropological processes, offering a solution which solves problems of which the users were barely aware. We call it "Building Customized".
Building Smart
Arkitema believes in technological progress, and feels that the major paradigm shift which has been enabled by 3D project planning is comparable to the revolution brought about by the invention of spatial perspective in the 15th century. We actively cultivate innovation as a key element in all our projects, and we expect that technological progress in construction, together with globalisation, will create entirely new building types in the 21st century – building types that we are looking forward to designing. We call it "Building Smart".
Interdisciplinary horizon
We apply our concrete professionalism and evidence-based design within the areas of construction, health, planning and landscaping, product design and interiors, innovation and process management, education and restoration/renovation. To cover these areas, we have established nine different departments: Arkitema Housing, Arkitema Leisure, Arkitema Living, Arkitema Learning, Arkitema Health, Arkitema Design, Arkitema PreFab, Arkitema Innovation and Arkitema Planning. Through these areas of expertise, we embrace a very broad field and cover virtually all aspects of architecture. Arkitema builds upon an interdisciplinary horizon; a horizon that is activated and set in motion every time we begin a new project.
At Arkitema, we believe that the architecture of the future must be created as a combination of many different skills – architectural, sociological, anthropological, engineering, etc. – not by a single genius with assistants. We aim to reinvent the architect with both aesthetic and social awareness – an architect who designs for the people who will inhabit the architecture.
Our goal is to create value for our customers, for the users and for society as a whole.
Unique architecture
In brief: we create unique architecture. Because we have wide experience of user consultation. Because we have the latest techniques in sustainable construction at our disposal. Because we employ 3D technology. Because we are an architectural practice that encompasses every aspect of architecture with a host of talented and visionary employees and because we have a large landscape and design department at our disposal. Because we are locally based in Aarhus and Copenhagen, respectively, and globally based in Stockholm and Beijing. Because we secure a professional, stable and innovative process during drafting and project planning. Because we have broad experience in financial project management, and because we are inquisitive, innovative, experienced and possess a great ability to empathise.
With 265 employees, Arkitema is one of Denmark's largest architectural practices.
Practice Information from Arkitema
Website: arkitema.dk
Scottish Eco-Town
Scotland's first 'zero-carbon settlement' is a 5,000 home eco-town in Cardenden, Fife. Cardenden Eco-town 'Vision and Delivery Statement' unveiled by Banks Developments in Edinburgh on 28 Feb, attended by MSPs. Planning submission not due until Autumn. Eco-Town houses by Arkitema: Scottish Development
Warsaw Competition, Poland: 3rd place



image from architect
Danish Architecture
Danish Architecture Studios – Architect Listings
Buildings / photos for the Arkitema – Danish Design Studio page welcome