Andrew Doolan, Architect, Scottish Buildings Photos, Design Projects, Office
Andrew Doolan Architects
Contemporary Architecture Practice, Edinburgh, Scotland – Kantel
post updated 2 May 2021
Andrew Doolan – Key Projects
Andrew Doolan, Architect
b. 17 Jul 1951, Glasgow d. 27 Apr 2004, Edinburgh
Key Andrew Doolan building : Point Hotel Edinburgh


image © Adrian Welch
Famous Andrew Doolan House – award-winning property
Other Projects:
Point Hotel
Travel Inn Edinburgh: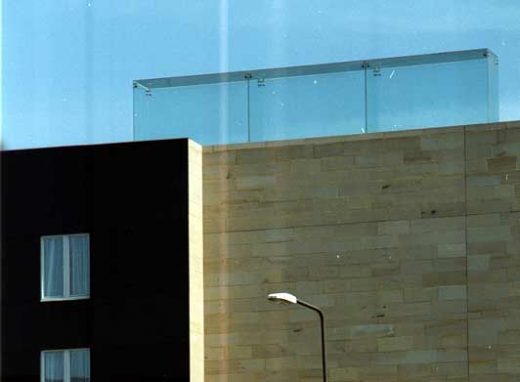 photo © Adrian Welch
City Travel Inn
Andrew Doolan Architect – Background
Andrew Doolan, grew up in Kirkintilloch; after a spell in the fire service he became an apprentice architect.
Andrew Doolan (popularly known simply as Andy) died on 27th April 2004 of respiratory failure leaving long-term partner Marion Caldwell [an advocate at the Scottish Bar], Pauline Shirlaw, his family and staff at the Point Hotel. Andrew was a famous Scottish architect, property developer and hotelier, a self-made millionaire. Doolan not only designed and ran his own hotels, but also sponsored the UK's largest architecture prize, since renamed Andrew Doolan Award for Architecture.
The EAA Silver Medal 2003 was won by Andrew Doolan Architects for the design of 31B Dick Place, announced on 30 May 2004, a few days after his untimely death. The first Silver Medal awarded in 1984, was won by Andrew Doolan / Kantel for St Anne's Brewery Conversion to Flats, Calton Road, Edinburgh: Andrew Doolan building
Andrew Doolan + Kantel
Doolan carried out work on around 50 buildings. Born in Glasgow, the son of a miner, Mr Doolan left school with one A-level, in engineering drawing. He joined the fire service in Stirling then got a job as an apprentice architect and attended night school to gain qualifications which allowed him to attend Leeds School of Architecture.
Andrew Doolan attended Leeds School of Architecture. After his studies he formed Kantel, a property development company with a strong architectural slant. Doolan began a series of regeneration projects in Edinburgh's Southside (Andrew purchased and restored twelve down-at-heel properties) and Merchant City Glasgow. Kantel's conversion of the former Blair Brewery, Calton Road won the EAA Bronze Medal in 1984. Doolan successfully refurbished a disused bank building on the Royal Mile into the nine-bedroom Bank Hotel, working with the late Rob Hunter and Malcolm Fraser, Architect.
The refurbishment was subtle – it hardly stands out now compared to his two later Hotels west of the Old Town – but welcome in the down-at-heel Old Town and beside the pastiche of the Scandic Crown Hotel. Andrew Doolan sold this Hotel to assist purchase and development of The Point Hotel.
Doolan went on to convert the [former] Old St Cuthbert's Co-operative Association Ltd. Showroom building (by TP Marnick & Son, 1937, Bread Street, into the Point Hotel. This hotel came to be Andrew Doolan's power base and also his best known project, popular with architects and handy for business people due to its proximity to the Financial zone of the Exchange and EICC.
The Point proved to be successful so Doolan purchased the next block. Another fifty rooms were added. The Hotel expanded west again in a glass curtain wall elevation from 1937, LazerQuest, which now fronts 50 further bedrooms and the Point Conference Centre.
Andrew also developed the Travel Inn in Morrison Street, a joint venture with Whitbread.
Andrew Doolan sponsored the RIAS Best Building in Scotland Award with a £25,000 prize.
Doolan planned to build another hotel in Edinburgh made from glass.
Andrew Doolan is survived by his mother, his sisters and his fiancée and long-term partner, Marion Caldwell. Doolan was a Fellow of the RIAS.
Location: Bread Street, Edinburgh, Scotland
Edinburgh Architect Practice Information
Architect office formerly based at the Point Hotel, Edinburgh
Andrew Doolan Architects Exhibition
RIAS, 15 Rutland Square, Edinburgh
I wondered for a moment what I was here to review. I resisted the amaretto biscuits as dinner-time neared and plumped for the chilled white wine. Deftly self-served into a generous glass (entirely at one with the Doolan look) I decided to set off around the exhibition. Looking around, I spied a large screen that appeared to have been purloined straight from the Point Conference Centre.
On closer inspection I noted two holes of different sizes had been left out of which shone looping clips from, well, the Point of course. I peeked round the back of the screen but sadly it was just a web of gadgetry. I sipped some more and decided to give it a 5 out of 10 (another viewer agreed that 5 seemed very fair).
As for the exhibition rating, I'm not sure where to begin: the narrative was purely visual leaving one to guess what Mr Doolan was saying as he wafted in front of the Conference panoramic. Some might point out that this is a neat touch; personally I would have liked to hear him talk, quietly.
In summary the exhibition had a rarefied, Doolanesque air and generous refreshments. I am interested to hear what fellow architects thought about the show. I've already got a brochure.
Andrew Doolan, Architect: Review by Adrian Welch
Nov 12-30, 2001
Andrew Doolan House : EAA Awards for Architecture 2004 – Silver Medal, Dick Place
Crerar & Partners worked as Implementation Architects on the Edinburgh Travel Inn with Andy Doolan Architects
Architecture in Scotland
Contemporary Architecture in Scotland – architectural selection below:
Literature House for Scotland, John Knox House, Edinburgh
Winning Architects: Witherford Watson Mann ; Groves-Raines Architects Studios ; Studio MB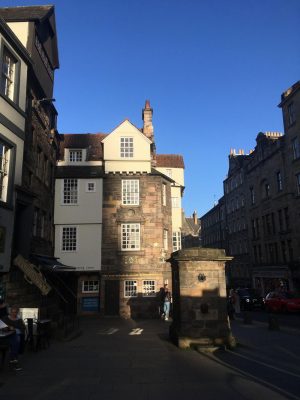 photograph © Daniel Lomholt-Welch
Literature House for Scotland
Scottish Architecture Tour : best Scottish Buildings of the last three decades
Comments / photos for the Andrew Doolan Architecture page welcome