The Center at Belvedere, Charlottesville Mixed-Use Development, Virginia Apartments, Gallery, USA Architecture Design
The Center at Belvedere in Charlottesville
June 24, 2022
Architecture: Bushman Dreyfus Architects
Location: Charlottesville, Virginia, USA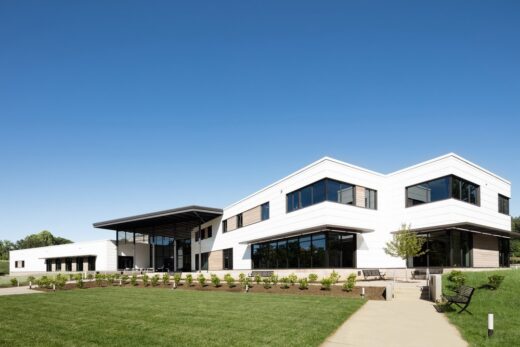 Photos: Virginia Hamrick Photography
The Center at Belvedere, Virginia
Social interaction impacts health later in life more than even some genetic factors. The Center at Belvedere, a community center for senior adults, provides programming and a welcoming environment to promote social engagement, physical and emotional well-being, civic involvement, creativity, and lifelong learning as part of a daily path to healthy aging.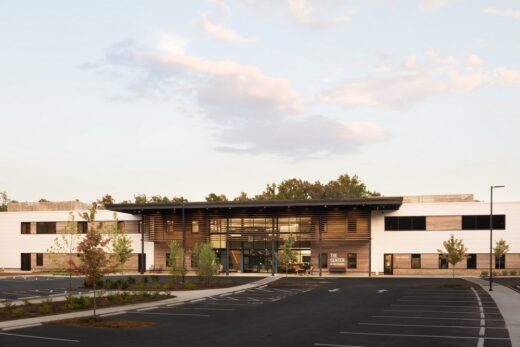 The Center offers more than one hundred programs every week including classes and symposia in the fine arts, performing arts, health and fitness, politics and travel, and also hosts numerous support groups addressing the myriad issues our senior community faces.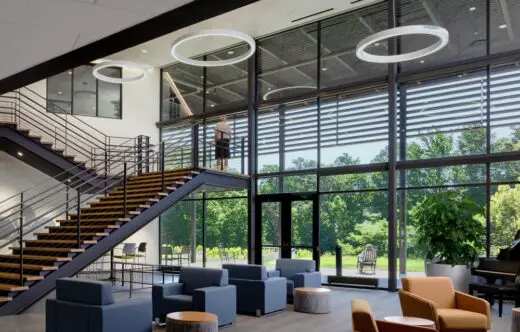 Design and construction of The Center was a ten-year community effort that engaged with users of the former facility to learn what was lacking and what opportunities lay ahead, with a community health provider to plan an on-site health clinic, with local transportation agencies to ensure bus service to the facility, with local politicians to secure partial construction funding and with community philanthropists to educate them on the value of such a forward-looking facility.
The Center is a long, narrow building stretching across a hillside, welcoming guests through its two story portico and offering shade under a broad back porch and open outdoor spaces overlooking a pond and woods beyond.
Entering the two story atrium, The Center's layout is quickly understood with two wings radiating outward. As the social hub of the building, the atrium is ringed by a travel office, multiple informal seating groups and a coffee shop where guests and neighbors can pick up light fare or a cocktail to enjoy on the porch. And throughout the building, daylight streams into spaces that invite guests to meet, workout, explore or relax.
A vital resource designed and built with input from a multitude of stakeholders, The Center at Belvedere offers a model for healthy aging for all communities.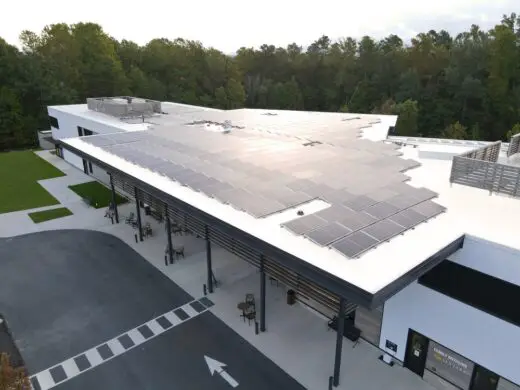 Project history:
Since its inception in 1960, The Senior Center, Inc. has pursued its mission "to positively impact our community by creating opportunities for healthy aging through social engagement, physical well-being, civic involvement, creativity and lifelong learning." In 2009, this project was a natural outgrowth of those 49 years of service, when it was clear that The Senior Center had outgrown its 17,000 sf facility. Besides greatly limiting the programming the organization could provide its members, the building lacked proper ventilation, acoustic separation of spaces, proper floors for safe exercising, adequate office space, ample parking and opportunities for outdoor activities.
In 2009, the organization began looking at options for more space. The client and design team analyzed more than 30 sites, including existing buildings and open land. Eventually, the decision was made to purchase land that lay between the city's center and the urban ring of the surrounding county. This critical decision was based on a desire to serve the largest population possible – both in-town clients and those that reside in the surrounding county. The site offered easy access by car, all necessary utilities, walking trails and bike paths tied into a neighborhood and regional masterplan, potential connection to public transportation, and a spectacular view across a storm detention pond to a heavily wooded area.
A conceptual master plan was drawn up, and fundraising commenced for 5 years. That time was needed to build relationships within the community and increase awareness of the role the organization and its programs plays in our community.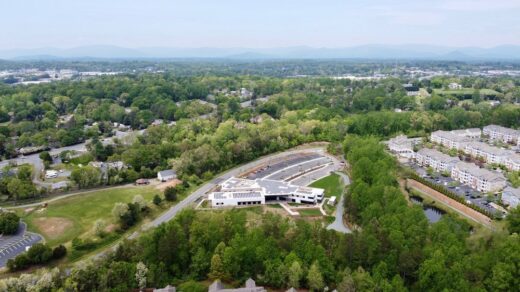 Design began in earnest in 2017, construction started in late 2018 and the building was completed in March, 2020. The Center opened at the very start of the pandemic shutdown, yet it has already had an enormous impact on its members and the community. Programming was offered both in-person and online; activities were scheduled with all necessary precautions, and still, the facility began to prove the theory that a building can be an essential part of healthy aging. The reviews and attendance have been outstanding, and The Center continues to welcome more clients everyday. The health clinic at The Center is thriving, and community organizations have already discovered the beautiful facilities and performance hall that are available for rent to individuals and outside organizations.
The Center is already a landmark in the community. And it continues to push further every day, providing some 10% of its client base with subsidized memberships, and with growing national recognition for its insightful design and innovative business model.
Project goals:
"Guiding Principles" were established by the client at the outset; examples of how they were addressed include:
"Contemporary and non-institutional with open spaces and connectivity: Design for
opportunities to interact; create spaces to encourage social engagement and accommodate multigenerational group recreation; invite movement."
Central atrium is the social hub of the building, with multiple opportunities for gathering in large and small groups. Adjacent lounges provide more opportunity.
Hallways are wide and include casual seating to encourage impromptu meetings and interactions.
Multiple opportunities exist for outdoor gathering, including two broad porches at the entry and pond side of the building.
Fitness center is centrally located in the building to encourage exploration and use.
Building hallways provide a walking loop for exercise during inclement weather.
Sprung wood floors in exercise rooms and in the multi-use auditorium are friendly on older knees.
Users of all ages attend programs in the auditorium and classrooms and pop into the cafe for coffee daily.
"Universal/aging-friendly design: Provide accessibility to services, opportunities, and resources, accommodating people of diverse ages, stature, needs, and abilities."
Stairs have 6" risers and handrails at 2 different heights to ease stress on older knees and to accommodate clients of all heights.
Restrooms are designed beyond ADA requirements: all stalls have sloped grab bars, making it easier for clients to pull themselves upright.
The onsite health clinic is patronized by clients and by families of all ages.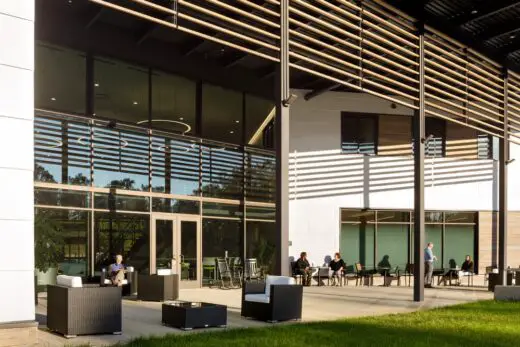 "Environmentally conscious design: Maximize the use of renewable and sustainable materials; ensure healthy air quality; optimize waste management; encourage responsible water use; minimize energy use; celebrate nature; leave a responsible environmental footprint."
Rooftop solar array satisfies approximately 50% of the building's energy needs.
Sun shades at windows and both porches modulate solar glare and heat gain.
Mechanical system provides fresh air continuously throughout the building.
Sustainably harvested wood is used on the exterior and throughout the interior.
Water saving plumbing fixtures used throughout.
LED lighting used throughout.
Large windows give visual access to the outdoors while providing abundant daylight throughout.
"Safety and security: Incorporate design and features to enhance pedestrian safety as well as the safety and security of people engaging in Center activities."
Parking lot design ensures no visitor has to walk in a drive aisle to access a sidewalk to the front door.
Welcome Desk centrally located to allow monitoring activities and safety throughout.
"Technologically-enabled: Integrate systems to maximize efficiency, connect people and
technology, and enable innovation, with the capacity to evolve with needs and new developments."
Fully wired for current technology with conduit added for future technological advances.
Smart equipment installed in all meeting rooms.
Hearing loops provided throughout the building.
"Flexibility for current use and adaptability for the future: Anticipate change and design to
evolve to meet community needs."
Soundproof folding partitions in 3 separate areas provide flexible room configurations for varied activities and group sizes.
Minimal number of interior bearing walls to accommodate future reconfiguration.
Utilities run to open land that has been identified for future phases of expansion.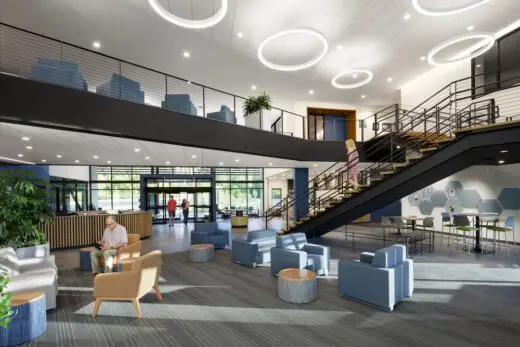 Innovatove and unique features:
A rooftop solar array provides approximately 50% of the building's energy needs. The array is visible from a number of vantage points, offering visitors and passersby an example of how to incorporate sustainable energy sources into a building project.
A critical design element, large expanses of glass visually connect visitors to the landscape and outdoor spaces that surround The Center. With a largely east-west orientation, reduction of solar glare and heat gain received considerable attention in the design process, especially at the central atrium. Glass specifications improved upon standard low-e tinting, and both the entry and rear porches incorporate sustainably harvested wood sun screens to reduce glare and provide added shade in the heat of summer. Motorized, translucent roller shades on all windows in the atrium are adjusted throughout the day to further control glare and heat gain. Additionally, the porch sun screens dramatically reduce the potential for bird strikes at the large expanses of glass.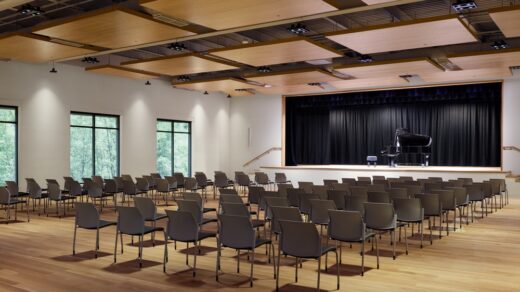 Parking lot design received an unusual amount of attention to ensure the safety of all guests. Upon exiting their car, each visitor has immediate access to curbless sidewalks to avoid walking through drive aisles to reach the building entry. Trees have been planted throughout the parking lot to reduce heat gain and provide as much shade as possible, and vehicular entries and exits to the adjacent road exceed the required line-of-site in order to reduce potential for accidents with oncoming cars.
All stairs have 6" risers and handrails at 2 different heights to ease stress on older knees and to accommodate clients of all heights. The sculptural stairs in the atrium have carefully detailed solid wood treads with contrasting resin inlay strips, which provide an elegant way of navigating the stair while reducing tripping hazards.
Art is a central part of programming at The Center: the instructional art studio is enhanced with north facing windows and adjustable lighting; art rails are installed throughout the building for rotating exhibits that showcase members' and local artists' work; lectures and presentations for and by artists are hosted in classrooms and in the various lounges in the building.
Color adjustable lighting is provided in the art studio and the auditorium to allow balanced and appropriate lighting for all activities, and to allow performers and rentals to enhance the mood of their event.
Thermally modified exterior wood siding was intentionally stained a light gray to make the transition to weathered gray more seamless over time, minimizing the need and cost to maintain the color of the siding in the future.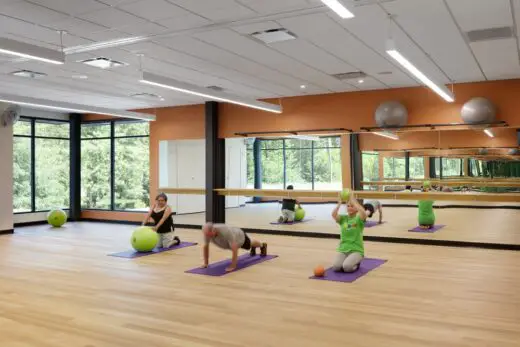 The Center at Belvedere in Virginia, USA – Building Information
Design: Bushman Dreyfus Architects – https://bdarchitects.com/
Collaborators:
Matthews Development (Owner's Representative)
Barton Malow Company (General Contractor)
Lifespan Design Studio, LLC (Senior Center Design Consultant)
Circle Design Studio, LLC (Interior Design)
Pray Design Associates (Landscape Architect)
Dunbar, Milby, Williams, Pittman & Vaughn (Structural Engineer)
Staengl Engineering (MEP Engineer)
Timmons Group (Civil Engineer)
Randy Burkett Lighting Design (Lighting Design)
Acoustical Consulting Services (Acoustician)
Iconograph (Signage + Graphic Design)
Key materials and products used:
Wood Facade cladding: Cambia wood siding
Metal Facade cladding: Imetco Legacy Rectangle Profile Metal Panels
Doors & windows: Kawneer 451
Roofing: Carlisle Sure-Weld TPO
Awards:
2021 AIA Design for Aging Review Award of Merit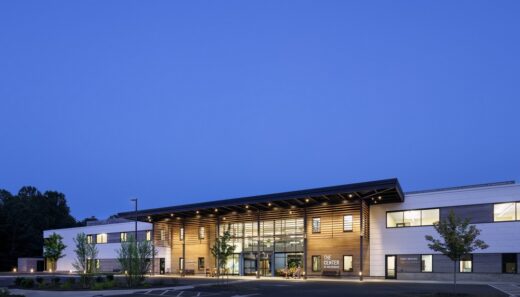 Photographers: Virginia Hamrick Photography
The Center at Belvedere, Charlottesville Virginia Building images / information received 240622
Location: Charlottesville, Virginia, United States of America
Virginia Buildings
Heirloom Farm Studio, Blue Ridge Mountains, central Virginia
Architecture: Bushman Dreyfus Architects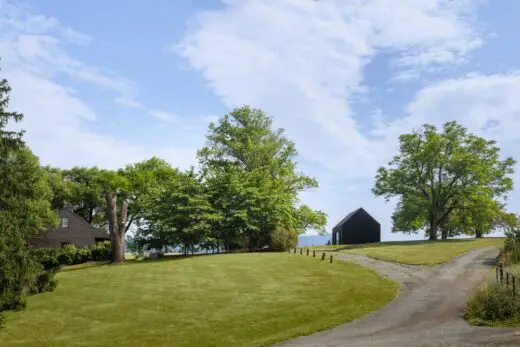 photo : Virginia Hamrick Photography
Heirloom Farm Studio Virginia Building
Virginia Architecture Designs
Apex Plaza, 100 Garrett Street, Charlottesville
Design: William McDonough + Partners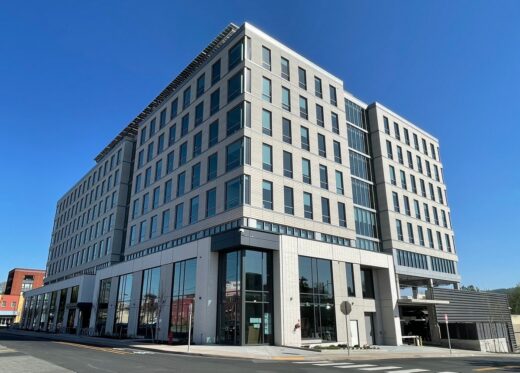 photograph © WilliamMcDonough+Partners
Apex Plaza Charlottesville
New River Train Observation Tower
Design: Virginia Tech students and faculty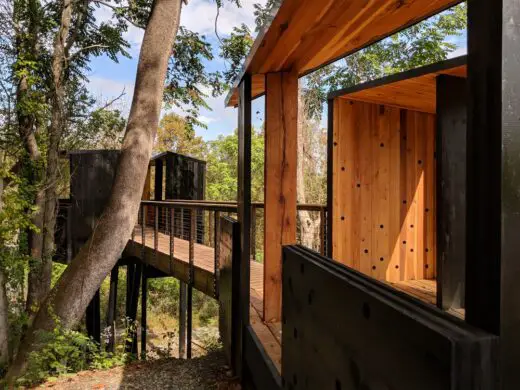 photos : Kay Edge and Edward Becker
New River Train Observation Tower
National Museum of the US Army, Scottsville
Design: Skidmore, Owings & Merrill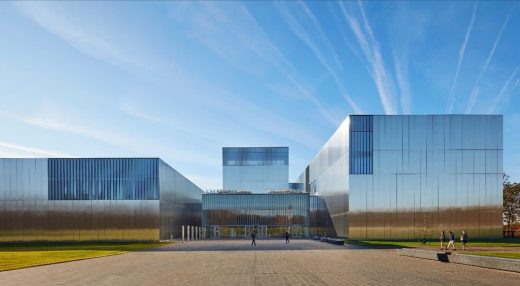 photo © Dave Burk | SOM
National Museum of the US Army
The Heights Arlington School, 1601 Wilson Blvd, Arlington, VA
Design: BIG with Leo A Daly architects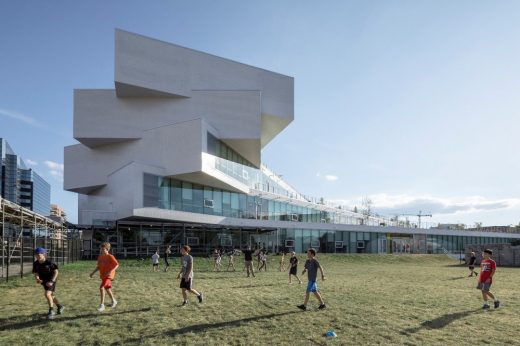 photo : Laurian Ghinitoiu
The Heights, Arlington School
Contemporary US Architectural Designs
Comments / photos for the The Center at Belvedere, Charlottesville design by Bushman Dreyfus Architects USA page welcome