Buckhead Park Over GA400, Atlanta Landscape, Georgia Urban Infrastructure, Architecture, Architect, Building Design
Buckhead Park Over GA400
Atlanta Georgia Landscape Architecture Development, USA – design by Rogers Partners / Nelson Byrd Woltz
Sep 30, 2016
Buckhead Park Over GA400 in Atlanta
Design: ROGERS PARTNERS Architects+Urban Designers with Nelson Byrd Woltz Landscape Architects
Location: Atlanta, Georgia, USA
Buckhead Park Over GA400, Atlanta
Floating Above a Freeway, Innovative New Park Celebrates Walkability in Atlanta's Buckhead Neighborhood
Designed by ROGERS PARTNERS Architects+Urban Designers with Nelson Byrd Woltz Landscape Architects, Buckhead Park Over GA400 is a new genre of urban infrastructure; built atop a highway, it strategically connects existing commercial/retail centers, mass-transit hubs, and potential development sites around an environmentally-responsible green core.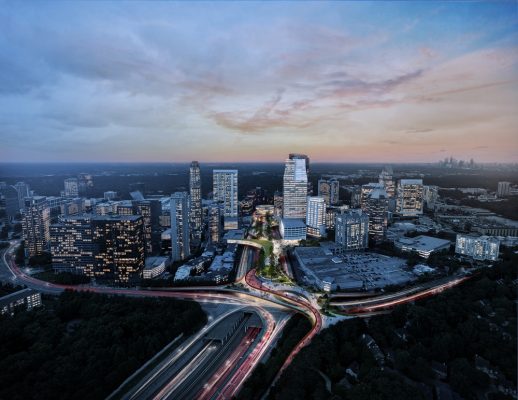 September, 2016, NEW YORK, NY—Slicing through the heart of the Buckhead neighborhood in Atlanta, a busy highway and a commuter rail line have physically fragmented the community for many years. Today, preliminary designs were revealed for a new park that spans the roadway and the railway and will make the area whole again, providing the public with safe, easy, and efficient access to the many amenities in the district. Buckhead Park Over GA400 will raise the profile of Atlanta as a visionary 21st-century city, becoming a signature element of the city and contributing to both the local economy and quality of life much like the famed linear parks of Paris and New York. New York City-based ROGERS PARTNERS Architects+Urban Designers (Rogers Partners) is partnering with Nelson Byrd Woltz Landscape Architects (NBW) on the design.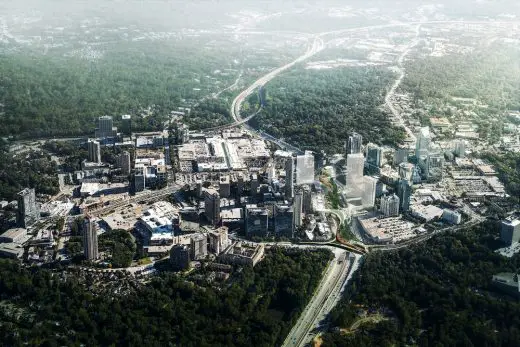 Renderings courtesy Rogers Partners / Nelson Byrd Woltz
Presenting the initial design concept to local officials and the community, Jim Durrett, executive director of the Buckhead Community Improvement District (BCID), said, "We're very excited to move ahead on this pioneering project. When Buckhead Park Over GA400 is complete, Atlanta will have a unique, world-class civic space that is both beautiful and functional."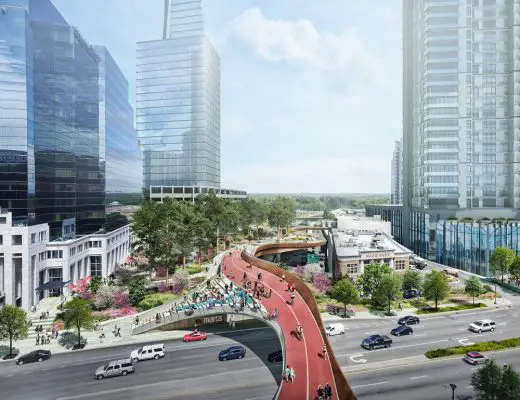 "We are delighted to be working with the BCID to imagine a new interwoven and interlinked public realm and truly feel we have struck the right balance with this initial design to make big change with artfully-considered efforts. We see Buckhead leading a national trend to create value, enhance quality of life, and improve connectivity by constructing inspired public spaces," said Robert M. Rogers, FAIA, founding partner of Rogers Partners. The park has the potential to act as a model project for other car-oriented cities, like Dallas and Houston.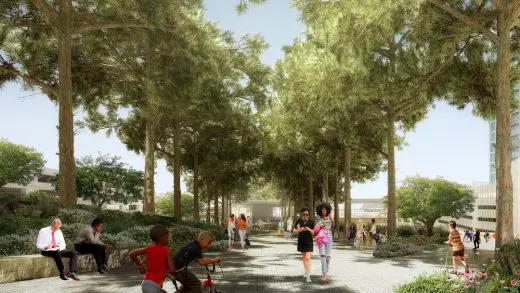 Thomas Woltz, principal of NBW, said, "We are looking forward to our continued collaboration with Rogers Partners and BCID to build on Atlanta's rich history of using innovative infrastructure in the shaping of the city; in this case, a vibrant addition to Atlanta's ever-growing and connected parks system. The chance to create a 21st-century park for Buckhead—rooted in the recognizable landscape ecologies of the region—is an extraordinary opportunity."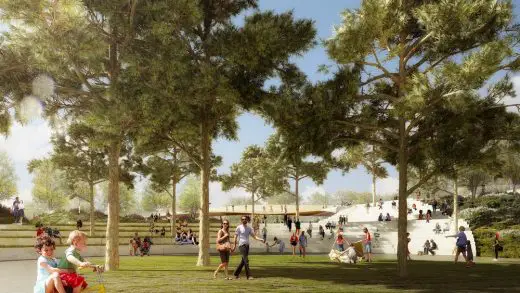 A Sequence of Social Spaces
There are three major design features along the 2,400-foot-long elevated traverse, each offering a specialized experience for park visitors. The north end is anchored by a commons area, with an intimate amphitheater accommodating both formal and casual gatherings. A plaza marks the midpoint of the park, with multiple activities—retail, restaurants, and MARTA rail access—making it the hub of the park. At the southern terminus, a garden setting dominates, providing a green oasis for people to enjoy. The park is unified by an allée of shade trees, running the full length of the design.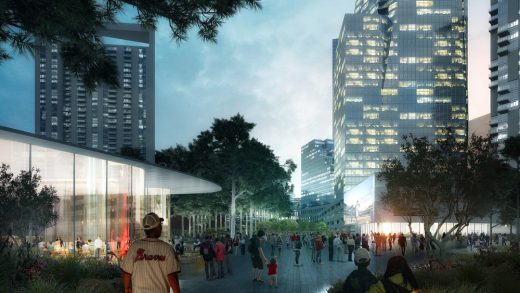 Environmental Benefits
Buckhead Park Over GA400 will contribute to the quality of life in Buckhead in quantifiable ways. Its lush plantings will work to offset the heat-island effect that affects major urban centers. Custom-engineered systems will capture storm-water and contribute to sustainably irrigating the gardens. Using native flora that is adapted to the Atlanta climate ensures that the landscape will require minimal maintenance while providing maximal visual impact.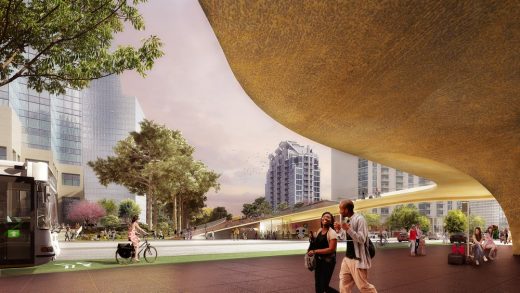 Local and Regional Connectivity
For convenience and cost-savings, walkability ranks high on the list of desired features for city dwellers, augmenting real estate values and enhancing urban living. Buckhead Park Over GA400's extensive pedestrian paths seamlessly connect the surrounding streets and the park, encouraging people to use the park throughout the day as they walk to work, home, and the many cultural attractions of Buckhead. The park will also be a prime destination on Path 400, a regional recreational and commuter bike path and running trail.
In October, after reviewing the feedback from the community, the BCID board will meet about moving forward to the next phase of the project: preliminary engineering, engaging key agency partners, and funding strategies.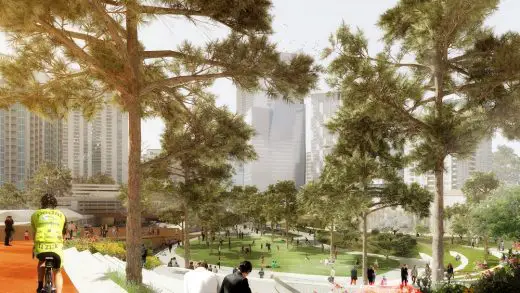 About ROGERS PARTNERS Architects+Urban Designers
Based in New York City, ROGERS PARTNERS Architects+Urban Designers (Rogers Partners) is a comprehensive, cross-disciplinary studio nationally recognized for the design of provocative and transformative public spaces. Rogers Partners designs regenerative 21st-century environments where architecture, landscapes, and urban spaces converge. The firm's projects have won more than 65 design and industry awards and have been presented in prestigious exhibitions, including the Museum of Modern Art in New York City.
Notable projects include the Henderson-Hopkins School in Baltimore, MD; the SandRidge Energy Commons corporate campus in Oklahoma City, OK; and the new headquarters for international advertising firm Droga5 in New York City. Current projects include the redesign of Constitution Gardens on the National Mall and President's Park South, both in Washington, DC; The New St. Petersburg Pier, a competition-winning new design of an iconic city pier in St. Petersburg, FL; and a new K-8 school integrated into the Drexel University campus in downtown Philadelphia.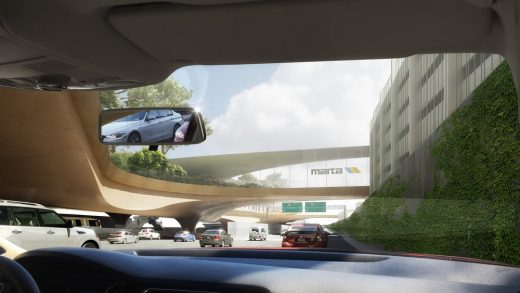 ROGERS PARTNERS Architects+Urban Designers
About Nelson Byrd Woltz Landscape Architects
Nelson Byrd Woltz Landscape Architects (NBW) is an internationally recognized landscape architecture firm with studios in New York City and Charlottesville VA; it has garnered over 90 awards within the past 15 years, including the prestigious Amanda Burden Public Open Space Award for Citygarden in St. Louis MO. Dedicated to aesthetic and environmental excellence, social commitment and innovation, NBW is designing major public landscapes in the United States and abroad, placing 30 years of innovation in greater service to the public realm. In addition to Buckhead Park Over GA 400, current projects include the Flight 93 National Memorial (PA), Under Armour Corporate Headquarters (MD), Memorial Park Houston (TX), Devonian Botanic Garden (Edmonton, Canada), Centennial Park (Nashville, TN), and Hudson Yard Public Square and Gardens (New York, NY). The work of the firm has been featured in numerous national and international publications and is the subject of a monograph published by Princeton Architectural Press.
Nelson Byrd Woltz Landscape Architects
Buckhead Park Over GA400, Atlanta images / information from ROGERS PARTNERS Architects+Urban Designers
Location: Buckhead, Atlanta, GA, United States
Architecture in Georgia
Zuckerman Museum of Art in Atlanta
Design: Stanley Beaman & Sears, Architects



image from architect
Zuckerman Museum of Art in Atlanta
Centre for Civil and Human Rights in Atlanta
Design: David Rockwell Architect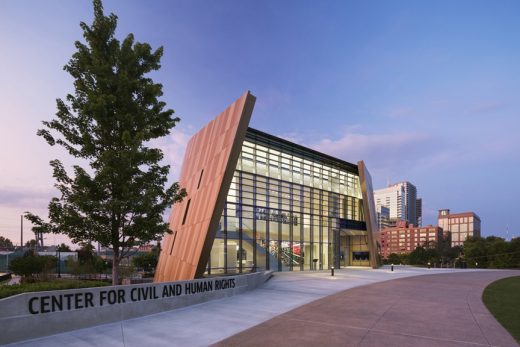 image from architect
Centre for Civil and Human Rights in Atlanta
Sway at The Hyatt Regency Atlanta
Design: CCS Architecture



photo from architects
Hyatt Regency Atlanta
Bolton Dining Commons at University of Georgia, Athens
Design: Bruner/Cott Architects and Planners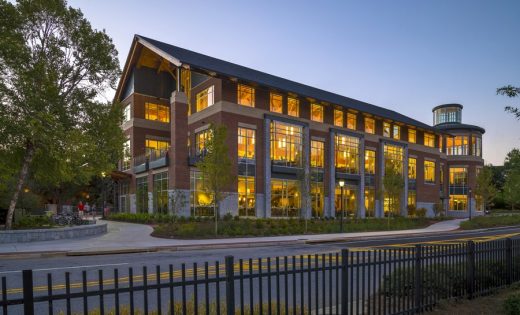 photograph : Richard Mandelkorn
University of Georgia Dining Commons
Porsche Headquarters, Atlanta
Design: HOK Architects
Porsche Headquarters Building Georgia
Atlanta History Center
Stanley Beaman & Sears
Atlanta History Center
Downtown Art Gallery Atlanta
Design: Stanley Beaman & Sears
Downtown Art Gallery Building in Atlanta
Slice House, Atlanta
Design: Studio ST Architects
New House in Atlanta
Another Design: Rogers Partners Architects + Urban Designers on e-architect:
Madison Square Boys & Girls Club New Flagship Facility in Harlem, NY, USA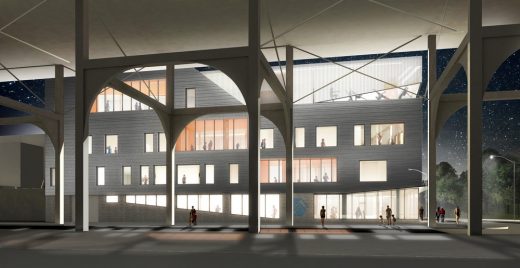 rendering Courtesy Rogers Partners
Madison Boys & Girls Club Building
Website: Buckhead Park Over GA400 – project post about tis design by Rogers Partners Architects + Urban Designers
Comments / photos for the Buckhead Park Over GA400, Atlanta page welcome
Website: Buckhead Atlanta