MSU Broad College of Business Pavilion Building, MI Education Facility, Architecture Images
Broad College of Business Pavilion at Michigan State University
American Education Facility Development in East Lansing – design by LMN Architects
Nov 1, 2017
MSU Broad College of Business Pavilion Building
Design: LMN Architects
Location: 632 Bogue St, East Lansing, MI 48825, USA
Eli Broad College of Business Pavilion at Michigan State University Building
new images of this building design: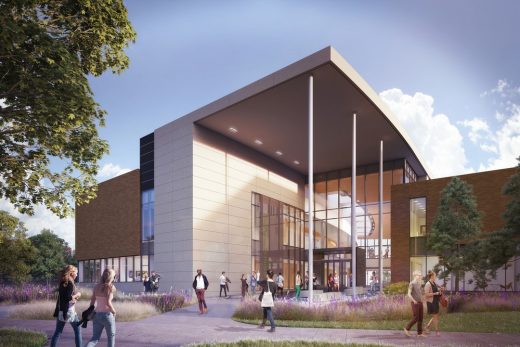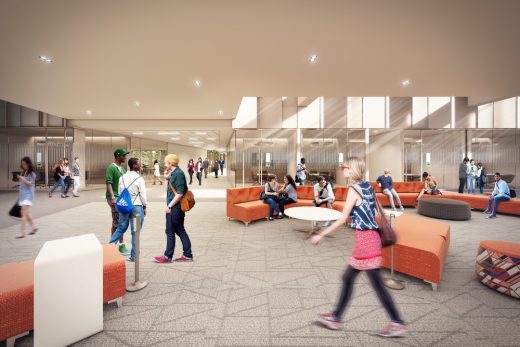 renderings courtesy of LMN
LMN Architects announce groundbreaking of the new Broad College of Business Pavilion at Michigan State University
Design celebrates collaboration and puts team-based learning at forefront
North Exterior:
The pavilion's north façade opens onto a large terrace and event lawn that connects the complex and larger campus to the Red Cedar River. Design by LMN Architects.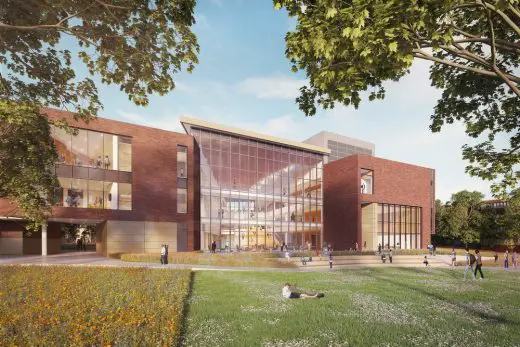 SEATTLE, 14 Sep 2017 — LMN Architects announce the groundbreaking of MSU's new three-story, 100,000-square-foot Broad College of Business Pavilion. This project transforms the decades-old existing facility into a cohesive complex at the forefront of modern business education.
The new pavilion introduces a socially-active learning environment for undergraduate and graduate students, faculty, corporate partners and alumni to collaborate and launch the next generation of business leaders. LMN designed the pavilion in partnership with FTCH, the architect/engineer of record.
"This new facility gives us the physical support we need for game-changing initiatives in business educa-tion," says Broad College Dean, Sanjay Gupta. "It is critical that we train students to be part of business teams. We need classrooms where technology is seamlessly assimilated with collaborative spaces. This is the important remaining piece in our efforts to improve the recognition, reputation, and rankings of our programs."
Interior Atrium:
The daylit central atrium is the new focus of the Broad College community, facilitating events, informal interactions and café for campus-wide use. Design by LMN Architects.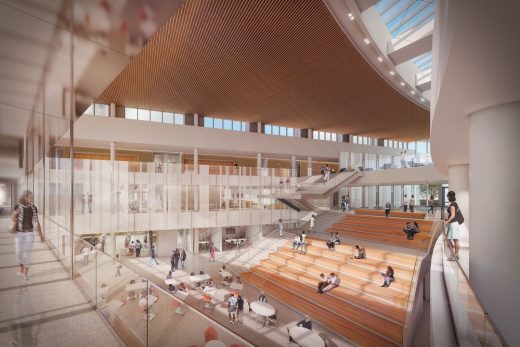 The pavilion creates a new front door for Broad College, which further animates the life of the larger campus. Located within the heart of the campus and along the Red Cedar River, the building creates a strong connection between Shaw Lane and the river walk.
A central, three-story atrium celebrates this sense of arrival, while amphitheater stairs continue the momentum down to the café, multi-purpose rooms, and outdoor areas. The atrium provides a new focus for Broad College to host college-wide events, recruitment fairs, and informal interaction and team collaboration.
Celebrating Broad College's team-based community culture, the design weaves together classrooms, la-boratories and social spaces at a variety of scales. These program elements permeate all aspects of the academic experience, with an emphasis on collaborative environments supporting the college's cutting-edge research curriculum.
A skylight and clerestory windows run the full length of the building to fill the space with natural light, encouraging continuous student use for independent study, group projects and informal meetings.
This transparent community space is framed by two program "bars" that focus views through the building to the landscape beyond. Corridors overlooking the atrium lead to flat/flexible and tiered/case study class-rooms for face-to-face discussions, as well as for technology-enabled active learning and networking. The pavilion's masonry, glass and metal exterior expresses the contemporary functionality of its forward-looking programs while complementing the materials and sensibility of the surrounding campus architec-ture.
"The pavilion offers today's students the experiences needed to become effective entrepreneurs and lead-ers in society, anywhere in the world," says George Shaw, AIA, Partner at LMN Architects. "Broad Col-lege now has the resources tailored to promote excellence not just in the classroom, but also professional-ly."
Broad College of Business Pavilion Michigan State University – Building Information
Design Team:
Michigan State University (Owner)
FTCH (Architect/Engineer of Record)
LMN Architects (Design Architect)
Clark Construction Company (Construction Manager)
Olin Partnership (Landscape Architect)
Michigan State University (Landscape Construction Documents)
John E. Green Company (Plumbing, HVAC Piping Contractor)
Dee Cramer (HVAC, Sheet Metal Contractor)
Building Control Integrators (Building Controls Contractor)
Douglas Steel Fabricating Corporation (Structural Steel Contractor)
Superior Electric Inc. (Electrical Contractor)
Glazing Solutions Inc. (Glazing Contractor)
Horton Lees Brogden Lighting Design Inc. (Lighting Design)
The Sextant Group (AV, IT, Acoustics)
Egg Office (Environmental Graphics Design)
Broad College of Business Pavilion at Michigan State University Building images / information received 140917
Address: 632 Bogue St, East Lansing, MI 48825, USA
Founded: 1944
American University Buildings
American University Building Designs
University of California Housing, San Diego
Design: Carrier Johnson + CULTURE
University of California Housing
University Medical Center Princeton Hospital, New Jersey
Design: RMJM Hillier / HOK
University Medical Center Princeton Hospital
Website: Eli Broad College of Business
Comments / photos for the Broad College of Business Pavilion at Michigan State University Building – page welcome
Website: LMN Architects