Burkina Faso School Buildings, Article 25 Africa Education Project, Secondary Design
Burkina Faso Schools – African Education Buildings
Article 25 Development Project – by Martin Spring
23 Apr 2013
'Article 25: the built environment's charity'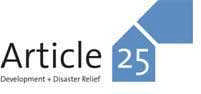 Report by Article 25 written for www.e-architect.com
School extension takes shape in natural stone in Burkina Faso
Author: Martin Spring
Local masons are skilled at laying blocks of local laterite sandstone: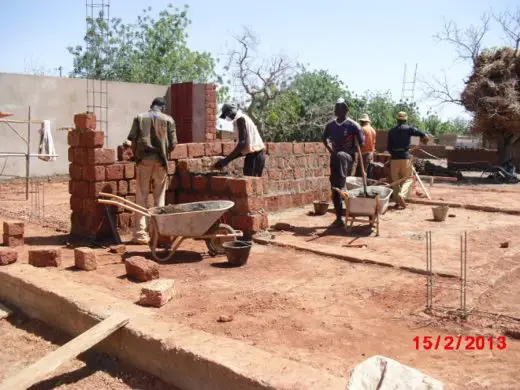 Burkina Faso Schools
A keenly awaited £200,000 school extension is now visibly taking shape in Burkina Faso in West Africa, unaffected by the civil war currently waging in neighbouring Mali. The design was developed in London by Article 25 who now monitor the construction works on site. The emerging walls proudly display their local origins in rugged laterite stone blockwork that was quarried out of the ground less than five miles away.
When completed in June, the three new classroom blocks and latrines will substantially increase the size of the existing Bethel Secondary School in the provincial town of Gourcy. Bethel school is overwhelmed by local families' demand for education, in a country that the UN Development Programme calculates suffers one of the world's lowest literacy rates. Once enlarged, the school will be able to accept many more of the children it currently has to turn away.
New classroom and latrine blocks have will have raised roofs for cooling ventilation:


The first section of wall sets the standard for masonry and metal louvred windows:


The construction site has an orderliness that demonstrates capable management. This is shared between contractor Mantral and Article 25's site representative, Kodzo Adali-Mortty; both are based in Burkina Faso's capital, Ouagadougou, two hours drive away. Bilingual architect Adali-Mortty is an ideal intermediary between Article 25 architects in London and Mantral's 20-strong, French-speaking construction team. He files weekly reports brimming with progress photographs and details of challenges encountered to which the London team and Mr Adali-Mortty find proposals for their solution.
One of the main challenges encountered so far has concerned the supply of laterite stone. As the stone is simply dug out of the ground nearby, it avoids the expense of concrete blocks made with imported cement and has the benefit of being denser than concrete blockwork. Laterite walls absorb much of the tropical heat that builds up in the afternoon that would otherwise make the classrooms unbearable. Some 20,000 laterite blocks are required and to meet the supply schedule Mantral subcontracted the quarrying of the stone to two teams, each comprising of 5 experienced masons. As well as masonry and laying concrete strip foundations, work on site includes a welding workshop where metal louvred shutters are assembled for windows and doors.
Rough laterite blocks from the quarry are precisely dressed to shape on site:


Soon after the three classroom blocks and latrine are completed in June, construction is will start on a second phase that will include a library and sports changing facilities. The project is funded by the UK charity, Giving Africa, and the completed school will be run by the local operator, AEAD. The long-term plan is that Bethel's new school extension should be serve as a cost-effective, environmentally friendly prototype that will be rolled out across Burkina Faso.
Metal shutters for windows and doors have adjustable louvres to control daylight and rain penetration:


13 Nov 2012
Construction starts on prototype school in Burkina Faso, West Africa
Author: Martin Spring
Burkina Faso Schools
1 Nov 2011
Article 25 Project Update : Secondary Schools in Burkina Faso, West Africa
Author: Jemma Houston, Article 25 Project Architect
Burkina Faso Secondary Schools
Location: Burkina Faso, Africa
Burkina Faso School Building images © Article 25
Monthly Reports by Article 25 – Selection
African Architectural Designs
African Architecture Designs – chronological list
Contemporary Africa Architectural Designs – recent selection from e-architect:
CEM Kamanar Secondary School, Thionck Essyl, Senegal, West Africa
Design: Dawoffice / David Garcia, Aina Tugores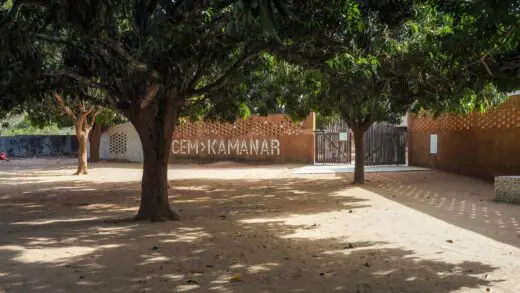 photo : Amir Anoushfar
CEM Kamanar Secondary School Senegal
Niamey 2000, Niamey, Republic of the Niger, West Africa
Design: united4design / Yasaman Esmaili, Elizabeth Golden, Mariam Kamara, Philip Straeter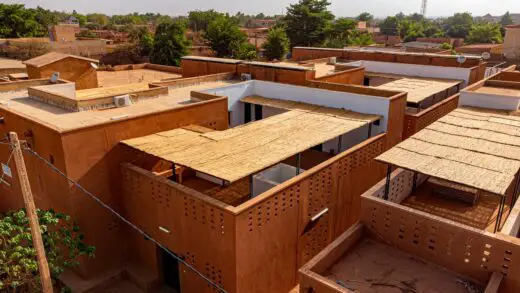 photo : Aboubacar Magagi
Niamey 2000
Comments / photos for the Burkina Faso Education Buildings page welcome