Trump Golf Resort Aberdeenshire, Scottish Hotel Proposal, Links Course Planning Design News
Trump Golf Resort Aberdeenshire
Links Course Northeast Scotland, UK: Menie, near Balmedie
21 Jul 2016
Trump Golf Resort Aberdeenshire Hotel Extension
Menie Golf Resort Hotel Extension
Plans approved to extend a boutique hotel at the heart of Donald Trump's Aberdeenshire golf course.
Aberdeenshire Council and the Trump Organisation have reached an agreement over plans to expand MacLeod House – the centrepiece of Donal Trump's golf resort at Menie, near Balmedie.
Trump Golf Links : main page with current information
Trump Golf Links – News Updates
Donald Trump's 500 houses, 950 timeshare flats & hotel attacked by Simon Jenkins who rightly argues it would be an environmental outrage to allow approval.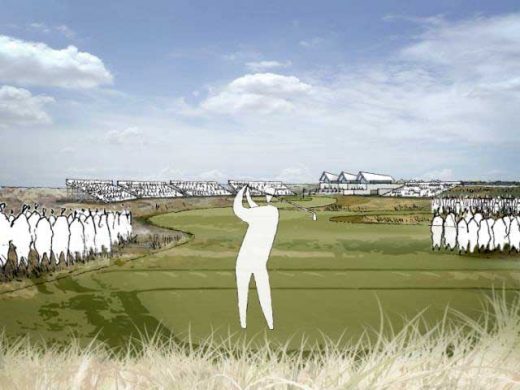 image Courtesy architecture office
Planning Application Revision – 14 Feb 2008
Amendments have been made to the Donald Trump golf resort application to reduce the amount of stabilisation required to secure the sand dunes at Balmedie. Conservation bodies have opposed the two golf courses, 950 holiday homes, 36 golf villas and 500 private homes being built on the site of special scientific interest (SSSI). The revised application for the Menie estate resort has been submitted to the Public Inquiry reporters but RSPB Scotland described it as a "small-scale tweak".
Public Inquiry – 28 Feb 2008
Donald Trump's housing estate with golf courses & hotel – partly located on a key piece of Scotland's protected natural heritage – goes to Public Inquiry
No to Trump Course – 30 Nov 2007
Donald Trump's £1bn luxury golf resort proposal knocked into the long grass by Aberdeenshire Council Infrastructure Services Committee. Donald Trump said he was "surprised" by the decision, and is considering appealing, but noted he had other options in Britain. The vote was tied 7 – 7 but the committee chairman's casting vote sealed the resort's fate.
Trump Golf Course – News Update – 21 Nov 2007
Donald Trump's £1bn golf resort plans approved by Aberdeenshire Council. Local councillors approved the outline planning application – by 7 votes to 4 – for a golf course and resort development at Menie House, Balmedie, Aberdeenshire.
The plans, submitted by Trump International Golf Links Scotland, were discussed by members of the Formartine Area Committee. The outline planning application will be referred to the council Infrastructure Services Committee on 29 Nov
Decision deferred by Councillors on Trump's golf resort proposal
The Formartine area committee to visit the site and hold a hearing on 2 Oct. Aberdeenshire Council officers recommended the plans, advising that the financial impact was significant and that the social and economic benefits were of national importance and should take precedence.
24 Sep 2007
Trump Golf Resort Aberdeen – Recommended for Approval
12 Sep 2007
A+DS Criticise Design
Architecture and Design Scotland criticise Trump Organsiation's concept designs:
Head of Design Review at ADS, Angela Williams, said: "Should a world-class golf facility be located in such a sensitive landscape, it needs to be realised through an exemplary design process to secure a built development and reformed landscape of exceptionally high quality. We do not see such an aspiration in the designs as currently submitted.
"They would not only have a negative impact on an area of high landscape value but would also devalue the Scottish architectural tradition that they attempt to emulate. We consider that an outline planning application should not be approved on the basis of the information submitted.
"We do not believe that the designs submitted are of sufficiently high quality for this unique location, for a project with such an international profile, or for Scotland as a whole."
3 Sep 2007
Donald Trump & A Scottish SSSI
A tale of American Big Business, Pastiche Victorian Hotel & National Nature Reserve. Golf resort fever hits northeast Scotland with numerous recent proposals from Blairs to Newburgh. But Trump International's plans aren't for some unwanted fields or set-aside land. Some of the holes are located in dunes valuable to our country. The Menie dunes are a SSSI – Site of Special Scientific Interest – for good reason.
Four miles north is The Sands of Forvie and the Ythan Estuary SSSI, National Nature Reserve, home to Britain's 5th largest sand dune system [considered the most undisturbed in Britain & of unique structure and outstanding national importance], the largest breeding colony of eider duck.
And the hotel design? Rather than a confident contemporary we have what appears to be Mock Victorian, no doubt designed to appeal to traditional American golfers. I loved visiting these dunes as a child and would have expected any proposal to tame them would have brought forward serious debate and a sensitive and sustainable building. A competition would have clearly been too uncontrolled for US big business but why not a engage some brilliant designers to come up with a quality development of real architectural merit?
What's important to us here in Scotland? Naturally some will warmly welcome inward investment, a good thing often, but at what cost here? The unemployment in both Aberdeen city and shire is less than 2%, so the need for the jobs is less pressing than the need to preserve the area's best environmental features.
Golfers Jack Nicklaus and Paul Lawrie haven`t needed to take land designated for wildlife in their Scottish golf course proposals.
The developers hope to start on site with the Trump International Golf Links in early 2008.
Planning application Committee on 29 Nov 2007
Development – Planning Submission
Outline application by Trump International Golf Links to Aberdeenshire Council for the development of multi-million-pound golf course and luxury resort development:
Facilities proposed
450-bedroom hotel
clubhouse
golf academy
950 holiday homes
36 golf villas
Environmental Impact Assessment due to be submitted to Aberdeenshire Council
28 Nov 2006
Trump Tower
The Scotsman reports possible plans for '250 properties' within Trump Organisation's Golf development at Balmedie, north of Aberdeen: please note plans are not yet lodged but due this Autumn. Designs unveiled so far for the Clubhouse and 500-room hotel reveal a traditional Victorian style. Two golf courses are proposed of high standard, more details soon.
23 Aug 2006
More details re Trump Golf Links Scotland online soon
Location: Menie House, Balmedie, north of Aberdeen, northeast Scotland, UK
Aberdeenshire Architecture
Golf Club Architecture
Scottish Golf Resort : Gleneagles
Amsterdam International Golf Club
Comments / photos for the Trump Golf Resort Aberdeenshire page welcome
Donald Trump Aberdeenshire Golf Course + Hotel – Website: www.trumpgolfscotland.com