Venice Architecture Biennale Strelka, OMA, 2010, Rem Koolhaas, Design
Venice Biennale Strelka Event : Architecture
Venetian Architecture Exhibition, Italy
19 Aug 2010
Venice Biennale Strelka
la Biennale di Venezia
12th International Architecture Exhibition
Rethinking Education
in conversation: Strelka, a New Postgraduate School in Moscow, and OMA
Teatro Piccolo Arsenale, Venice
26 Aug 14.30-15.45
Rem Koolhaas introduces Strelka's educational programme. Launch of Strelka Institute, Moscow, Russia, 16 July: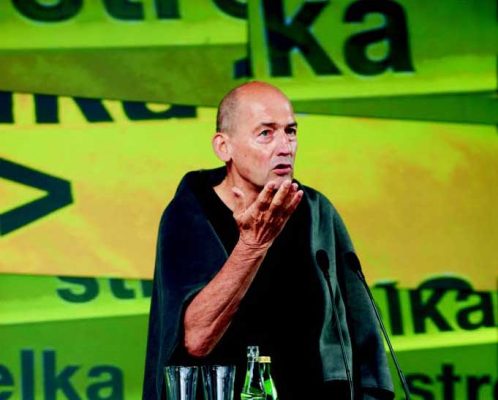 image © Alexander Pautov for Strelka Institute
Keynote speakers:
– Ilya Oskolkov-Tsentsiper (Strelka President)
– Alexander Mamut (Strelka member of Steering Committee)
– Rem Koolhaas (OMA co-founder and partner, author of Strelka's educational programme 2010/2011)
Moscow, 19 August 2010 – Strelka, a new postgraduate school in Moscow for Media, Architecture and Design, is teaming up with OMA at the 12TH International Architecture Exhibition – directed by Kazuyo Sejima and titled People meet in Architecture – for a conversation on architectural education – in Russia and beyond. OMA's think tank, AMO, has developed an educational programme for Strelka, which will open its doors to students in October.
The conversation in Venice will introduce Strelka to a global audience. Strelka founders Alexander Mamut and Ilya Oskolkov-Tsentsiper will discuss their ambition to raise the standard of architectural education in Russia through this new research platform in the heart of Moscow. Rem Koolhaas will introduce Strelka's educational team – drawn from AMO's global network of collaborators – and present the research agenda, based on five interconnected themes:
Design, Energy, Preservation, Public Space and Thinning – issues that are critical worldwide and particularly urgent in Russia.
Reinier de Graaf (partner, OMA and director of AMO) and Michael Schindhelm (cultural advisor and writer), both co-authors of Strelka's educational programme, will join the discussion after the keynote presentations. Members of Strelka's Steering Committee Sergey Adonyev, Dmitry Likin and Oleg Shapiro will be present at the discussion.
Strelka and OMA's public conversation is in sync with a key curatorial aim of the Biennale Architettura: to reconsider architectural education and to transform the Biennale programme – its lectures, exhibitions and workshops – into educational opportunities for students and the general public.
Strelka Institute courtyard with view to Kremlin. Moscow, Russia:


image © Sergey Leontiev for Strelka Institute
Strelka
Strelka is a postgraduate institute dedicated to developing new perspectives on critical issues in contemporary Russia.
At its campus in Moscow, Strelka will bring together architects, writers, designers, and media professionals in a relationship of creative interdisciplinarity. Each year, the institute's researchers will explore subjects of particular importance to Russian life, from the preservation of cities and the dispersal of populations to the future of energy and virtual space.
At the end of each research cycle, Strelka will broadcast its work in partnership with a network of publishing, television, web, mobile, and advertising organizations. Strelka will operate as a non-profit, tuition-free foundation, independent of both state and free market pressures, providing a haven for inquiry and experimentation.
The institute's Steering Committee includes Sergey Adonyev, Dmitry Likin, Alexander Mamut, Ilya Oskolkov-Tsentsiper and Oleg Shapiro.
AMO
The counterpart to OMA's architectural practice is AMO, a design and research studio based in the company's Rotterdam office. While OMA remains dedicated to the realization of buildings and masterplans, AMO operates in areas beyond the traditional boundaries of architecture, including media, politics, sociology, renewable energy, technology, fashion, curating, publishing, and graphic design.
Location: Venice Biennale, Italy, southern Europe
Venice Architecture
Venice Architecture Designs – chronological list
Venice Architecture Tours by e-architect
Office for Metropolitan Architecture
Venice Architecture Biennale 2010, Exhibit
Venice Biennale Installation : Dune Formations images by Zaha Hadid
Website: La Biennale di Venezia
Comments / photos for the Venice Biennale Strelka 2010 – in conversation: Strelka Postgraduate School in Moscow and OMA page welcome