Qatar 2023 Venice Biennale Exhibition, ACP – Palazzo Franchetti Architecture Show Italy
Qatar 2023 Venice Biennale Exhibition News
19 April 2023
'Building a Creative Nation'
Qatar Creates At ACP – Palazzo Franchetti During The Venice Architecture Biennale
Location: Palazzo Franchetti, Venice, Italy
ELEMENTAL
Art Mill Museum conceptual design: aerial view of the museum in the Cultural District (Doha, Qatar) 2022 – Rendering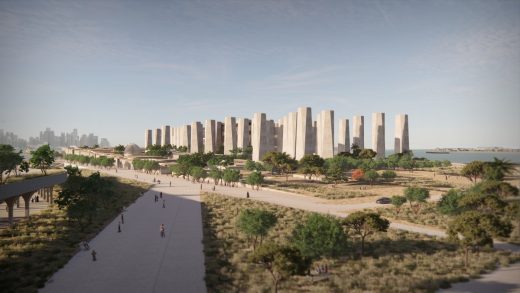 image © Qatar Museums
Singapore Pavilion 2023 Venice Biennale
First international presentation of plans for Qatar's next generation of cultural institutions
On the occasion of 18th International Architecture Exhibition – La Biennale di Venezia, Qatar Creates will present the documentary exhibition 'Building a Creative Nation', the first presentation outside the country of Qatar's next generation of cultural institutions. Hosted at ACP – Palazzo Franchetti, the exhibition will be on view from 14 May – 26 November, 2023.
Building a Creative Nation, designed by 2 x 4, focuses on five new cultural venues being developed by Qatar Museums in Qatar with internationally acclaimed architectural practices ELEMENTAL, Herzog & de Meuron, Office for Metropolitan Architecture (OMA), Philippe Starck, and UNStudio. The new developments all will be operated by Qatar Museums which is responsible for preserving and enlarging Qatar's cultural endowment by overseeing the country's growing network of museums, heritage sites, festivals, public art program, and more.
The exhibition brings together renderings, photographs, sketches, studies, models, video, as well as immersive content, to present each project as a considered architectural response to an aspect of Qatar Museums' program of cultural nation-building. Whether new construction or adaptive reuse, each future institution demonstrates Qatar's commitment to architecture as a strategic tool for achieving the country's forward-looking cultural objectives, outlined in the Qatar National Vision 2030, chiefly its goal to grow an innovative and diversified society through investment in the creative industries.
Her Excellency Sheikha Al Mayassa bint Hamad bin Khalifa Al Thani, Chairperson of Qatar Museums, said, "When the opportunity to support the exhibition of Kengo Kuma on the occasion of the Venice Architectural Biennale 2023 arose, we felt that it would be a great moment to share the cultural projects that Qatar is embarking on after its successful hosting for the FIFA World Cup Qatar 2022. The cultural, economic, and socio-political relationship between Qatar and Italy has always been strong, as has the relationship between Qatar and Japan. It is therefore a great moment in our modern history to reveal the extent of Qatar's cultural program, amongst one of the greatest displays of architecture and most important showcases anywhere for epoch-making designs."
Projects featured in Building a Creative Nation are:
– Art Mill Museum
Architect: ELEMENTAL led by Alejandro Aravena
ELEMENTAL
Art Mill Museum conceptual design: museum in the Cultural District, Doha, Qatar, 2022 – aerial view rendering: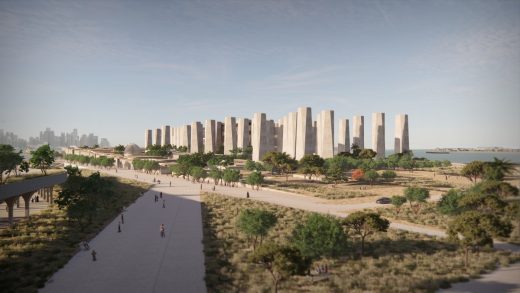 image © Qatar Museums
– Lusail Museum
Architect: Herzog & de Meuron
HERZOG & DE MEURON
Lusail Museum conceptual design: exterior view – Rendering


image © Qatar Museums
– Qatar Auto Museum
Architect: Office for Metropolitan Architecture (OMA), led by Rem Koolhaas and Samir Bantal
OMA
Concept design of Qatar Auto Museum project – Rendering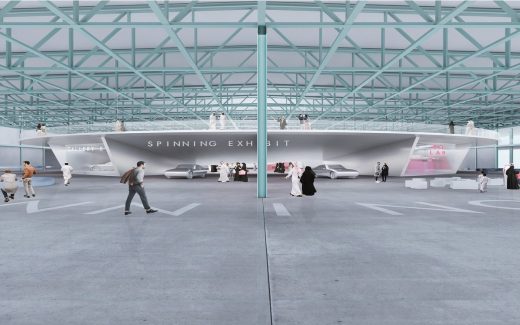 image © Qatar Museums
– Qatar Preparatory School
Architectural concept: Philippe Starck
PHILIPPE STARCK
Qatar Preparatory School architectural concept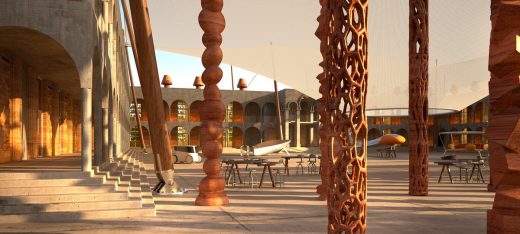 image © Qatar Museums ; Image credit: PHS / DEIS
– Dadu, Children's Museum of Qatar
Architect: UNStudio
UNSTUDIO
Dadu, Children's Museum of Qatar conceptual design: exterior view – Rendering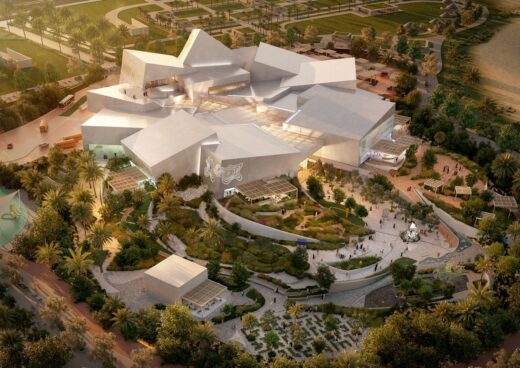 image © Qatar Museums
These new developments build on the legacy of Qatar's continuing investment in the world-class museums and cultural spaces that have opened in the country over the last 15 years. They include: Museum of Islamic Art, architect: I. M. Pei (2008); Mathaf: Arab Museum of Modern Art, architect: François Bodin (2010); Fire Station, architect: Ibrahim Al Jaidah (2015); Qatar National Library, architect: OMA (2017); National Museum of Qatar, architect: Jean Nouvel (2019); M7, architect: John McAslan + Partners (2021); and 3-2-1 Qatar Olympic and Sports Museum, architect: Joan Sibina (2022).
Other notable architectural commissions in Qatar in recent years have included Al Janoub Stadium by Zaha Hadid Architects, Lusail Stadium by Foster + Partners, the Qatar National Convention Centre by Arata Isozaki + Associates, and the Education City Student Center and buildings for three international university programs by Legorreta + Legorreta.
As part of its commitment to furthering international dialogue through architecture and as main sponsor, Qatar has provided support for a special exhibition of the work of the celebrated Japanese architect Kengo Kuma, presented simultaneously with Building a Creative Nation at ACP-Palazzo Franchetti.
Kengo Kuma is one of the most renowned architects working in Japan today, acclaimed for his merger of architecture and landscape and for his emphasis on natural light and natural materials, especially wood. Among his notable buildings are the Yusuhara wooden bridge museum, the Garden Terrace Nagasaki hotel in southwest Japan, the Yunfeng Spa Resort in China, the V&A Dundee, and Japan's National Stadium, the centrepiece for the 2020 Olympic Games.
The exhibition, Onomatopeia – Selected Projects, will explore the full range of Kuma's work in diverse materials. A large-scale metal pavilion designed by Kuma will occupy a central space in the walled garden of Palazzo Franchetti.
# # #
Lusail Museum
Architect: Herzog & de Meuron
The Lusail Museum is a new cultural venue breaking ground in 2023 on Al Maha Island in Lusail City, just north of Doha. Drawing on its diverse, world-class collections of 19th-century paintings, photography, film, fashion, and decorative arts, and guided by its Think Tank, Lusail Museum will be a dynamic platform for shaping a global future through dialogue and debate about art, identity, and power.
The building's design supports the themes of movement, identity, and exchange that are central to the Lusail Museum, with a form that reinforces institutional and national goals to foster cultural interaction and understanding, specifically its key anchor rooms that abstract significant dome typologies from the Islamic world and represent important sites of cultural influence.
Art Mill Museum
Architect: ELEMENTAL. led by Alejandro Aravena
Opening in 2030, the Art Mill Museum will be Qatar's museum of international modern and contemporary art. The venue will house an international collection from 1850 to the present and display works from across creative disciplines, including painting, sculpture, photography, architecture, design, films, fashion, and crafts. The museum will represent the modern and contemporary arts of all regions of the globe on an equal basis, engaging local and international audiences through multiple narratives.
The Art Mill Museum reimagines a former flour mill on Doha's waterfront with multidisciplinary, flexible, and non-hierarchical galleries, placing an emphasis on porosity with the surrounding environment (including the garden designed by VOGT Landscape Architects). The choice of reusing the original grain silos and constructing buildings with high standards of sustainability will convert this industrial site into a landmark museum and destination. An outdoor creative village will offer public streets, plazas, theatres, and other spaces where creative exploration continues outside the museum. A catalogue about this project was published by Qatar Museums in 2022 (available here).
Qatar Auto Museum
Architect: Office for Metropolitan Architecture (OMA), led by Rem Koolhaas and Samir Bantal
The Qatar Auto Museum will be much more than a place to display collectible cars. Conceived at the end of the oil age, it will be an engine driving design, research, inspiration, and innovation in new forms of mobility, with programs powered by new public-private partnerships. The museum's concept adapts a convention centre strategically located near Doha's Katara Cultural Village. This 30,000-square-meter building will be activated with galleries exploring the automobile's impact on global culture and its role in the nation's growth. Other planned facilities include lab spaces dedicated to mobility, sustainability, and safety, as well as a vault for the museum's collection of cars, a restoration and customization centre, and a technology hub.
Qatar Preparatory School
Architectural Concept: Philippe Starck
The Qatar Preparatory School, currently under development in Doha, will be the first vocational school for the creative industries in the country. This educational institution is strategically planned to revitalize creative production in Qatar and develop a skilled and inspired workforce to drive the new creative economy. The architectural concept, developed by renowned French creator Philippe Starck. revitalizes a 2,300-square-meter former boys' school into a sustainable, interactive campus while minimizing architectural intervention. A tent-like membrane covers the large central courtyard, trapping cool air inside, and throughout the building, 3D-printed clay walls, ventilation chimneys, and intricately patterned colonnades provide low-tech climatization systems while showcasing advanced architectural prefabrication techniques. As a tribute to Qatar vernacular urbanism, a public park and village of workshops, studios, and recreational pavilions surrounds the primary building, welcoming visitors to engage with the school and its surrounding green areas.
Dadu, Children's Museum of Qatar
Architect: UNStudio
Dadu, Children's Museum of Qatar, will provide a unique place for learning and growth through inclusive, open-ended play, exploration, and experimentation. Through an oasis of stimulating, interactive, and accessible indoor and outdoor experiences for families in the heart of Doha, Dadu will nurture children's development, inspire their curiosity, encourage collaboration and dialogue, provide the tools to fuel creativity, and instil a sense of social responsibility. The design concept conceives of the building itself as an exploratory and educational tool for self-led learning journeys. Adopting the building block as its elemental form, the museum's design comprises 15 architectural cubes enclosing a central space, surrounded by gardens. Universal design addresses the needs of different age groups, creating a place where parents feel supported, and children can cement a positive relationship with museums that will remain as they grow older.
Qatar Museums
Qatar Museums (QM), the nation's preeminent institution for art and culture, provides authentic and inspiring cultural experiences through a growing network of museums, heritage sites, festivals, public art installations, and programmes. QM preserves and expands the nation's cultural offerings, sharing art and culture from Qatar, the Middle East, North Africa, and South Asia (MENASA) region with the world and enriching the lives of citizens, residents, and visitors.
Under the patronage of His Highness the Amir, Sheikh Tamim bin Hamad Al Thani, and led by its Chairperson, Her Excellency Sheikha Al Mayassa bint Hamad bin Khalifa Al Thani, QM has made Qatar a vibrant centre for the arts, culture, and education in the Middle East and beyond. QM is integral to the goal of developing an innovative, diverse, and progressive nation, bringing people together to ignite new thinking, spark critical cultural conversations, and amplify the voices of Qatar's people.
Since its founding in 2005, QM has overseen the development of museums and festivals including the Museum of Islamic Art (MIA) and MIA Park, Mathaf: Arab Museum of Modern Art, the National Museum of Qatar (NMOQ), 3-2-1 Qatar Olympic and Sports Museum, QM Gallery Al Riwaq, QM Gallery Katara, and the Tasweer Qatar Photo Festival. Future projects include Dadu: Children's Museum of Qatar, Art Mill Museum, Qatar Auto Museum and the Lusail Museum.
Qatar also has one of the largest and most ambitious public art programmes in the world. Through its Department of Archaeology, QM spearheads several initiatives to preserve and restore Qatar's historical sites and buildings. QM also initiates and supports Creative Hubs that nurture artistic talent and create opportunities to build a strong and sustainable cultural infrastructure. These include the Fire Station: Artist in Residence, M7 for innovation, fashion and design, and Liwan Design Studios and Labs. For more information visit https://qm.org.qa
Qatar Creates
Qatar Creates curates, celebrates, and promotes cultural activities within Qatar. Working with partners in museums, film, fashion, hospitality, cultural heritage, performing arts, and the private sector in Qatar, the Qatar Creates platform amplifies the voice of Qatar's creative industries, directly connecting audiences to events.
ACP – Palazzo Franchetti
ACP Art Capital Partners is a cultural organization that benefits from the expertise of talented professionals with experiences in different areas: from fine art management to art history, from curatorship to architecture, from design to music, from logistics to communication, from public relations to event planning. Furthermore, it is embedded in prestigious contexts, relying on a wide network of important international organizations, foundations, museums, public and private collections and art galleries.
Constantly growing, ACP Art Capital Partners is able to organize any kind of cultural project. Thanks to its peculiar organizations structure, ACP Art Capital Partners guarantees the respect of high ethical standards, as well as a strong independence and fast operating and decisional abilities.
A Venetian icon, Palazzo Franchetti is located at the foot of the Accademia Bridge, on the side of the San Marco district. According to sighsmap.com and many other photo sharing platforms, the show of the Grand Canal taken from the Accademia Bridge with Palazzo Franchetti on the left, and the Peggy Guggenheim Collection and the domes of the Chiesa della Salute on the right, is one of the ten most photographed places in the world.
Comments on this Qatar 2023 Venice Biennale Exhibition article are welcome
Location: Palazzo Franchetti, Venezia, Italia – Venice, Italy
Venice Architecture
Venice Architecture Designs – chronological list
Venice Architecture Tours by e-architect
Vatican Pavilion at the Venice Architecture Biennale
Architects: Foster + Partners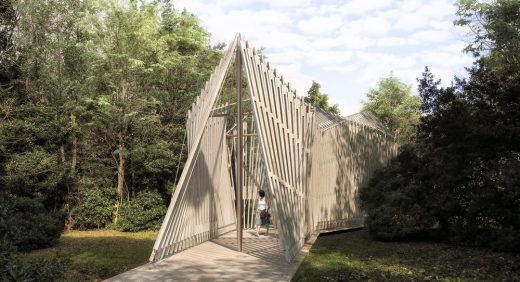 image courtesy of architects
Vatican Pavilion at the Venice Architecture Biennale
Venice Biennale Korean Pavilion 2018 by KECC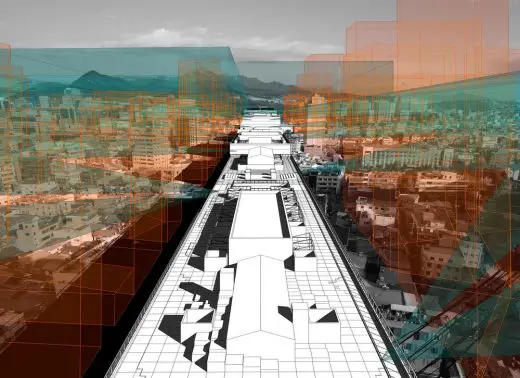 image © N.E.E.D. Architecture, Sungwoo Kim (N.E.E.D. Architecture)
Venice Biennale Korean Pavilion 2018
Venice Biennale Irish Pavilion 2018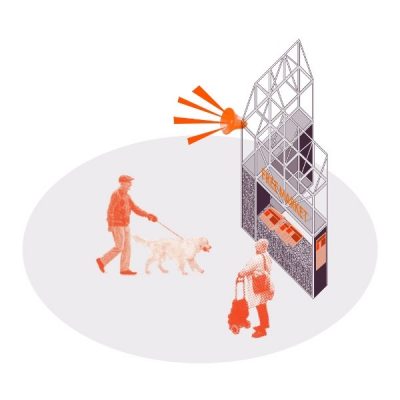 Illustration by Mark Wickham
Venice Biennale Irish Pavilion 2018
Pavilion of the Holy See at Venice Biennial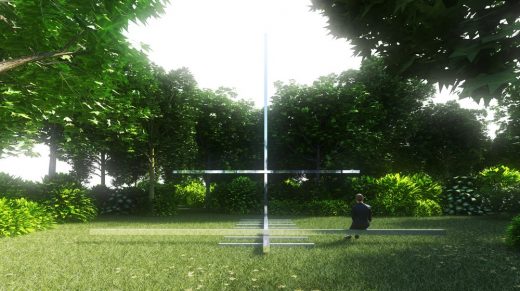 image courtesy of architects
Pavilion of the Holy See at Venice Biennial
Winning team announced for British Pavilion at the 16th International Architecture Exhibition La Biennale di Venezia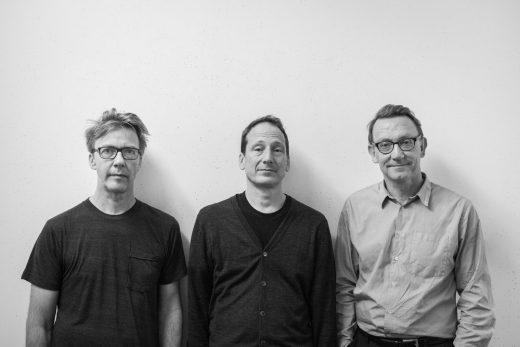 image courtesy of architects
British Pavilion Venice Biennale 2018 – Caruso St John Architects and artist Marcus Taylor
Venice Biennale – Exhibitions, Designs, Images
Venice Architecture Biennale – Review + Images
Qatar Architecture
Qatar Architecture Designs – chronological list
Qatar Architecture News 2022, chronological:
Hamad Airport Expansion, Doha
Architects: Aedas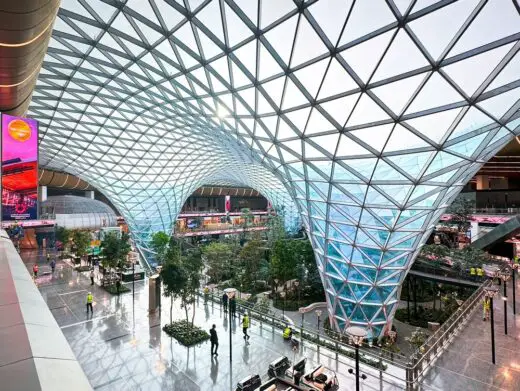 image courtesy of architecture practice
Hamad Airport Expansion, Doha
Lusail Stadium Building
Design: Foster + Partners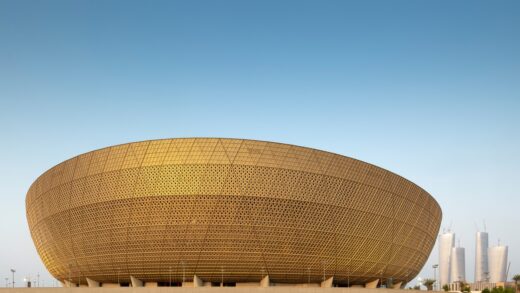 image courtesy of architecture practice
Lusail Stadium Qatar World Cup
Qatar Auto Museum, Lusail Express Way
Designs: OMA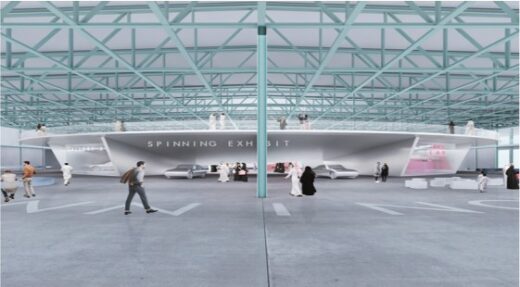 image courtesy of architects practice
Qatar Auto Museum by OMA
Three New Qatar Museum Building Designs
Designs: Herzog & de Meuron + OMA + ELEMENTAL
Three New Qatar Museum Buildings
Doha Metro Network, Doha
Architects: UNStudio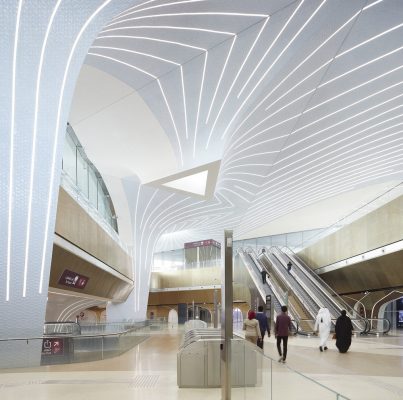 Interior Msheireb (interchange) Station. photo © Hufton+Crow
Doha Metro Network Stations
Website: La Biennale di Venezia
Comments / photos for the Qatar 2023 Venice Biennale Exhibition page welcome