New Samarkand International Airport Uzbekistan Building, Architecture Design Project, Architect
Samarkand International Airport Building
14 July 2021
Samarkand International Airport News
Location: Samarkand, Uzbekistan, Central Asia
Design: KIKLOP Architects with Enter Engineering
e-architect Questions for Enter Engineering:
What is the project and what does it entail?
Samarkand International Airport is Uzbekistan's second busiest airport. However, existing airport facilities – which were first built in 1967 – did not meet modern international standards and could not cater for anticipated, increased visitor levels.
The need for a modern, high-tech, international quality airport to act as a gateway to historic Samarkand was therefore urgent, and a material motivating factor.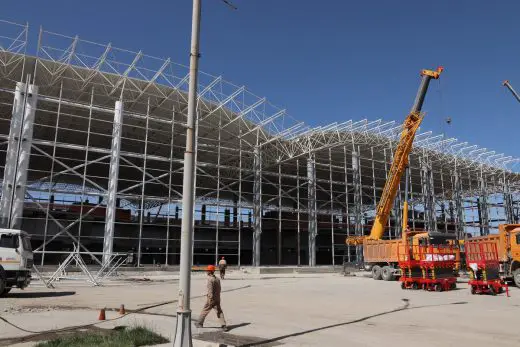 Redevelopment of the Samarkand International Airport is now 80% complete and entails reconstruction of the international terminal, and construction of another terminal. The project also includes construction of 24 parking spaces to accommodate all types of aircraft, and a 700-space passenger car park.
When complete, the airport's capacity will increase from 350 to 1,000 passengers per hour, increasing potential passenger traffic from 460,000 to 2 million per year, and increase scheduled flights from 40 to 120 per week into Uzbekistan.
When will the project be complete?
The project is anticipated to be completed in September 2021.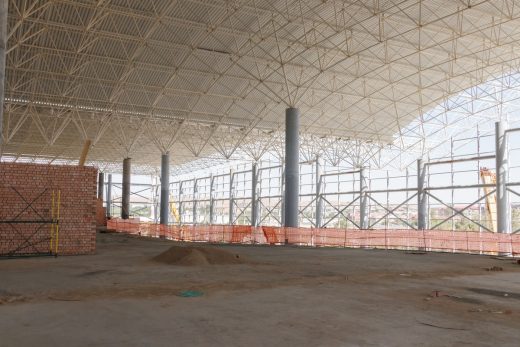 Who is involved in the project? What are their roles?
Enter Engineering, one of Central Asia's largest engineering and construction companies – an EPCM contractor providing design, supply, construction and commissioning works, plus project management
Kiklop, a Turkish design and architecture firm – design
PSK Brig OOO, a Russian civil construction company – electrical works
What is unique/interesting about Kiklop's design and how has it impacted the construction phase?
The terminal has been designed to resemble an open book, referencing the New Guragan Astronomical Tables, a manuscript published by the famed astronomer Mirzo Ulugbek in 1444. When published, it was considered as one of the most important and cutting-edge documents on astronomy in the world containing the coordinates of 1,018 stars. Translated into Latin, this work was used in observatories throughout Europe.
To acknowledge this, the external roof of the terminal will display a sky map with some constellations recognizable from the air, especially when landing at night.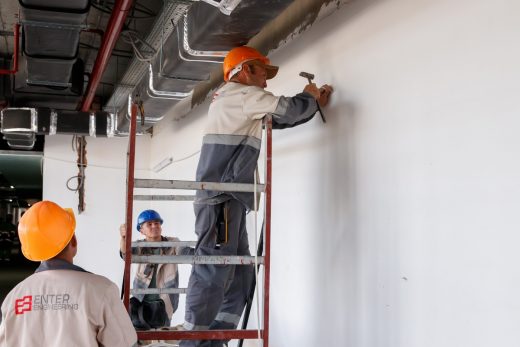 What have been the main issues/challenges that you have overcome during the project?
The main challenge during the project was that the majority of the work undertaken by Enter Engineering was carried out during the Covid-19 pandemic.
Maintaining the safety and well-being of our employees and workers and preventing the spread of infection has been our primary concern.
We have implemented several effective measures to ensure all our employees are aware of the dangers of the virus and the necessary methods of self-protection and caring for others. This included the use of personal protective equipment, temperature measurement of employees, proper hygiene and disinfection measures, a quarantine system for monitoring suspected contaminated personnel and their attendance by qualified medical personnel.
Thankfully, we have managed to keep up with the overall work schedule.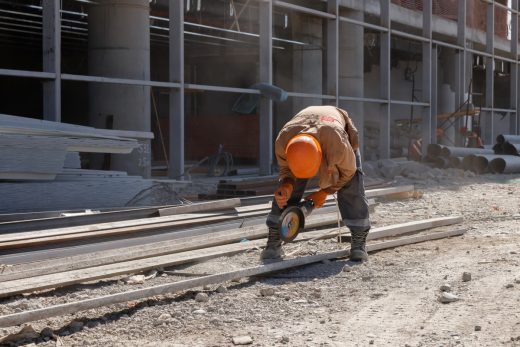 Questions for Kiklop
Who designed the airport?  
KIKLOP Design & Engineering (KIKLOP) is the main designer for the Samarkand International Airport project from inception to the construction drawings associated with Aviation Planning, Architecture, Interior and MEP (mechanical, electrical and plumbing).
Who is your team leader?
Ms. Meltem Oz is the Project Principal as a founding partner of the practise.
Meltem specialises in managing Design Teams on complex and multi-disciplinary projects with a special focus on Europe, MENA and the CIS. Meltem is based in KIKLOP's Istanbul office and is responsible for leading a team of Design Managers both nationally and internationally. The focus of Meltem's international role includes the management and delivery of Design Teams across MENA and the CIS either directly to the Architect or through a Project Management delivery. She has a proven records of an over 5 million sqm project portfolio including with the recent Istanbul Grand Airport, Riyadh King Khalid Airport Expansion & Renovation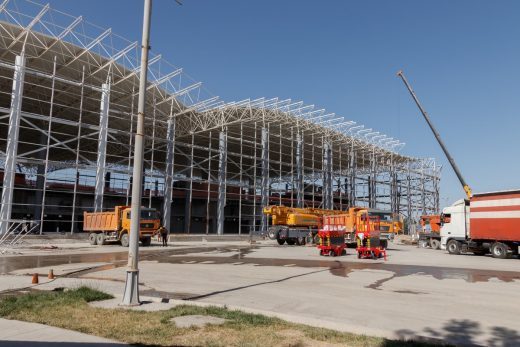 Can you tell us a little bit about the design?  
When we asked for a new airport design concept, the excitement was there. It is not just a new airport, it is the airport of Samarkand, the Pearl of the East. Samarkand is the home of hugely important historic figures as well the elaborately built, skilfully ornate madrasas, shrines and mosques which represent the height of beauty and design of their time.
We harvested and synthesized the intellectual prosperity of the different cultures connected by the Silk Road without directly copying the strong historic elements. We felt a frequent use of iwans, qubbas, portals, arches, pillars on the new structures might make them seem ordinary. Instead, we have reinterpreted the traditional architectural elements in an intelligent way.
The primary goal of the airport is to be space for welcomes and farewells – a gateway to a city not only important to Uzbekistan, but also the Silk Road.
In the 21st century we believe it is time to say 'new things', so our design is bright, new, contemporary with elegant installations with limited ornamental patterns – a combination of traditional and modern textures. This all gives a positive impression to travellers as they arrive or leave from Samarkand.
We wanted to make the new airport a modern, practical amenity. It has an uncomplicated circulation – making life easy for passengers and airport management. It is not oversized and is rational in scale and use of resources.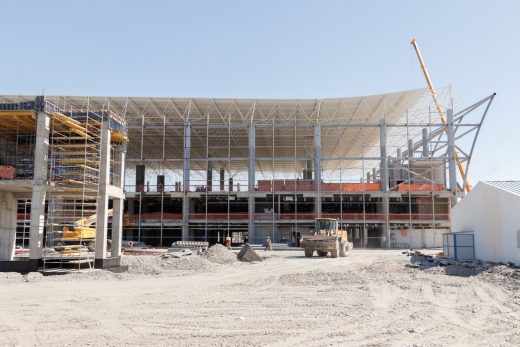 What were your design principles?
We had four design principles:
Make It Simple
Make it Flexible
Make it Convenient, Comfortable, Attractive
Be Generous with Floor Area
Make It Simple
The best architecture around the world, both old and new, is based on simple concepts (from the pyramids in Egypt, the Pantheon in Rome and the Hagia Sophia in Istanbul, to state-of-the-art airports in Hong Kong and Oslo). A simple Terminal is easier for passenger movements, more convenient for the users, and cheaper and more efficient to build and operate. In complex buildings, like airport terminals, it is a major challenge to achieve and maintain simplicity during the design, construction and operational phases.
Make it Flexible
An airport is subject to constant change. There is general requirement for expansion and reconfiguration in response to changing and often unforeseen demands. Design must be easy to change and expand the building, with minimal disruption to operations.
Make it Convenient, Comfortable, Attractive
The Terminal must have spacious rooms with high ceilings and a simple layout with wayfinding easy. There must be plenty of light, good views, in and out of the building. The facilities must be good with fine, well maintained materials and good details.
A wide range of nicely designed and well-stocked shops, cafes, restaurants and bars must be provided, together with attractive lounges and other services facilities. The processing of immigration, customs and security must be effective and courteous.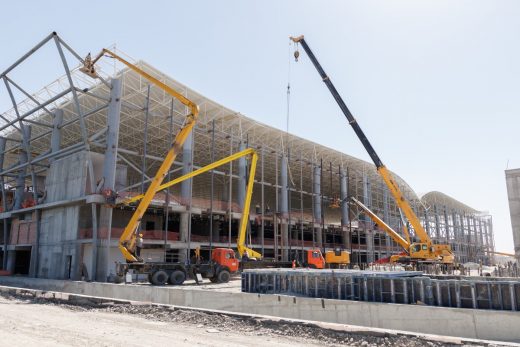 Be Generous with Floor Area
In Uzbekistan, construction costs are relatively reasonable. It is therefore advisable to be generous with floor area with a view to providing long-term future flexibility.
What was the inspiration for the design?  
Among the many historic buildings of Samarkand, there is one building which remains timeless and, mostly, unique namely the famed Observatory of Mizra Ulughbeg. This was one of the grandest observatories in the Islamic world during its time and the largest in Central Asia. We believe it is a key part of our universal history and civilisation and as such should be celebrated once again. If there was going to be a reference to the history of Samarkand, it had to be linked to MirzaUlughbeg and his observatory which was truly ahead of its time.
In addition, the natural world in and around Samarkand, especially the çinar trees with the great significance of our common culture, was another source of inspiration. We believe the green landscape should start right by the airport and even penetrate into and between the buildings of the airport.
What makes the design innovative or unique?  
From a bird's eye view, the airport terminal building looks like an open book associated with the works of the famous statesman and scientist Mirzo Ulugbek, who made great efforts to develop science and art in Samarkand.
Of additional note, the simplicity of the design – despite being a complex project – a short passenger flow path and highly efficient baggage handling systems.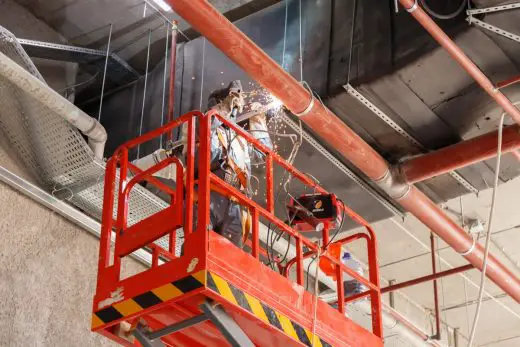 What has been your experience working in Uzbekistan and with Enter Engineering?
KIKLOP has 6 projects in Uzbekistan that are either complete or underway, including the Timurbek Military Campus, GEO University, Vostochny Airport ATC Tower and various other commercial developments.
Enter Engineering has been a great partner to work with on this high-profile project putting our design into practice in an efficiently and timely manner.
Are you working on any other international projects?
KIKLOP is an international practice with operations and offices spread across a number of different countries including Saudi Arabia, Azerbaijan, Kazakhstan, Georgia, Iraq, Qatar, Bahrain, Albania and the UK.
Some of our ongoing projects where we are the lead designer include Nasiriyah Airport in Iraq, the Tbilisi Marriott Hotel in Georgia and London Park Modern, a housing development in the UK.
Over the years we have received a number of awards and recognition for our work including receiving ENR Merit Award for the Azerbaijan Ministry of Tax Tower and being recognised at the Berlin World Architecture Project for our work on Istanbul Grand Airport.
New for Uzbekistan images / information from Enter Engineering
Location: Uzbekistan, Asia
Uzbekistan Buildings
Contemporary Central Asian Architecture
Uzbekistan Architecture Designs
Twin capital for Uzbekistan
Design: Benoy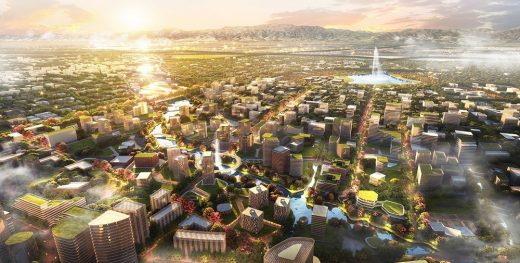 images : Benoy
New Twin Capital for Uzbekistan
Architecture in Central Asia
Contemporary Central Asian Architecture
Turkmenistan Architecture Designs – chronological list
Comments / images for the Samarkand International Airport Uzbekistan Architecture page welcome
Website: Uzbekistan