Beckford's Tower Bath Conservation, BPT News, Building Renewal Architects, Stenning & Co
Beckford's Tower Bath Renewal
12 July 2021
Location: Bath, in southwest England, UK
Beckford's Tower building in the landscape: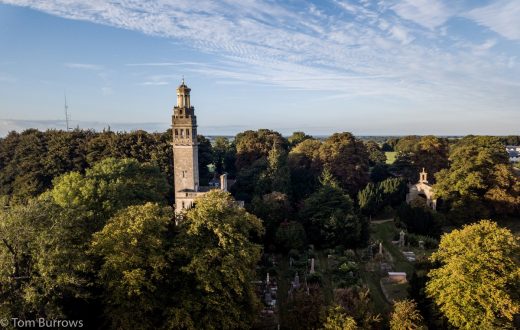 photo © Tom Burrows
Our Tower Bath News
Bath Preservation Trust appoints Design Team for Beckford's Tower
Bath Preservation Trust (BPT) has announced that architects Thomas Ford & Partners and quantity surveyors Stenning & Co have been appointed to lead the design work for the £3.3 million Our Tower project.
The Our Tower plan, which is funded by Historic England and The National Lottery Heritage Fund, will address urgent repair and conservation works required to the almost 200-year-old Grade I listed Beckford's Tower, that stands above the UNESCO World Heritage Site of Bath and is the only museum dedicated to William Beckford in the world.
Born in 1760, William Beckford was a colourful and controversial character. At just 10-years old he inherited his father's fortune, which included the Fonthill estate and several sugar plantations in Jamaica. His wealth gave him the freedom to pursue his interests in art, architecture, writing and music.
In 1782, Beckford undertook a Grand Tour, which inspired his travel writing and passion for collecting which continued throughout his life – especially when exiled to Europe for 10 years following the exposure of his relationship with William Courtenay (1784).
In 1826 William Beckford commissioned an extraordinary landscape back home in Bath – a Garden between his Lansdown Crescent home and the retreat now known as Beckford's Tower, where he could escape from the city within the natural environment. The Tower was created to house his library, art collection and every day Beckford would ride up there from his home, accompanied by his pack of spaniels. This expanse became known as Beckford's Ride, a mile of interlinked gardens.
Beckford's grave in Bath: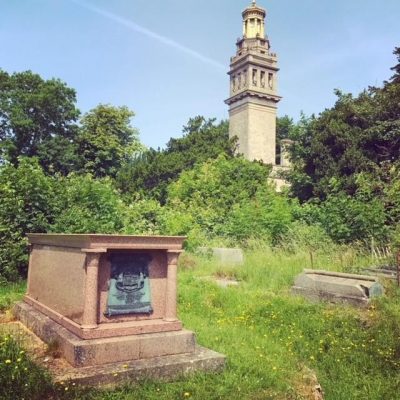 photo courtesy Bath Preservation Trust
Beckford's Tower stands in an exposed location and, like many historic buildings, almost two centuries of exposure to weather, pollution, and the challenges of climate change, now threaten the fabric of the building. There is now an urgent need for repair and conservation, particularly to address water ingress at high level within the belvedere & lantern. Beckford's Tower was added to the Historic England 'Heritage at Risk' Register in October 2019.
Our Tower will bring new parts of the tower into use, and upgrade services and visitor infrastructure. BPT will also use the project as an opportunity to develop the visitor experience, engage wider audiences and reconnect the Tower with its lost landscape, through new experiences, interpretation, and access. A development grant awarded by the National Lottery Heritage Fund is also enabling Bath Preservation Trust to re-examine the way in which they share the story of William Beckford's links to the transatlantic slave trade.
Ornamental furniture in Mr Beckford's Collection, Views of Lansdown Tower, Plate XIV, 1844: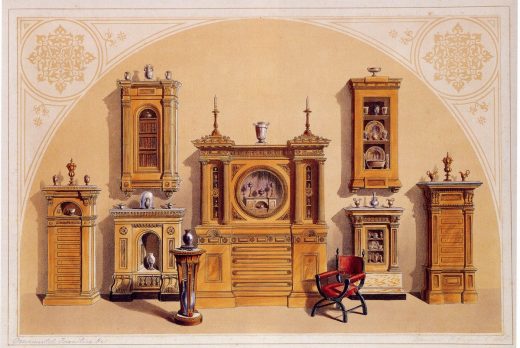 image : Beckford's Tower & Museum – Bath Preservation Trust
The project is scheduled to complete in winter 2023.
London based conservation architects Thomas Ford & Partners are led by Clive England, who brings over 30 years' experience to the project. Clive is Surveyor of the Fabric to Ely Cathedral, and Cathedral Architect to Sheffield Cathedral.
Stenning & Co – who are located in Bath – are led by Quantity Surveyor Adrian Stenning. Experts and specialists in building conservation work, Adrian has worked extensively with organisations including the Landmark Trust and the National Trust.
BPT Capital Works Director Simon Butler said "We are delighted to welcome Thomas Ford & Partners and Stenning & Co to the project. Both bring huge conservation experience to this nationally important building, and we look forward to securing an exciting new future for this Bath landmark."
Clive England said: "We are delighted to be involved with BPT's Our Tower project. Beckford's Tower is a unique building, in a spectacular setting, with a fascinating history – exactly the type of project that every conservation architect dreams about!"
Adrian Stenning said "I am very pleased to continue my relationship with the Bath Preservation Trust and in particular Beckford's Tower with which I have been involved for over 20 years.  I look forward to this opportunity to not just repair the Tower, but to also open up & show its' story for a wider audience."
Securing the Design team is just the start of this project, with urgent fundraising now needed to ensure vital conservation work to the building and landscape takes place, to ensure today's visitors and future generations can continue to explore and enjoy this iconic Bath landmark.
Tower engraving, unknown 19th century: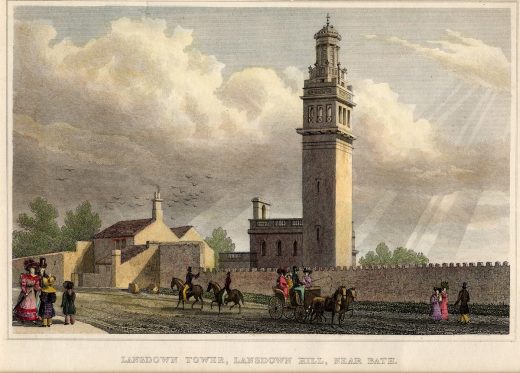 image © Beckford's Tower and Museum, Bath Preservation Trust
Beckford's Tower Bath Refurbishment Team
Bath Preservation Trust
Bath Preservation Trust was set up in 1934 to safeguard the historic city of Bath. Bath is a UNESCO World Heritage Site, and the only complete city in the UK afforded World Heritage Status. The purposes of the Trust are: to encourage and support the conservation, evolution and enhancement of Bath and its environs within a framework appropriate both to its historic setting and its sustainable future, and to provide educational resources, including museums, which focus on the architectural and historic importance of the city.
The Trust receives no statutory funding and is supported by visitor income, grants, legacies, donations and around 1400 members who share a passion for the city and its environs. The Trust runs four accredited museums in Bath – No. 1 Royal Crescent, the Museum of Bath Architecture, the Herschel Museum of Astronomy, and Beckford's Tower. For more information visit www.bath-preservation-trust.org.uk / Twitter @BathPresTrust / Facebook /@bathprestrust / Instagram @bath_preservation_trust
For more information about Beckford's Tower, visit www.beckfordstower.org / Twitter @BeckfordsTower / Facebook @beckfordstower / Instagram @beckfordstower
Beckford's Tower Bath cemetery: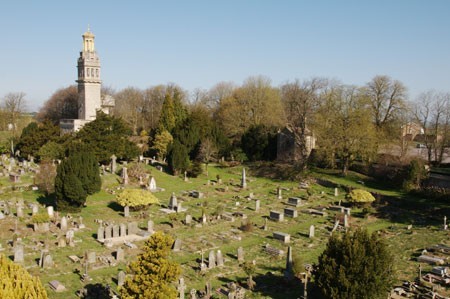 image courtesy Bath Preservation Trust
Thomas Ford & Partners
Thomas Ford & Partners is a leading conservation-based architectural practice. Originally established in 1926, the practice specialises in the repair, remodelling, reuse, and regeneration of historic buildings and heritage sites.
Projects cover wide range of building types and uses from museums and galleries to educational buildings, and from military and industrial buildings to cathedrals. The practice has been successfully involved with NLHF and HLF funded projects for over 20 years with completed projects at Brooklands Museum, Weybridge (shortlisted for the prestigious 'Museum of the Year' award and recently featured in the TV series 'Secrets of the Transport Museum'); St John's Church, Hackney; Fulham Palace; Sheffield Cathedral (winner of RIBA Regional and National Awards); Hall Place, Bexley; Wakefield Cathedral; Guildford Cathedral; Forty Hall, Enfield; Hadlow Tower, Kent; and many others. Currently working on the restoration of the spectacular Victorian Subway at Crystal Palace. 
Thomas Ford & Partners are appointed as architects for a wide range of buildings, including some 350 churches and 5 cathedrals. We have also worked on a long list of Lottery funded Parks for People projects including currently Hainault Forest Country Park; Cranford Park, Hillingdon; and completed projects at Beckenham Place Park; Holywells Park, Ipswich; Bishops Park, Fulham. Visit www.thomasford.co.uk / Instagram @thomasfordandpartners
Stenning & Co Ltd
Stenning & Co Ltd was formed in 2009 when Adrian Stenning left Quantity Surveyors Bare, Leaning & Bare to continue and ensure active involvement with historic building work.   Stenning & Co Ltd specialise extensively and almost exclusively in the repair and conservation of historic buildings. 
Projects have ranged from work upon classical architectural buildings, five Cathedrals and many Churches (well over 100 with services ranging from estimate advice to full Quantity Surveying Services) and through to vernacular timber framed barns as well as associated modern buildings.  He has extended his Quantity Surveying background and acts as Project Manager and/or Contract Administrator on a number of projects. 
Adrian Stenning's surveying experience with Historic Buildings has been recognised by the RICS by his inclusion upon their Register of Certified Historic Building Professionals since its inception.  He became Chairman of the RICS Conservation Forum Board for a three-year fixed term having previously sat on the Board for several years and continues to be engaged in promoting good practice and philosophy across the spectrum of conservation. 
He has recently completed eight years as one of the national judges for the RICS Awards, being the specialist for the Building Conservation category.  Stenning & Co Ltd's website is currently closed.
The Museum of Bath Architecture is housed in the Countess of Huntingdon's Chapel, The Vineyards, Bath, BA1 5NA, England, UK: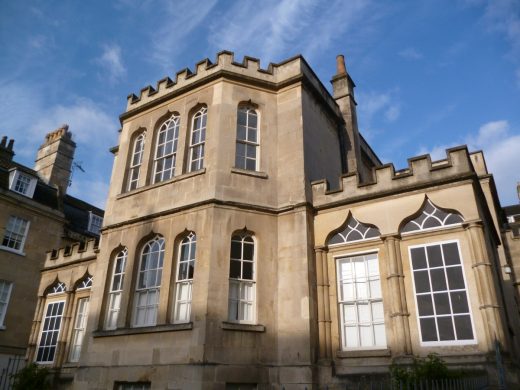 image © Bath Museum of ArchitectureBath Preservation Trust
Beckford's Tower Bath Renewal images / information from Bath Preservation Trust (BPT)
Location: Bath, south western England, UK
Bath Buildings
Bath Buildings : key architecture southwest England
Bath Architecture – selection below:
Parallel (of Life and) Architecture – Bath Exhibition
Bath Architecture Exhibition
Bath Abbey Building
Design: Feilden Clegg Bradley Studios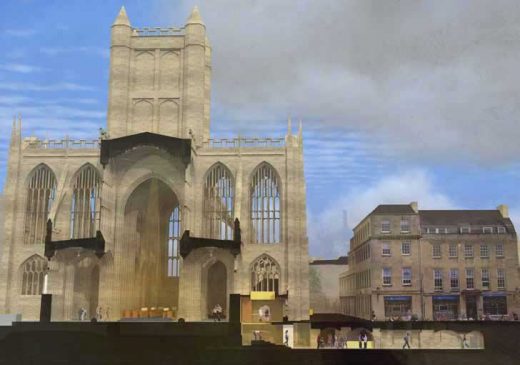 image from architect
Bath Abbey Building
Bath Riverside
Design: Alison Brooks Architects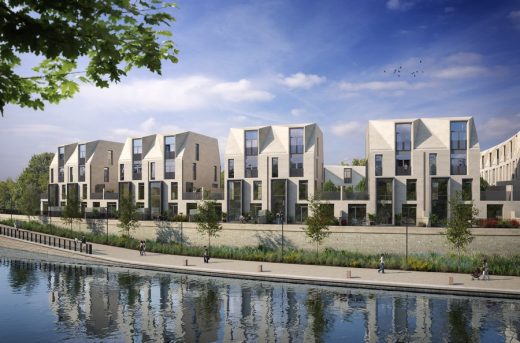 image from Alison Brooks Architects
Bath Riverside
The Dyson Centre for Neonatal Care
Feilden Clegg Bradley Studios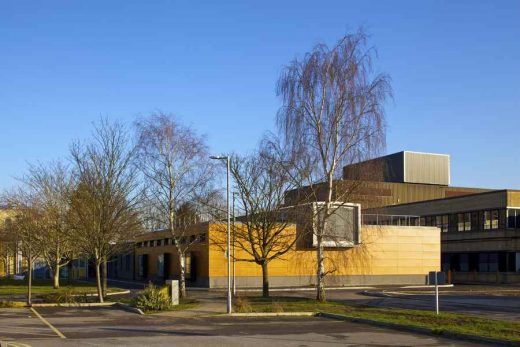 photo © Craig Aukland / Fotohaus
The Dyson Centre for Neonatal Care Bath
Bath Spa development
Grimshaw Architects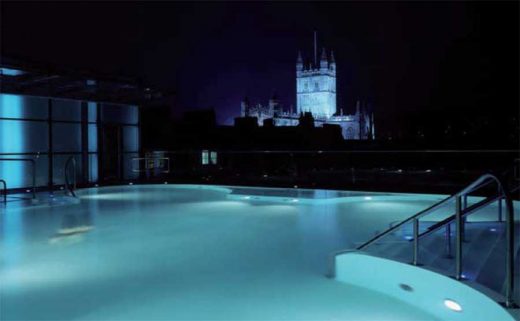 photograph : Edmund Sumner
Thermae : Bath Spa
Holburne Museum of Art
Eric Parry Architects
Holburne Museum of Art building
The Royal High School Bath
Feilden Clegg Bradley Studios
Royal High School Bath
Bath Architectural Heritage Debate : Speakers incl. Eric Parry + Sir Richard MacCormac
Comments / photos for the Beckford's Tower Bath Renewal page welcome