Filmport Toronto, Building, Architect, Image, Proposal, Design, Picture, News
Filmport Toronto : Will Alsop Building
Contemporary Ontario Architecture, Canada – design by Will Alsop + Quadrangle
9 Aug 2007
Filmport Toronto Building
International architect Will Alsop teams up with Quadrangle to design iconic building at FILMPORT
Sleek and sexy, with its red exterior and enveloping curved form, FILMPORT's first commercial building is designed by Will Alsop in association with Toronto's Quadrangle Architects. This is to be the first building developed in the dynamic film and media community which is slated to take shape adjacent to the studio complex.
The iconic building will be an active and exciting meeting and working environment for everyone doing business at FILMPORT. Everyone at the studio complex will have immediate access to the building and its amenities, including commercial offices, post-production facilities, union and guild offices, and film schools, as well as restaurants and shops.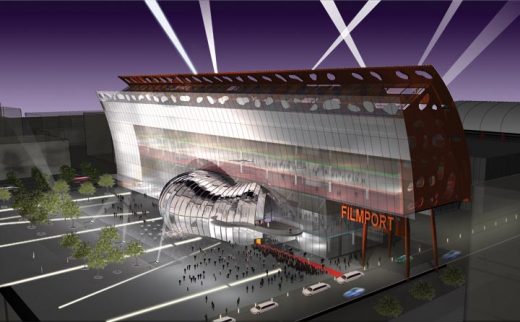 picture from architects
The 280,000 square foot, 11 storey building will be clad with a curved glass curtain wall and a dramatic and vibrant façade. The materials used in this unique building are inspired by the massive ships that have been part of the Port Lands heritage. The roof will flood the mezzanined top floor with natural light and provide a spectacular view of downtown Toronto.
The ground floor of the building will be a lively interactive space where FILMPORT studio workers and the larger FILMPORT community will come to work, meet and play. Some of the amenities in this area include a commissary, a pub and café, shops, fitness and spa services and a day nursery. The ground floor will also be home to the management office of Toronto Film Studios.
The second floor will house an unmatched public event space. With a movie studio feel, the event space will be equipped with a private screening room, complete with its own dining room, and the larger space can accommodate up to 2,000 people standing or 700 for table service. The nine floors above will consist of office space for a wide variety of tenants.
"The whole of FILMPORT including this building, is the first significant development in the regenerated Port Lands and is an exciting an important benchmark for the area," said Will Alsop, SMC Alsop. "Our inspiration for the design was to create a truly public space that would become a new destination in the city where everyone is welcome to interact with the many aspects of the film industry."
"As master planning architects for FILMPORT, we are thrilled to be collaborating with Will Alsop on this key building in the development of the FILMPORT community," said Les Klein, Principal, Quadrangle Architects Limited.   "We view this as an opportunity both to create a landmark in the Port Lands and as a way of introducing variety and vitality into the architectural texture."
"SMC Alsop and Quadrangle have created a multi-faceted building of exceptional design and distinctive character which will attract the highest quality tenants to this emerging creative district,' says Ken Ferguson, Toronto Film Studios and FILMPORT President. "The building will be seen and recognized from anywhere in the Port Lands and the dramatic exterior will be equally matched by the excitement of working and socializing in the building's office, dining and event space."
Construction of the office building will begin in the early spring of 2008 and occupancy is targeted for early 2010.
Issued on behalf of: FILMPORT, Quadrangle Architects and SMC Alsop by S&R
Now in Production – FILMPORT BACKGROUNDER
Toronto Film Studios (TFS) is Canada's largest film studio operator with over 360,000 square feet of production facilities. TFS has hosted many major feature film productions including Ron Howard's Cinderella Man starring Russell Crow, David Cronenberg's A History of Violence, Norman Jewison's The Hurricane starring Denzel Washington, and the recently released Breach starring Chris Cooper. TFS is currently hosting The Incredible Hulk, the most expensive motion picture ever filmed in Toronto. TFS's proven performance as a studio operator was contributed to its success in winning an international competition for the rights to build a new film/media complex in the Port Lands called FILMPORT.
The Port Lands site is owned by The Toronto Economic Development Corporation (TEDCO). The City of Toronto mandated in its Official Plan that this area of the Port Lands become a convergence community for creative and knowledge-based industries. In early 2008, this planning vision will become reality as TFS expands its facilities to include new state-of-the-art film production facilities at FILMPORT, located south of Lakeshore Boulevard, a short drive east of Toronto's downtown business district.
FILMPORT will be a film and media business district anchored by a major film studio complex designed by Toronto-based Quadrangle Architects. Outside the gates of the studio complex, commercial offices, some designed by renowned architect Will Alsop, will house post production companies, union and guild offices, film schools, and amenities such as restaurants and shops. In some cases, single buildings will be occupied by major media entities. In addition, high-tech industrial buildings will house equipment suppliers, costume houses, special effects companies, and other service providers. The overall development will occupy over 45 acres with up to three million square feet of space in and around the studio lot for media and knowledge-based companies, making FILMPORT the largest film and television production cluster outside of LA.
Phase 1 of the studio complex will comprise 7 large sound stages including the massive 45,500 square-foot mega-stage, the largest purpose-build sound stage in North America; more than an acre of column-free space with a 60 foot ceiling. Currently under construction, the Phase 1 studio complex will comprise 260,000 square-feet of production facilities including the 7 sound stages and over 100,000 square-feet of production offices and support facilities. The Phase 1 studio complex is slated to open for business by March 2008. Subsequent phases will double the size of the studio complex to over 550,000 square-feet.
Construction of the first commercial office and industrial buildings is expected to commence by the Spring of 2008. On the drawing boards is an Alsop-designed office at the gates of the studio lot, plus a high-tech multi-tenant building for equipment suppliers and service companies. Both buildings will get underway when pre-leasing thresholds have been met, with occupancies expected in 2009. The overall development of FILMPORT is expected to continue for seven to ten years at a total construction cost in excess of $700 million.
During construction, FILMPORT will create enormous employment benefits with 6,000 person-years of construction, manufacturing and service-sector employment and $170 million paid to federal and provincial coffers by way of GST, provincial sales taxes and income taxes. When completed, the FILMPORT community will employ over 2,000 film production workers and another 13,000 workers in media-related and other sectors. It will also contribute $30 million to the City annually in property taxes.
Filmport Toronto Info from Applause! Communications via Stratton & Reekie 090807
Filmport Toronto design : Will Alsop
Location: Toronto
Toronto Architecture
Toronto Architecture Developments – chronological list
Toronto Architecture Walking Tours
Canadian Buildings – Selection:
Trafalgar Park Community Centre, Oakville, Ontario
Design: Diamond Schmitt Architects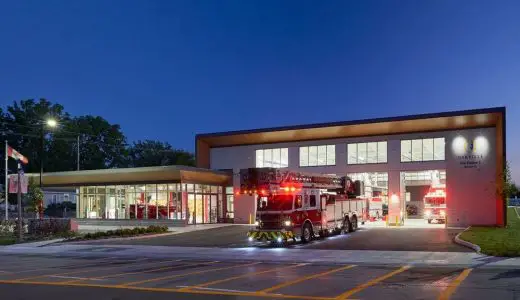 photograph : Lisa Logan Photography
Trafalgar Park Community Centre Building
Royal Ontario Museum
Daniel Libeskind
Royal Ontario Museum building
Toronto University Multifaith Center
Moriyama & Teshima Architects
Toronto University Multifaith Center
Toronto Architecture Exhibition : Will Alsop
Ontario College of Art & Design – Sharp Centre for Design: 'Tabletop'
Will Alsop Architect
WESTside Lofts – Sales pavilion, Toronto
SMC Alsop
Toronto building
Filmport Toronto architect – SMC Alsop
Comments / photos for the Toronto Filmport Architecture page welcome
Filmport Toronto Building Canada – page