Bedford Park House, Toronto Development, Canadian Architecture, Images
Bedford Park House
Contemporary Home, Canada – design by LGA Architectural Partners
9 Apr 2015
Bedford Park House in Toronto
Design: LGA Architectural Partners
Location: Toronto, Ontario, Canada
Bedford Park House in Toronto
Alex Tedesco, a senior Associate at LGA Architectural Partners, is an architect and a registered Building Science Specialist of Ontario. Growing up, Alex spent time on job sites immersed in construction. His father was a precision machinist. His uncles worked as welders and carpentry framers.
In time, Alex went to work for them, learning to design and build things, beginning with custom furniture. As his interests grew to projects of greater scale and complexity, he pursued a career in architecture, and subsequently a certification in building science—improving his ability to address issues of building design and construction with each design component evaluated through empirical, scientific methods. When one of Alex's cousins, (the welder's son) needed a house, he approached Alex to design his family's Bedford Park home, giving Alex an opportunity to put his interests into practice.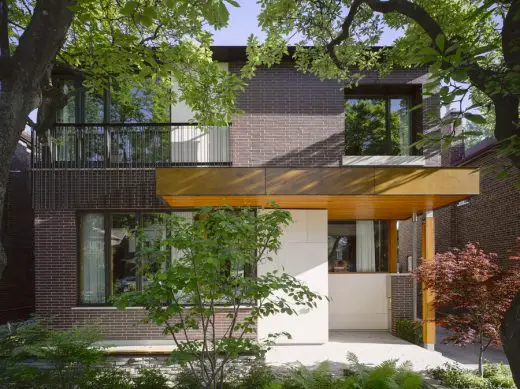 The family sought a new home that fit aesthetically with the neighbourhood; to protect the very rare and mature magnolia and Japanese maple trees on the site; to create a house that could evolve with the changing needs of their large family; to build living conditions that they could grow old in; and since Alex's cousin is a doctor who often works odd hours, he requested a private area where he and his wife could live opposite hours without interrupting one another's sleep.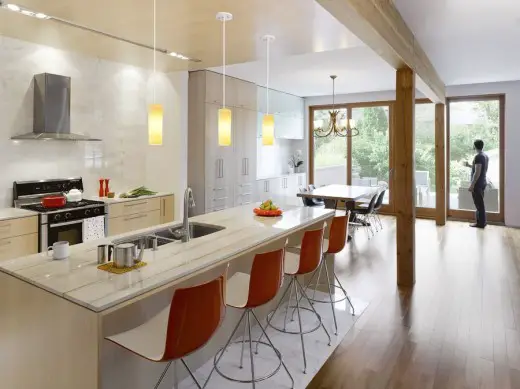 In response to these needs, Alex knit the house within the neighbourhood and concealed its deep sustainability by
choosing brick and wood exterior detailing, by matching the house's scale and setback and by lining up the height of its
windows with the adjacent homes. Alex not only ensured that the house left enough space for the trees to mature over time, but also that the interior views framed these trees so that the family could enjoy them even when indoors. Additionally, by limiting the size of the lawn and using self-sustaining plants, Alex simplified maintenance requirements.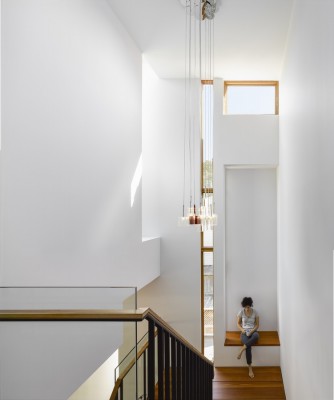 The project also gave Alex the opportunity to educate his family on the value of green building, and showed them how
technologically advanced systems such as geothermal heating and convective cooling could be invisibly woven into the
design, creating a healthy and sustainable environment while maintaining the atmosphere of a conventional, Bedford Park home.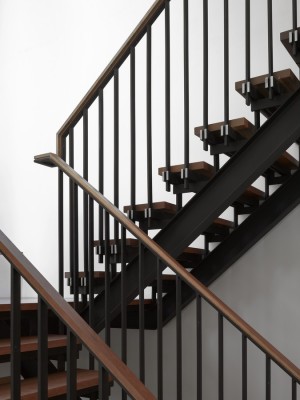 In order for the owners to age in place, Alex included the infrastructure for a future elevator shaft next to the stairwell. He also incorporated an adaptable basement apartment with a separate side entrance and large windows that invite plenty of natural light. This can be used privately and quietly by the doctor; converted into a separate apartment which could be rented out for an extra source of income; or can be used by one of the children to help them transition to independent living, for example after finishing university.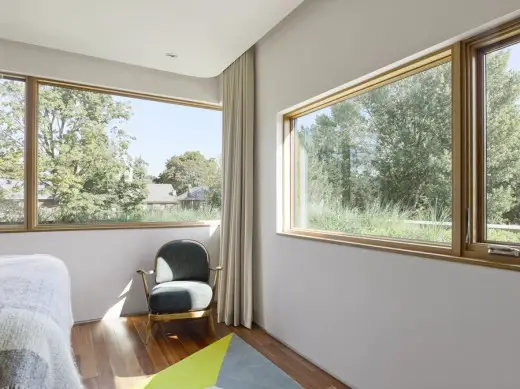 A highlight of the home, like many of LGA's projects that incorporate art within the architecture, Alex made a feature
staircase of welded blackened steel–visible from all major arteries in the home, and a tribute to his uncle and family
traditions of collaboration and making things.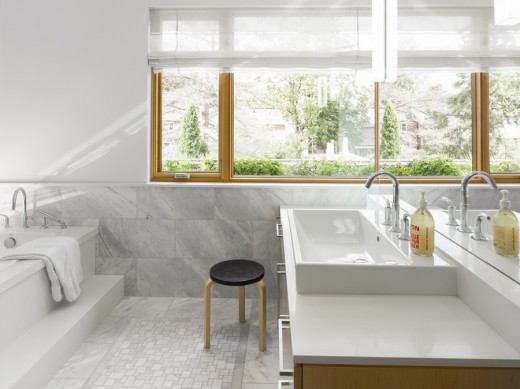 Reflecting the modesty and discretion of its owners, the house is designed to project a warm modern appearance, that
integrates comfortably with the more traditional surrounding homes. The contemporary house sits harmoniously with its
neighbours, unassumingly containing the deep building science and performance considerations that make it exceptional in comparison to the average Bedford Park home.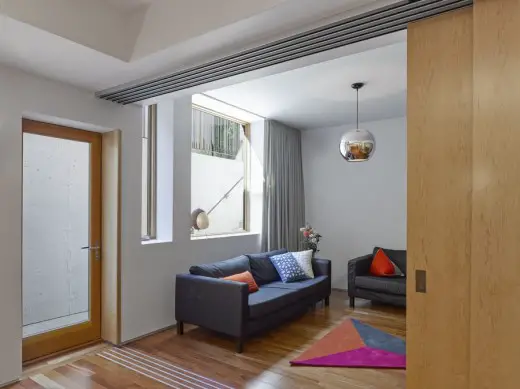 Exterior
• Extensive insulation in the walls, roof and slab significantly reduce heat loss and gain.
• The house is compact in shape with reduced surface area to help minimize thermal bridges that can result from overly
complicated construction issues.
• Moisture management and dew points were carefully considered and controlled with extensive insulation.
• Insulated windows with a good solar heat-gain coefficient are used throughout the house.
• The glazing units have low-e coating and Argon gas filling.
• Extensive quality control measures were taken to ensure the house air barrier was installed properly. The contractor
carefully sealed every construction joint in the building envelope and sealed all penetrations to obtain a house that is
extremely airtight.
• Exterior cladding materials were selected based on durability criteria and low future maintenance requirements.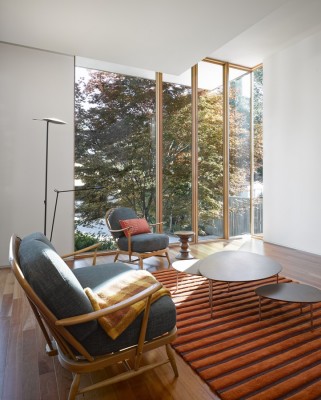 Interior Materials
• All the manufactured finishes used in the house were thoroughly reviewed, including reviews of MSDS data, to ensure
the occupants would not be exposed to toxins or off-gassing.
• All the materials are naturally finished including maple wood, exposed douglas fir, natural marbles and stones, and
cherry hardwood.
• The walls have a high degree of insulation, particularly for "noise sensitive" rooms such as the bedrooms and
entertainment rooms.
Ventilation
• The rate of air change within the airtight house is optimized and carefully controlled.
• Passive natural ventilation is an integral component; strategically located windows open the house to cross ventilation.
• Stack effect at the stair with an operable clerestory window is an additional source of passive ventilation.
• When the ambient climate is not conducive to passive ventilation, a mechanical heat recovery ventilation system
minimizes the total primary energy consumption.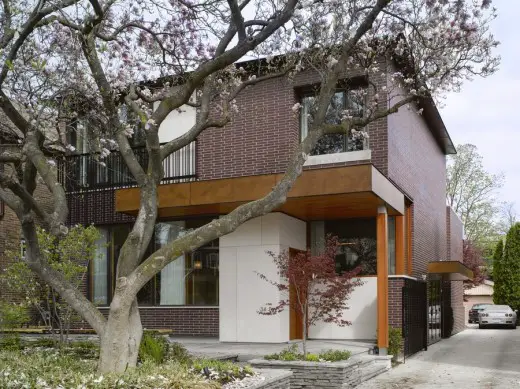 Heating and Cooling
• The primary heating source is radiant flooring connected to a geothermal system despite the challenges of a tight
urban site.
• Empty conduits are installed to allow for PV solar power to be easily added in the future.
• Individual rooms can be set at unique temperatures based on the occupant's needs and preferences. Unoccupied
rooms can be set at lower temperatures.
• Deciduous trees were planted along the east façade to interrupt the rising sun and reduce excessive summer passive
solar heat gain from direct or reflected sources.
• The overall composition of solid wall to window ratio is maintained at 60% and 40% to keep heat in during the winter
and out during the summer.
• Principal windows are oriented towards the south to maximize passive solar gain in the winter.
• Strategically placed windows allow for active daylighting, and reduce the need for electrical lighting, even on cloudy
days.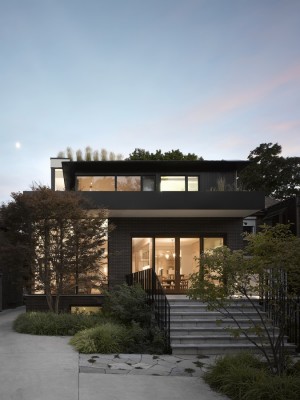 Bedford Park House – Building Information
Location: Bedford Park, Toronto, Canada
Size: 3,100 s.f.
Completion: Fall 2014
Photography: Ben Rahn / A-Frame
Architectural Project Team: Alex Tedesco
Project Architect: Leigh Jeneroux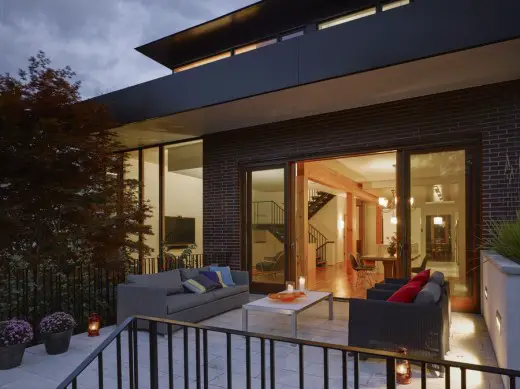 Photography: Ben Rahn/A-Frame
Bedford Park House in Toronto images / information from LGA Architectural Partners
Location:Bedford Park, Toronto, Canada '
Toronto Architecture
Ontario Architecture Designs – chronological list
Toronto Building News on e-architect
Toronto Residential Architecture
Design: Paul Raff Studio

image : Ben Rahn
Design: gh3 architects
Toronto Architect : contact details
Comments / photos for Bedford Park House in Toronto – New Home in Ontario page welcome
Bedford Park House in Toronto Building, Ontario
Website: LGA Architectural Partners